Jack Pattillo, co-founder of Achievement Hunter and Director of Charity at Rooster Teeth, talks about what Rooster Teeth has in store for their Extra Life stream airing from November 9-10.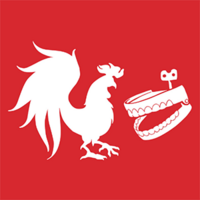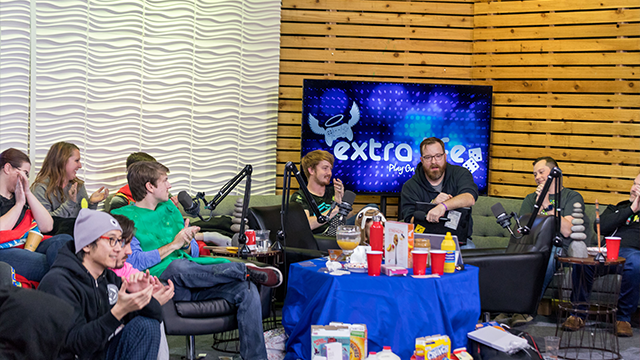 Extra Life has become a tradition for many brands in recent years and Rooster Teeth is going strong with its own streamed event on YouTube coming up this weekend on November 9 and 10. Rooster Teeth and Crunchyroll are in the same family, and we encourage everyone to tune in to Rooster Teeth's stream to support their incredible efforts for a special cause. We spoke with Jack Pattillo, co-founder of Achievement Hunter and Director of Charity at Rooster Teeth, to find out what the team will be doing for Extra Life, who will be stopping by the stream, and how they will be implementing the "Wheel of Vengence."

For those who don't know Extra Life, what is it? And who are you raising money for?
Pattillo: Extra Life is a Children's Miracle Network Hospitals' fundraising program that rallies gaming communities from around the globe to support local children's hospitals. Their Game Day unites thousands of gamers around the world to marathon their favorite games in support of their Children's Miracle Network Hospital of choice, and just like traditional marathons, gamers and streamers are sponsored by their friends and family to raise money for their campaigns.
Rooster Teeth's take on Extra Life is a 24-hour variety show of chaos and shenanigans, all aimed at raising money. We've raised over $5 million in the past few years, with $1.4 million last year alone. Extra Life is a chance for our company to shine, and for our community to rally behind an amazing cause. We broadcast the entire event from our studio in Austin, Texas.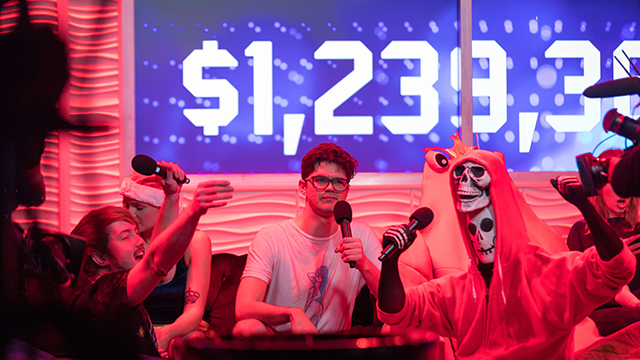 How long has Rooster Teeth been involved with Extra Life streams?
Pattillo: Our first Extra Life stream was 9 years ago, but that was just my boss, Geoff, and I in our office, playing games for 24 hours and destroying our backs. Our first big RT Extra Life stream was 7 years ago, and it has been an unstoppable force ever since.

Who is joining over the weekend?
Pattillo: Everyone at Rooster Teeth plays some part in the stream. Myself, Caiti Ward, and Chad James host the show. Together we push our message of helping children and we also get to introduce the guests who can span from comedians and writers to the people who work in our tech and broadcast departments -- it doesn't matter where they're from or what their job is, we're all there to support each other. Many favorites from Achievement Hunter, Rooster Teeth, RWBY, and Funhaus will be there, and it's one of the only times in the year we all get to do something creative and fun all under one roof. It's a blast.
How long are you going for?
Pattillo: 24 hours straight: 8 am CST - 8 am CST from November 9-10.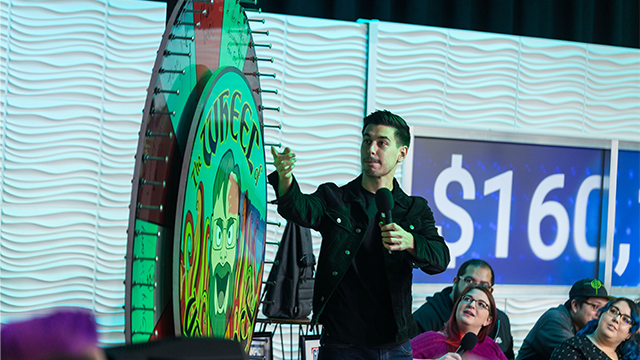 What are some of the craziest things you've done for charity at Rooster Teeth?
Pattillo: Oh boy, I don't even know where to start. We've launched countless paintballs at each other, ingested more milk than we thought humanly possible, eaten all kinds of peppers and even a tarantula or two. We've had an inebriated Lord Voldemort, tattoos, and one year we even tazed a guy.
I've heard about the Wheel of Vengeance…what is that?
Pattillo: The wheel is the root of all the punishments. It's a giant wheel that groups will add punishment ideas to, and when someone donates $1337 or more, an alarm rings, the wheel spins and whatever it lands on, someone in the group has to do the punishment. We quickly learned that our community enjoys watching us go through pain, and we've embraced that. All for the kids.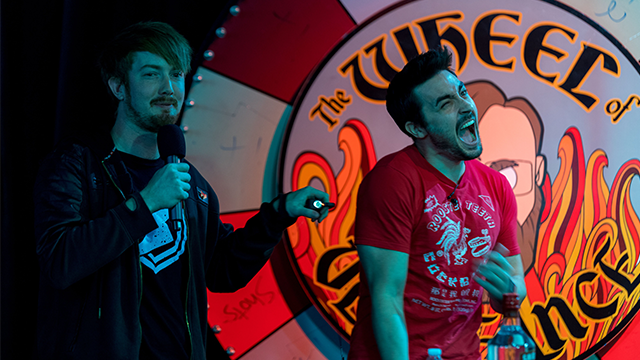 Most importantly, where can people tune in?
Pattillo: You can see the entire stream at extralife.roosterteeth.com and you can also pick up exclusive Rooster Teeth Extra Life merchandise that is only available this weekend! The proceeds from the sale of those items go to the Rooster Teeth donation to Extra Life.