Sortie prévue en avril 2020 !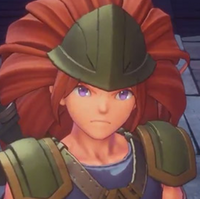 Square Enix nous propose la première d'une série de plusieurs vidéos destinées à nous présenter les protagonistes de son jeu vidéo Trials of Mana. La première d'entre elles est dédiée à Duran, l'épéiste venu du Royaume de Valsena.
Prévu le 24 avril 2020 sur PlayStation 4, Switch et PC, le titre est un remake de Seiken Densetsu 3. Celui-ci était resté inédit dans nos contrées jusqu'à sa ressortie cet été dans l'anthologie Collection of Mana, laquelle contenait également les cultes Mystic Quest et Secret of Mana. A l'instar de ce dernier, Trials of Mana voit donc son aventure modernisée par le choix d'un jeu entièrement en 3D, dans laquelle le choix de nos personnages aura un impact sur le déroulement du scénario.
Source : Gematsu