Il gioco uscirà il 16 gennaio in Giappone e il 17 in occidente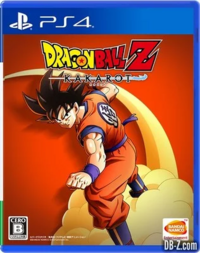 ---
La Bandai Namco Entertainment ha pubblicato un video in streaming che mostra un'introduzione al sistema di gioco del suo Dragon Ball Z: Kakarot che uscirà per PlayStation 4, Xbox One e PC tramite Steam. Il video evidenzia il combattimento, la cucina, l'albero di abilità, l'allenamento e il funzionamento della community.
Il gioco sarà venduto a partire dal 16 gennaio in Giappone e dal 17 gennaio in occidente. Il bonus per l'ordine anticipato consiste in una sotto quest intitolata "A Competitive Party With Friends", accesso anticipato all'allenamento di Bonyu e un oggetto per cucinare.
Ci sarà una Deluxe Edition, una Ultimate Edition e una Collector's Edition. La deluxe conterrà il season pass (con due nuovi episodi che usciranno in futuro) e un oggetto di cucina deluxe. La Ultimate Edition, oltre ai contenuti della Deluxe Edition, conterrà un compilation musicale con 11 tracce extra e il Tao Pai Pai Pillar. La Collector's Edition (nell'immagine sotto) sarà esclusiva per PlayStation 4 e Xbox One e conterrà un libro illustrato con copertina rigida, custodia in metallo e una figure.
Così la Bandai Namco Entertainment descrive il gioco:
Sviluppato in Giappone da CyberConnect2, il gioco racconta la storia del leggendario DRAGON BALL Z, portando i giocatori in un'avventura indimenticabile che farà sperimentare loro combattimenti esagerati e prove difficili. Questo mentre fonderanno le amicizie lunghe una vita durante la crociata per proteggere la Terra da nemici terribili. DRAGON BALL Z: KAKAROT presenta inoltre delle risposte a domande rimaste senza risposta , grazie alle quest secondarie.
Il gioco include una storia e uno stile di gioco ispirati alla saga di Cell dell'anime Dragon Ball Z. Il gioco conterrà anche i personaggi giocabili Trunks e Bonyu, un nuovo personaggio creato da Akira Toriyama.
Fonte: canale YouTube della Bandai Namco Entertainment
Notizia originale di Crystalyn Hodgkins su AnimeNewsNetwork

---
Disclosure: Bandai Namco Rights Marketing, Inc., a wholly owned subsidiary of Bandai Namco Holdings Inc., is a non-controlling, minority shareholder in Anime News Network Inc.