Il manga è tratto dalla serie di light novel Kino no Tabi - the Beautiful World (Kino's Journey) di Keiichi Sigsawa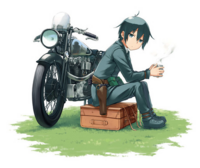 ---
L'adattamento manga della light novel Kino no Tabi - the Beautiful World (Kino's Journey) di Keiichi Sigsawa è stato terminato da Sato sulle pagine di Monthly Comic Dengeki Daioh della Kadokawa.
Il manga ha fatto il suo debutto su Monthly Comic Dengeki Daioh nel maggio del 2017. Sato ha disegnato il manga e Kouhaku Kuroboshi ha firmato il character design originale. La Kadokawa ha pubblicato la quarta raccolta del manga il 26 giugno.
Iruka Shinomiya ha lanciato il primo adattamento manga su Shonen Magazine Edge della Kodansha nel marzo del 2017.
Il nuovo anime basato sulle light novel ha fatto il suo debutto in Giappone nell'ottobre del 2017. Crunchyroll ha trasmesso la serie in contemporanea col Giappone.
Così Crunchyroll descrive la serie animata:
"Il mondo non è bello e per questo lo è". Seguiamo Kino nel suo viaggio per il mondo, in compagnia della sua motocicletta parlante Hermes. Kino si ritrova a visitare diversi Paesi, ognuno caratterizzato da usanze tipiche, e impara a conoscerli attraverso i racconti degli abitanti, alle volte allegri, altre volte più cinici. Anche Kino ha una sua usanza: non si ferma mai più di tre giorni in ciascun paese, perché è il periodo giusto per capire tutto ciò che è importante riguardo un dato Paese e allo stesso tempo evitare di affezionarcisi troppo e di sottrarre tempo ad altri Paesi da visitare.
Tomohisa Taguchi (Persona 4 the Golden Animation, Persona 3 the Movie #4 Winter of Rebirth, Twin Star Exorcists) ha diretto l'anime con la Lerche. Yukie Sugawara (Overlord, Hina Logi: from Luck & Logic) ha firmato la sceneggiatura. Ryoko Amisaki (Sumomomo Momomo - Chijō Saikyō no Yome, Danganronpa 3: The End of Hope's Peak High School: Future Arc) ha adattato i character design originali per l'animazione. EGG FIRM ha prodotto la serie.
Fonte: blog della rivista Monthly Comic Dengeki Daioh
Notizia originale di Alex Mateo su AnimeNewsNetwork