Kanna Hashimoto-starring "Signal 100" fails to make Top 10 debut in its opening weekend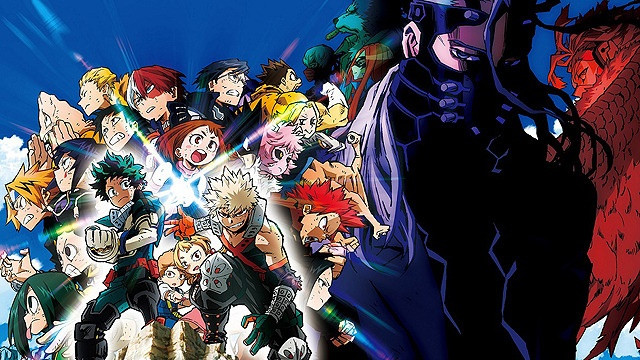 After dropping out of top 10 last week, My Hero Academia THE MOVIE Heroes: Rising has returned to Japan's weekend box office top 10 again, ranking ninth in its sixth weekend thanks to an extra push by its 4DX/MX4D screenings started in 81 theaters on January 24. The first 25,000 audiences of the special "4D RISING" screenings receive a newly-drawn illustration postcard with printed autographs by Daiki Yamashita (Deku), Nobuhiko Okamoto (Bakugo), and Yuki Kaji (Todoroki), which also encouraged theatergoers.
The second feature film in the My Hero Academia anime franchise added 120 million yen in its sixth weekend, bringing its total to 1.55 billion yen. Now it has become the ninth top-grossing Japanese anime film of 2019, surpassing City Hunter The Movie: Shinjuku Private Eyes (1.5 billion yen) and Promare (1.4 billion yen).
Made in Abyss: Fukaki Tamashii no Reimei (Dawn of the Deep Soul), the all-new anime film based on Akihito Tsukushi's fantasy adventure manga series, dropped one position from its opening weekend's ninth. Its domestic gross has reached 230 million yen, which is a very good result for a limited-release film. Meanwhile, High School Fleet the Movie, a feature film sequel to the 12-episode TV anime in 2016, disappeared from the top 10 in its second weekend.
The live-action film adaptation of Arata Miyatsuki (story) and Shigure Kondo (art)'s suspense manga Signal 100 staring 20-year-old Kanna Hashimoto (Kagura in Gintama, Kaguya Shinomiya in Kaguya-sama: Love Is War) was also released in 101 theaters last Friday and failed to make its top 10 debut. It ranked 11th in Pia's first-day satisfaction ranking with a mediocre rating of 83.1%.
---
Weekend box office in Japan (January 25-26, 2020)
(ticket sales basis)
1 (new). "CATS" - 350 million yen
2 (2). "Kaiji: Final Game" - 1.4 billion yen
3 (1). "Frozen II" - 12.7 billion yen
4 (5). "Parasite" - 960 million yen
5 (3). "Star Wars: The Rise of Skywalker" - 6.75 billion yen
6 (4). "Last Letter" - 180 million yen
7 (6). "Kiokuya: Anata wo Wasurenai" - 290 million yen
8 (7). "Ford v. Ferrari" - 730 million yen
9 (-). "My Hero Academia THE MOVIE Heroes: Rising" - 1.55 billion yen
10 (9). "Made in Abyss: Dawn of the Deep Soul" - 230 million yen
---
(c)2019 "My Hero Academia THE MOVIE" Production Committee (c)Kohei Horikoshi/SHUEISHA