The show's stars will appear at a special event at AnimeJapan 2020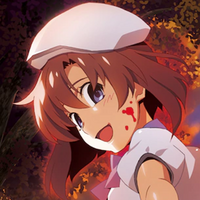 The cult horror series is back, and some familiar voices are at the forefront!
Visual novel adaptation Higurashi When They Cry will be returning as an "anime project," though what exactly that entails has yet to be announced. What we do know is that the series's two lead voice actors will be returning to the roles they last played in 2013.
Returning to the roles of Keiichi Maeyama and Rena Ryugu are Soichiro Hoshi and Mai Nakahara, respectively. There's no word yet on whether the rest of the cast will be returning to their previous roles.
Hoshi and Nakahara will be appearing at AnimeJapan along with Ryukishi07, the creator of Higurashi. Fans can see them at the event on Saturday, March 21—at which time we'll hopefully get some new information on the upcoming project.
Besides the two leads, we know that Akio Watanabe (Monogatari series) will be in charge of character design, and the project will be animated at Passione (citrus).
>> Higurashi When They Cry New Project Site
Source: Comic Natalie