Voice actors join forces for a quarantine-themed codec and special announcement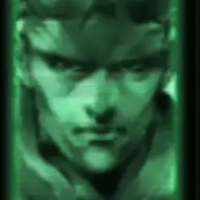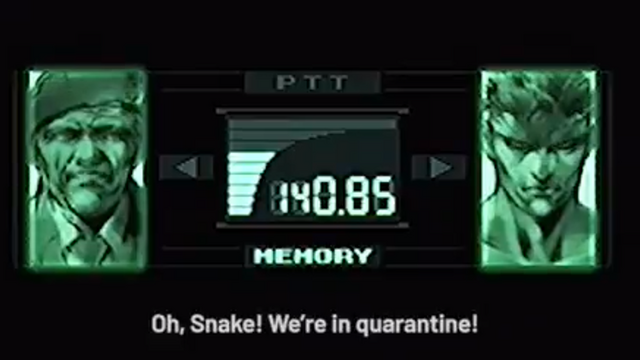 Think you're getting stir-crazy at home? Imagine being Solid Snake with nowhere to go.
Jordan Vogt-Roberts, director of the upcoming Metal Gear Solid film adaptation, shared a new codec video on his Twitter account. The video features the familiar voices of David Hayter, Paul Eiding, and Christopher Randolph as Snake, Col. Campell, and Otacon respectively. It's not an easy task to make Snake stay at home when he's itching for a fight—even for the greater good:
I wish I could share more frequent updates on the film adaptation of @HIDEO_KOJIMA_EN's seminal METAL GEAR SOLID...

ButI can share this codec from the legends @DavidBHayter, @4pauleiding & @christophran as we celebrate MGS and try to make the world whole again.#MGSQUARANTINE pic.twitter.com/6AE9qLL74v

— Jordan Vogt-Roberts (@VogtRoberts) May 12, 2020
Snake closes out the codec with an announcement: in light of the lack of Metal Gear Solid film production news, Vogt-Roberts will be releasing more concept art from the film to lift fans's spirits during lockdown. Here are just a few of the samples shared so far:
DAY 2 of #MGSQUARANTINE

I had the honor of reuniting with my KONG family at @ILMVFX. The dream team of Jeff White, Luis Carrasco & Ben Grangereau beautifully explored @HIDEO_KOJIMA_EN's poetic military surrealism.

Industrial Light & Magic + Metal Gear Solid is true nerd heaven. pic.twitter.com/GGYJi0OyMu

— Jordan Vogt-Roberts (@VogtRoberts) May 13, 2020
DAY 3 of #MGSQUARANTINE

Another iconic @HIDEO_KOJIMA_EN moment brought to life in collaboration with the masters at @ILMVFX. This gorgeous piece was done by another KONG alum, Stephen Todd.

It perfectly captures the absurd heights we must rise to in the face of impending doom pic.twitter.com/j9xeQkctHG

— Jordan Vogt-Roberts (@VogtRoberts) May 14, 2020
The weekend is over, which means it's DAY 5 of #MGSQUARATINE by the great @eddiedelrio_art

I was born on battlefield fighting for for the METAL GEAR SOLID movie to be made properly. And I'll die on that battlefield.

I am one with GRAY FOX / FRANK JAEGER / NULL / CYBORG NINJA. pic.twitter.com/oroWnb5NgA

— Jordan Vogt-Roberts (@VogtRoberts) May 18, 2020
Follow Vogt-Roberts on Twitter, or keep tabs on the #MGSQUARANTINE hashtag, to see new drops as they arrive.
Source: Jordan Vogt-Roberts on Twitter