He has been working on the postponed "Evangelion: 3.0+1.0 Thrice Upon a Time"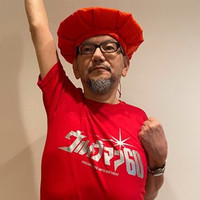 The official Twitter accounts for Studio Khara and his wife Moyoko Anno posted photos of Hideaki Anno wearing a red hood and a T-shirt with the logo of "Ultraman 60" (a parody of Tsuburaya Production's tokusatsu series Ultraman 80) to celebrate his Kanreki / 60th birthday. The internationally acclaimed anime director was born on May 22, 1960.
In Japan, Kanreki is celebrated by wearing red clothes, such as cape and vest. According to his wife's tweet, the hood and the T-shirt were presented by volunteers at Khara. He says in the post, "I'll do my best in my 60s."
Anno has been working on Evangelion: 3.0+1.0 Thrice Upon a Time, which was originally scheduled to be released in Japan on June 27, 2020, but has been delayed due to the COVID-19 outbreak like many other films. After the film is completed, he is scheduled to join the production of Shin Ultraman directed by Shinji Higuchi.
2020年5月22日

庵野秀明

㊗️ 還暦 ????
????????????????????#庵野秀明#還暦不行届#監督不行届#カントク不行届
???? #安野モヨコ pic.twitter.com/LM6vvJYgkw

— 株式会社カラー (@khara_inc) May 22, 2020
監督本日60歳になりました。

「60代も頑張ります」

カラーの有志から贈られた赤い頭巾と
ウルトラマン60のTシャツを着て。
還暦不行届!

モヨコ#監督不行届 #カントク不行届 pic.twitter.com/IWsIVzZHHa

— 安野モヨコ (@anno_moyoco) May 22, 2020
---
Source: Studio Khara Twitter, Moyoko Anno Twitter