Un gardien et c'est tout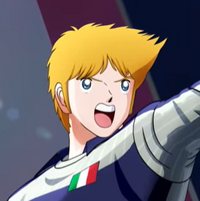 Depuis plusieurs week-ends, Bandai Namco nous rappelle la sortie prochaine du jeu vidéo Captain Tsubasa : Rise of New Champions en dévoilant une à une les nombreuses équipes internationales présentes. Vous l'aurez compris, c'est cette fois-ci au tour de l'équipe d'Italie et de son gardien star, Gino Hernandez.
Rappelons qu'au-delà des matchs internationaux, le titre nous propose de revivre le scénario du manga originel de Yôichi Takahashi ou la possibilité de mettre un terme au règne de Nankatsu, l'équipe de Tsubasa, dans la peau d'un joueur créé de toutes pièces et qu'il sera possible d'améliorer au fil des entraînements.
Pour tâter tout cela manette en mains, il faudra attendre le 28 août, date de sortie de ce Captain Tsubasa: Rise of New Champions sur PlayStation 4, Switch et PC.
Source : Gematsu