The much-awaited new season is set to premiere in October 2020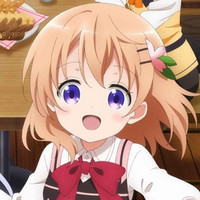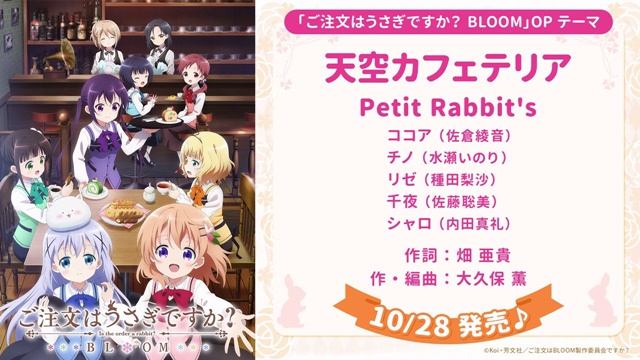 Two months prior to its premiere in Japan, the official website for the Is the Order a Rabbit? TV anime franchise has already posted a 90-second preview video for the OP theme song "Tenku Cafeteria" (Sky Cafeteria) for its forthcoming third season BLOOM. Same as the previous two seasons, the song is performed by the franchise's five-member voice actress unit Petit Rabbit's.
The 12-episode first season of the TV anime adaptation of Koi's slice-of-life comedy four-panel manga was aired in Japan from April to June 2014, then the 12-episode second season Is the Order a Rabbit?? (with two question marks) followed from October to December in 2015.
After the two OVAs were released, ~Dear My Sister~ in 2017 and ~Sing For You~ in 2019, production of the TV anime third season was finally announced in March 2020. The much-awaited third season Is The Order a Rabbit? BLOOM is set to premiere in Japan in October 2020.
The VA unit Petit Rabbit's performed the OP theme song "Daydream café" for the first season and "No Poi!" for the second season. Its members are Ayane Sakura (Cocoa), Inori Minase (Chino), Risa Taneda (Rize), Satomi Sato (Chiya), and Maaya Uchida (Syaro). Their new single "Tenku Cafeteria" will be available on October 28, 2020.
【かわいいが花盛り♪】
10月28日発売のTVアニメ第3期『ご注文はうさぎですか? BLOOM』OPテーマ「天空カフェテリア/Petit Rabbit's」の試聴動画を公開しました♪ぜひお聴きください☆

天空カフェテリア/Petit Rabbit's
作詞:畑亜貴
作・編曲:大久保薫https://t.co/Ydqy9BubSk#gochiusa pic.twitter.com/qncstisRPm

— TVアニメ『ご注文はうさぎですか?』 (@usagi_anime) August 4, 2020
The first season OP song "Daydream café" MV:
"Is The Order a Rabbit? BLOOM" teaser PV:
Key visual: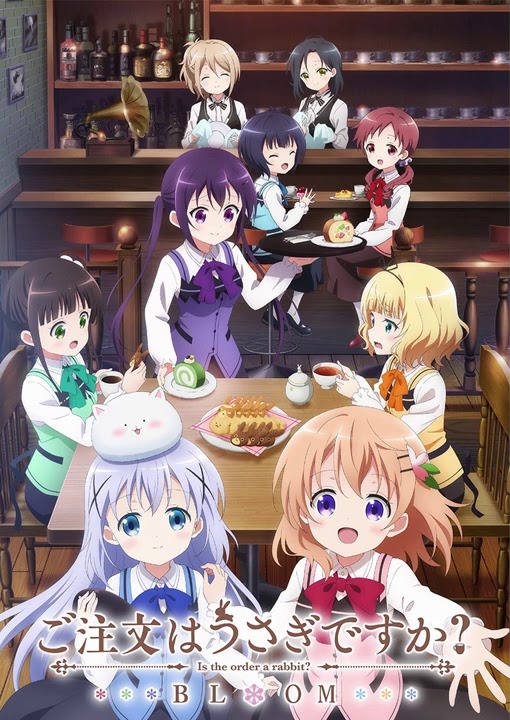 ---
Source: TV anime "Is the Order a Rabbit?" official website
©Koi, HOUBUNSHA/Gochiusa Partners