Yoshinobu Sana (VAMPIRE HOLMES)-directed fantasy will open in Japan on November 27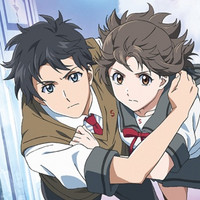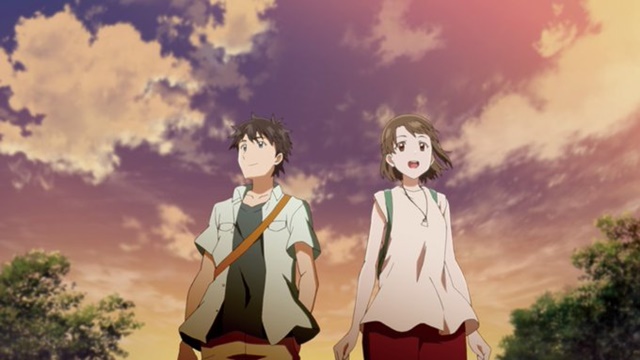 The official website for Digital Network Animation's upcoming original anime film Kimi wa Kanata (You Are Beyond) has posted a 60-second full trailer featuring its theme song "Shunkan Dramatic" performed by a three-member Japanese rock band saji. The band is known for their ED theme and insert song works for the TV anime Ahiru no Sora.
Full trailer:
The film's story centers on a high school girl Mio. She has a crush on her childhood friend Arata but unable to convey her feelings for him and has continued their tenuous relationship. One day, the two get into a fight over a trivial remark of her friend. On her way in the rain to reconcile with him, she was involved in a traffic accident. When she regains consciousness and opens her eyes, there is a mysterious world that she has never seen before... Then she meets a strange guide, Gimon and a mysterious girl, Kiku-chan. Along with them, Mio starts to search for "forgotten things" among her precious memories, the only way to get back to Arata.
The film is produces in fill cooperation with Ikebukuro in Toshima Ward. The city's famous real locations, such as Ikebukuro Station, the Seibu Department Store, PARCO, Bic Camera, and the Tokyo Sakura Tram (Toden Arakawa Line), are depicted in the story.
Yoshinobu Sana (VAMPIRE HOLMES)'s feature film directorial debut anime is set to be released in Japan on November 27, 2020.
Main voice cast:
Mio Miyamasu: Honoka Matsumoto (Yoko Hinageshi in Ride Your Wave)
Arata Kishimo: Toshiki Seto (Hiiro Kagami/Kamen Rider Brave in Kamen Rider Ex-Aid)
Madoka: Yui Ogura
Orika: Anna Tsuchiya
Sachi Miyamasu: Atsuko Sendo
Gimon: Koichi Yamadera & Ikue Ohtani
Kiku-chan: Saori Hayami
Mogari: Naoto Takenaka
Mori Obaa-chan: Mari Natsuki
Lost and found clerk: Takehiro Kimoto (TKO)
????最終追加キャスト発表????

夏木マリさん、竹中直人さん、土屋アンナさん、仙道敦子さん、木本武宏(TKO)さん
の出演が決定????✨

ご、、豪華すぎます…‼️????

映画『君は彼方』は11月27日(金)公開です????
お楽しみに✨#キミカナ pic.twitter.com/j8KnL41SvV

— 映画「君は彼方」公式 (@kimikana_movie) October 11, 2020
Poster visual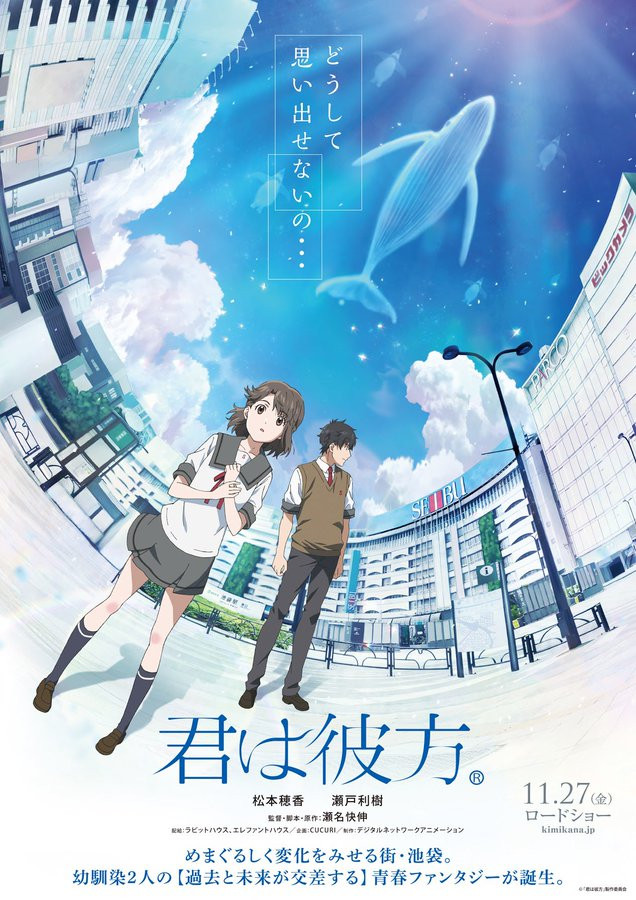 ---
Source: "Kimi wa Kanata" official website / Twitter
© "Kimi wa Kanata" Production Committee