Segunda temporada do anime tem estreia agendada para janeiro de 2021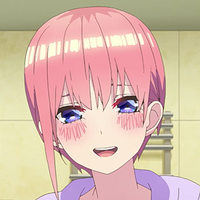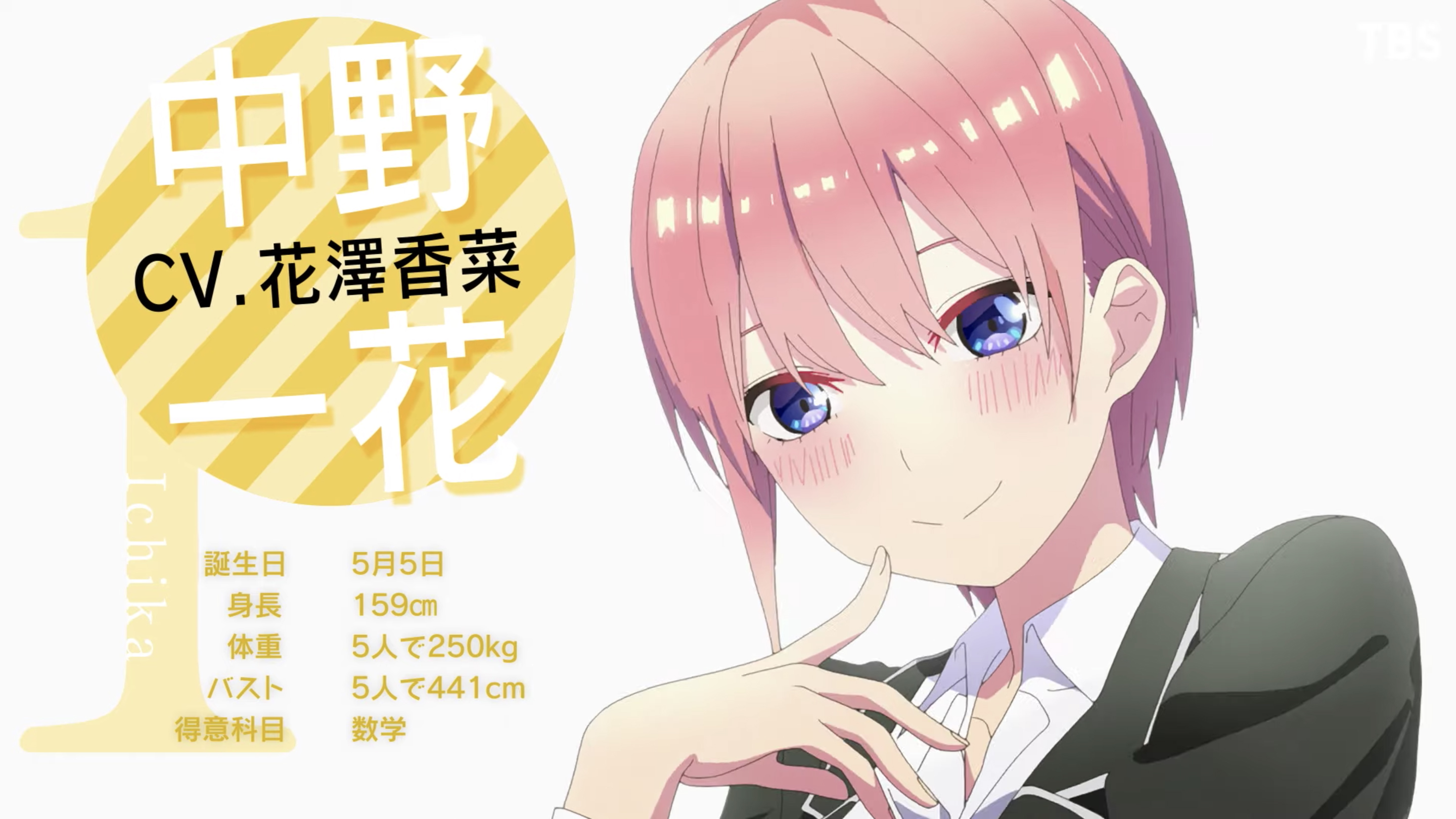 Um novo vídeo promocional para The Quintessential Quintuplets ∬ foi revelado recentemente, o vídeo é focado em Ichika Nakano e novos vídeos para as outras quatro irmãs serão divulgados nas próximas semanas.
A segunda temporada do anime tem estreia agendada para janeiro e vai promover mudanças na equipe e estúdio de produção. A direção ficará a cargo de Kaori (Yuyushiki), que vai ocupar o lugar do diretor da primeira temporada, Satoshi Kuwabara e vai contar com produção do Bibury Animation Studio (Azur Lane: The Animation), Keiichiro Ochi retorna como roteirista da série.
O mangá original de The Quintessential Quintuplets foi publicado na revista Weekly Shonen Magazine de agosto de 2017 até fevereiro de 2020 e conta com 14 volumes encadernados no total. No Brasil o mangá está sendo publicado pela editora Panini. A primeira temporada do anime foi lançada em 2019 e está disponível na Crunchyroll.
Vídeo da Ichika Nakano
✨5週連続キャラクターPV公開決定! ✨
本日から5週連続で五つ子のキャラクターPVの公開が決定です!

◤ 中野一花◢ キャラクターPVhttps://t.co/cycBeTcDkS

★TVアニメ「五等分の花嫁∬」2021年1月からTBS・サンテレビ・BS11にて放送開始!#五等分の花嫁 pic.twitter.com/wxVYqwN7Pg

— TVアニメ『五等分の花嫁』公式 (@5Hanayome_anime) November 11, 2020
Ilustração Promocional: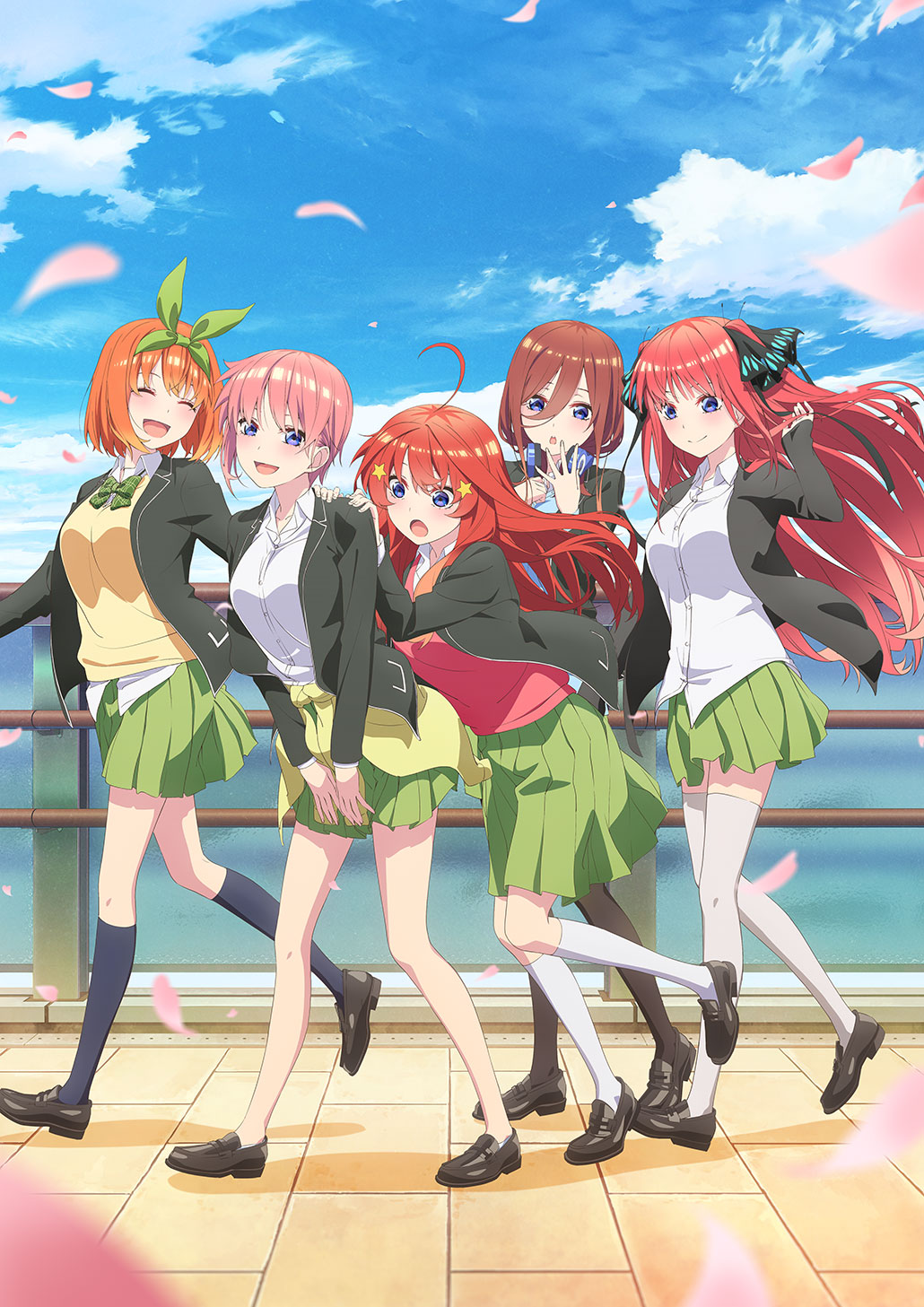 O diretor de animes e fundador do Bibury Animation Studio, Tensho (The Fruit of Grisaia, Rewrite, Azur Lane), revelou recentemente que a equipe de The Quintessential Quintuplets ∬ está planejando completar todos os episódios antes a estreia em janeiro de 2021.
Vídeo Promocional:
Sinopse:
Uesugi Fuutarou, um estudante do segundo ano do colegial que vem de uma família pobre, recebe uma irrecusável proposta para trabalhar como tutor... e descobre que suas pupilas são suas colegas de classe! E pra piorar, são gêmeas quíntuplas... Todas lindíssimas, mas com péssimas notas e um ódio mortal pelos estudos! Sua primeira missão será ganhar a confiança das garotas?! Todo dia é dia de festa nesta comédia romântica 500% adorável envolvendo as irmãs gêmeas da casa Nakano!
Fique ligado nas Crunchyroll Notícias e não perca nenhuma novidade!

Fonte: CRNews
© Negi Haruba, KODANSHA
---
Fábio[portuga] é redator de notícias para a Crunchyroll.pt e gostou bastante do anime, ele está ansioso pela estreia da segunda temporada, acha que as mudanças na produção serão positivas e espera que a segunda temporada seja ainda melhor. Visite o seu perfil e siga-o no Twitter: @portugassis. Clique aqui para ler outros posts do autor.