"As a true fan of this film, I really feel happy that this job has come down to me."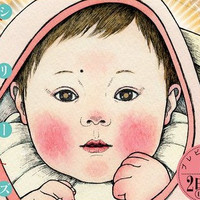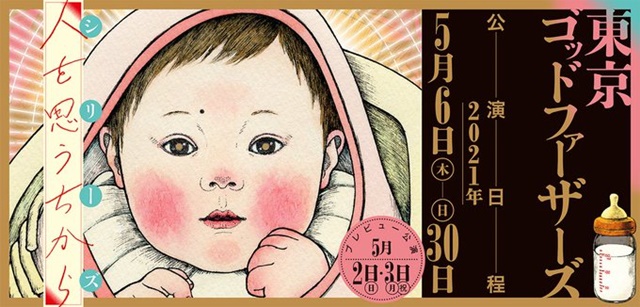 The official website for the forthcoming stage play adaptation of the late Kon Satoshi's 2003 anime feature film Tokyo Godfathers has announced its performance schedule and lead actors, including Masahiro Matsuoka (Godzilla Final Wars), a 44-year-old member of Johnny & Associates' idol group TOKIO. It is not clear at this time who will be playing which character.
Following the two preview performances on May 2 and 3, 2021, the play will be performed first at New National Theatre Tokyo's open-space hall "The Pit" (capacity: 358-438) from May 6 to 30, 2021. Shuntaro Fujita (Jersey Boys Japanese edition) is attached to direct on a script by Michihiro Tsuchiya (PriPara, Idol Time PriPara series composition writer).
Its basic story featuring three homeless people who discover an abandoned baby on one Christmas Eve is the same as the original. While the anime film was set in the year of its release, 2003, the play will be set in 2021 to bring out various problems that Tokyo and Japan are facing now.
Message from Masahiro Matsuoka:
Really!? Tokyo Godfathers is going to be a stage play? And I'm being offered a role? There were two things I was thinking: One, I bought the DVD more than ten years ago. As a true fan of this film, I really feel happy that this job has come down to me. The other thing is that, given my age, I will probably be playing the role of Hana, a former drag queen (laughs). I will do whatever I want to do, being excited to meet the new cast members and staff. Times like these! I'm sure we'll make the audience thrilled!
【#東京ゴッドファーザーズ】

2020/2021シーズン演劇『東京ゴッドファーザーズ』のキャスト等が決定しました。5/6~30上演です。

松岡昌宏 マキタスポーツ 夏子
春海四方 大石継太 新川將人 池田有希子 杉村誠子 周本絵梨香 阿岐之将一 玲央バルトナー

⬇️公演詳細https://t.co/B2ZZ57Q6El pic.twitter.com/KWHtOSpdwG

— 新国立劇場の演劇 (@nntt_engeki) March 10, 2021
"Tokyo Godfathers" stage play cast members:
Masahiro Matsuoka
Makita Sports
Natsuko / Harumi Shihou
Keita Oishi
Masato Shinkawa
Yukiko Ikeda
Seiko Sugimura
Erika Shumoto
Masakazu Akino
Leo Bartner
---
As Kon's third theatrical feature, the 92-minute original anime film was released in Japan on November 8, 2003, and was highly praised by critics. It won the Best Animation Film award at the 58th Mainichi Film Awards, Excellence Award in Animation at the 7th Japan Media Arts Festival, the Platinum Grand Prize at Future Film Festival in Bologna, Italy, and The Grand Audience Award for Best Animated Feature Film at the 36th SITGES - International Fantastic Film Festival of Catalonia, Spain.
"Tokyo Godfathers" anime film key visual: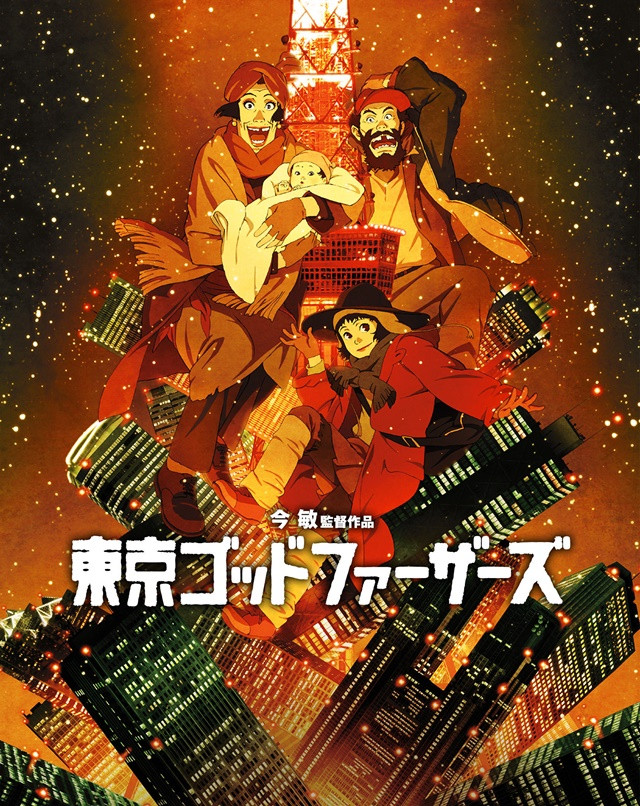 ---
Source: New National Theatre Tokyo official website / Twitter
(c)2003 Kon Satoshi, Madhouse/Tokyo Godfathers Production Committee