Enako screams "Ahoy!" as she dresses as Marine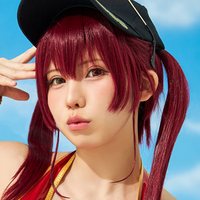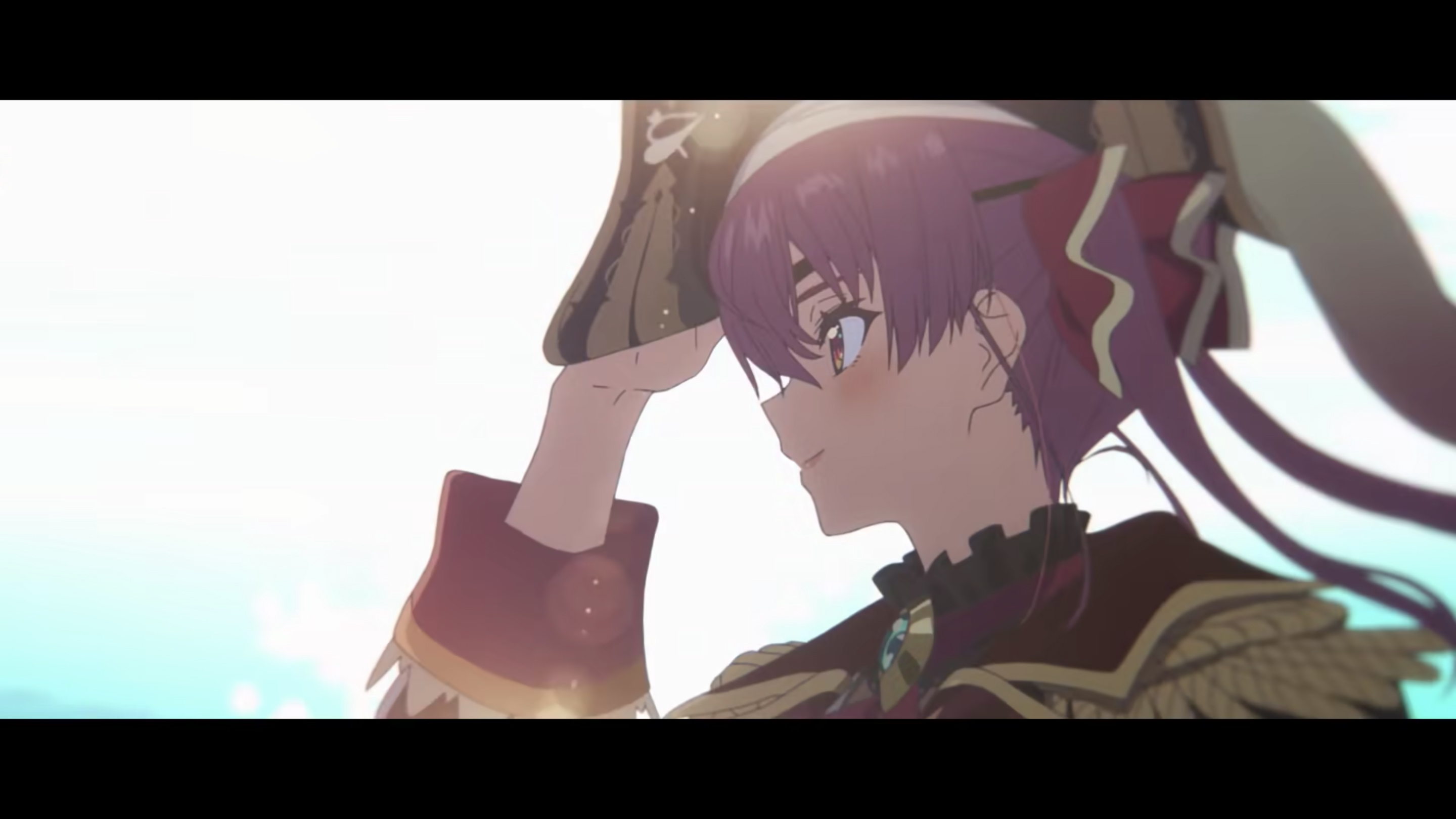 Just when you thought hololive was already everywhere, the VTuber agency collaborated with Weekly Young Jump this week to bring their girls to life – with the help of Japan's top cosplayer Enako as well as some of her fellow cosplayers. A preview of the collaboration was released today in the Weekly Young Jump magazine with a full photobook also released online. The five cosplayers donned the iconic outfits of Marine, Noel, Fubuki, Sora, and Aqua.
/#ヤンジャン夏のホロ祭
夢のコラボグラビアづくし‼️✨
\

【表紙グラビア】#えなこ
【特別付録】YJ×ホロライブ特集 Part1 hololive illustration book
【巻頭グラビア】YJ×ホロライブ特集Part2 えなこ×#宝鐘マリン

????#ヤンジャン デジタル版を購入!https://t.co/4BZPXJ1d9f pic.twitter.com/Y8r4mFcqNk

— 週刊ヤングジャンプ編集部 (@young_jump) August 5, 2021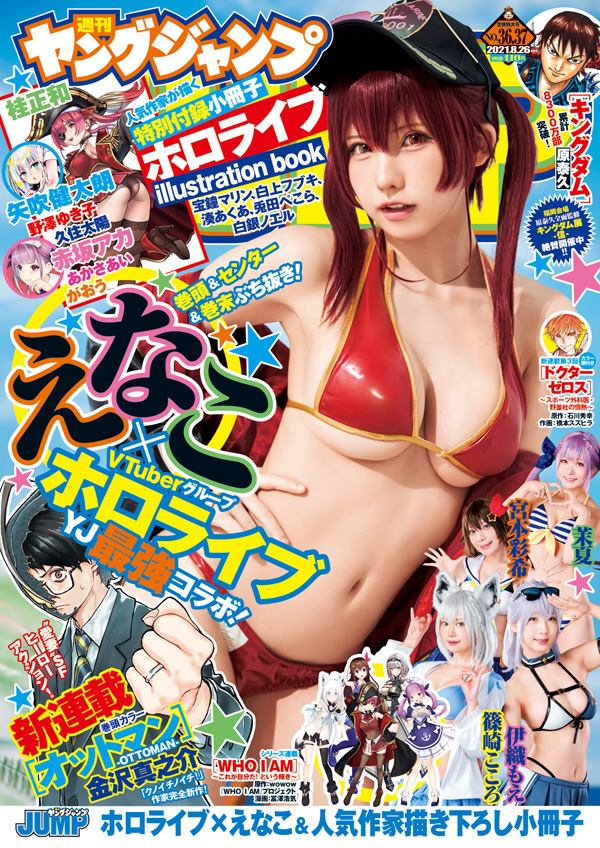 Enako in Marine's newest "outfit"
Earlier this week, the girls were able to preview their costumes on Twitter ahead of the release.
Enako as Houshou Marine
【お知らせ】
本日発売の『週刊ヤングジャンプ』にて、表紙&巻頭ページに登場しています!

今回は「ヤンジャン×ホロライブ 」ということで、宝鐘マリンちゃんのコスプレをさせていただきました????‍☠️

セブンネットで買うとクリアファイル付きです(*⁰▿⁰*)ゲットしてね✨
▶️https://t.co/AOUJEU1qFE pic.twitter.com/19xKS43HVZ

— えなこ@8月表紙15誌 (@enako_cos) August 5, 2021
????‍☠️8/5(木) 発売????‍☠️

『週刊ヤングジャンプ』
"ヤンジャン✖️ホロライブ "

私は宝鐘マリンちゃんのコスプレをさせていただきました!

限定のオリジナルポスターがついた「オンラインサイン会」の予約も始まったので、よろしくお願いします✨
▶️https://t.co/s6ZevqwseV pic.twitter.com/gatOM24uGC

— えなこ@8月表紙15誌 (@enako_cos) July 29, 2021
Moe Iroi as Shirogane Noel
オンラインサイン会受付開始しました〜❤️‍????❤️‍????https://t.co/gqKsp4xeDl

ぜひチェックしてね❤️‍????❤️‍???? pic.twitter.com/PuruO2wa3d

— 伊織もえ❤️‍????㊗️東京リベンジャーズ出演✌️FANICON開設 (@moe_five) July 29, 2021
Kokoro Shinozaki as Shirakami Fubuki
????????8/5発売????????

『週刊ヤングジャンプ』
"ヤンジャン✖️ホロライブ "

✨発売記念WEBサイン会の開催が決定しました✨

このあと18時から受付開始です!
久しぶりのサイン会…っ
こちらも絶対参加して欲しいな????????

待ってます????
▶︎https://t.co/atL2ut9Q5E pic.twitter.com/NlRQX10h2J

— 篠崎こころ (@kokoro777pp) July 29, 2021
Saki Miyamoto as Tokino Sora
????8/5(木)発売????

『週刊ヤングジャンプ』
"ヤンジャン✖️ホロライブ"

コラボグラビアのお迎え準備はもうお済みですか?(˶ˊᵕˋ˵)?

セブンネットで予約して頂くと、クリアファイルも付いてきます????

絶対にGETしてね!ぬんぬん(๑╹ᆺ╹)!

▽ ▽ ▽https://t.co/DU4FQUrRxZ pic.twitter.com/VJWxGUhARu

— 宮本彩希???? (@saki_miyamoto) August 3, 2021
Manatsu as Minato Aqua
8/5発売の『週刊ヤングジャンプ』にて
なんと"ヤンジャン✖️ホロライブ"企画❣️
"茉夏✖️湊あくあ"のコスプレで載っております????
今!18時からオンラインサイン会の募集開始です!

先着ですので是非!お急ぎあれ!☺️
初めてのオンラインサイン会楽しみです!https://t.co/AqaST8PMaK pic.twitter.com/dOL4UoqtsC

— 茉夏???? (@manatsukin) July 29, 2021
The collaboration appeared in this week's double issue of Weekly Young Jump and has been expanded into a full photo book that is currently on sale on select online stores.
Source: Enako on Twitter

----
Daryl Harding is a Japan Correspondent for Crunchyroll News. He also runs a YouTube channel about Japan stuff called TheDoctorDazza, tweets at @DoctorDazza, and posts photos of his travels on Instagram.