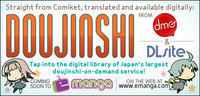 GARDENA, CA - June 26, 2012. Digital Manga Inc., one of the manga industry's most unique and creative publishers, is proud to announce a partnership with EISYS's DLsite.com (www.dlsite.com). DLsite.com is one of the largest on-demand download sites in Japan, specializing in the digital distribution of Japanese doujinshi and indie games. The service first opened in 1996 as Japan's first service offering doujinshi products as downloadable content. Since then, the service has grown exponentially, and today serves over 430,000 customers across the globe through its Japanese and English websites. Until now, readers abroad have been unable to enjoy most of these books in English. By teaming up with DLsite.com, Digital Manga, Inc. has found a broader way to harness the creative power of the thousands of artists that DLsite.com manages and distribute their works to an English-speaking audience.
Doujinshi, self-published manga, is a thriving sub-culture in Japan. Frequently associated with derivative fan comics, the world of doujinshi actually encompasses not only fan comics, but a wide-array of original manga, art books, and even music and video games. The artists who produce these products are likewise numerous and unique, ranging from amateur artists to established mangaka working under a pen name. Every year Japanese fans attend dozens of conventions and purchase innumerable products that are home-brewed by talented artists.
Books from DLsite.com will be localized by the Digital Manga Guild and made available through eManga.com and other e-book platforms for digital, on-demand purchase.
About Digital Manga, Inc.
Located in Gardena, CA, Digital Manga, Inc. is one of the industry's most unconventional and innovative companies, specializing in building corporate and cultural bridges from Japan to the West - specifically through the licensing, importation and preparation of anime (Japanese animation), manga (Japanese comic books) and related merchandise for North America's mainstream and niche markets. In this capacity, DMI serves as a catalyst for the spread of Japanese pop culture institutions into the global arena. The company's imprint lines include DMP (its mainstream imprint), DMP PLATINUM (its classic manga imprint), JUNE´ (its boys love imprint), 801 MEDIA (its adult boys love imprint), DokiDoki (its exclusive co-publishing imprint with Shinshokan Publishing), DH/DMP (a co-publishing venture with Dark Horse Comics), Project-H (its Seinen Hentai manga imprint), and DMG (a unique digital distribution initiative).

About Digital Manga Guild
Digital Manga Guild is an imprint of Digital Manga, Inc. that aims to give everyone the opportunity to gain paid experience in the manga industry. Translators, letterers, and editors are all invited to sign up to test into the Guild – once a localizer passes their test, they are assigned titles to localize for distribution via emanga.com and other digital platforms.
For more information about Digital Manga Publishing, visit www.digitalmanga.com as well as:
www.digitalmangaguild.com
www.emanga.com
www.projecth-books.com

Follow us on twitter @digitalmanga
Find us on Facebook: Digital Manga Inc