Limited time flavors with limited appeal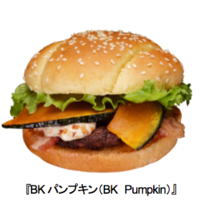 Burger King Japan came up with a special burger that will "allow you to keenly feel the arrival of the fall and winter seasons, and their hallmarks, Halloween and Christmas." (Rough translation from press release.) Today we experienced "King's Harvest Time" in all its fall sweetness, but also took the plunge on the "Black Burger" that has been lurking around since the end of September.
P for Pumpkin, K for Kuro ("Black").
First, the BK Pumpkin:
Don't worry, there's no all-spice! This somewhat cute little package has fried pumpkin (Japanese kabocha, so not quite what you're used to carving up), bacon, lettuce, and, lest we forget, a beef patty. It's finished with "nuts sauce" made out of peanuts, almonds, cashews, and hazelnuts. The pumpkin image is carried (albeit loosely) through to the "double slit sesame bun" that supposedly (?) looks…like a pumpkin (?).
Kind of tame-looking!
I have minor regrets for not loosening up and stretching my jaws around the "Pumpkin Bomb" which features TEN WHOPPING SLICES of squash. If there's a next time…
From the press release
Honestly this one was good enough that I would eat it again. The sauce was at first sort of hard to distinguish from normal mayo. It's white, sweet, and then, yes, vaguely nutty. I actually really like kabocha, so putting it on a burger is a fine idea for me. In fact, I like it so much that I kind of just want to make like a bacon-almond butter-kabocha sandwich and forego the burger and mayo thing all together. Future experiments in home cooking!
Then there is this business:
"This doesn't even look edible," is how my friend reacted to the Black Burger. It's cool, I get that there is charcoal in the bun. That is no problem for me. What was sort of problematic was the squid ink ketchup. I've had squid ink pasta before, so I knew what I was getting myself into, but my tongue was not really ok with it.
It's like an alien bled on my burger...
I'm not sure if it's just the jarring image of a fast food chain offering squid ink anything or if squid ink is not meant to be mixed with ketchup (or burgers?), but I ordered fries afterwards to get the taste out of my mouth.
So there you have it, the winner and loser of this season's limited edition Burger King fare. I'm not sure what is more unfathomable than the Kuro Burger, but I'm sure they'll continue to come up with surprises for us gimmick gobblers.