Akihabara Culture Cafe Schatzkiste maids refuse to die, serve tea and themed menu items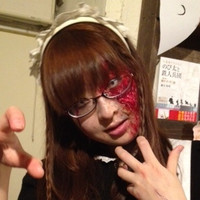 In addition to the friendly, normal, welcoming maids at the Akihabara Culture Cafe Schatzkiste, clientele were either surprised or delighted this weekend to find a pair of zombies serving during the "Maid of the Dead III" event. The outbreak began on Friday and by the time we arrived the evening of the 28th (the last day), the infection had progressed to a pretty extreme point.
"Warning! There is a zombie outbreak in this building!" Note that additional photography where watermarked is via Akiba Blog, without whom we would have never known about this event!
"Don't eat that!" One of the guys sitting behind us scolded a zombie maid as she knawed on a sinewy innard that had apparently at some point over the weekend sprung out of her gut. My friend and I were warned by a healthy maid that there was a zombie event going on, but we were hardly prepared to watch as this one struggled in a jerky, fidgety way to get her intestines back into her stomach.
Sometimes the zombie maids would "chase" (about all they can muster is a stagger) the other maids around, or get a little too enthusiastic about helping around cafe and appear threatening. No touching was allowed, but the zombies fiddled with people's drinks or wrote them messages, took an interest in their reading material.
Decomposing as we speak.
The cafe costs 500 yen for a half hour (for the maid service), plus whatever you order. Since the 22nd, they've been running a "Zombie Menu" with some of the most impressively constructed theme food I have seen. Take for instance, the eyeball in this glass of "Sangeria." It had a consistency somewhere between pudding and Jell-o, and you don't have to strain your brain to imagine that's exactly what eating a genuine eyeball is like:
The drink is called Sangeria, which sounds like a pun on blood and sangria, but is also the title in Japanese of the 1979 Italian horror film, Zombi 2, which is apparently the true inspiration for their eyeball collecting. 600 yen.
We can only imagine the richness of the "Beyond" cake, which was sold out by the time we got there:
Photo via Akiba Blog again. The cake was inspired by The Beyond, another movie from the same Italian horror director, Lucio Fulci. 600 yen.
The "Devil's Graveyard" really stole the show, though:
I love the way it looks like the fingernails are ripped off. So...totally...gross. 900 yen.
Omelette rice fans, take note—you can probably make this at home: "People resurrected by some mysterious ultrasonic insect extermination device vigorously stuck their hands out of their graves, so we plucked off their fingers and tried serving them." No sweat, right?
Schatzkiste publishes a guide to all their maids that is extremely detailed. We tried to guess which had been turned into zombies:
Cropped the image short to keep this maiden's true identity a secret, but look at all the detailed information. It helps to know whether someone is a Kingdom Hearts fan or not!
We managed to escape within our initial thirty minutes, but just barely:
Overall, totally worth going out for, even in the rain. I think it would have been extremely awkward alone, though, so shouts to my friend for letting me drag him.
Does the sight of fake blood take your appetite away? Do dangling innards destroy all nearby cuteness? Let us know in the comments whether you think you would want to brave "Maid of the Dead IV" if Schatzkiste got invaded by zombies again next year!
See more pics of the event at Akiba Blog!