This week, we're looking at the premieres of "URAHARA" and "Love Is Like a Cocktail." What will get you hooked on these new fall anime? Let's find out!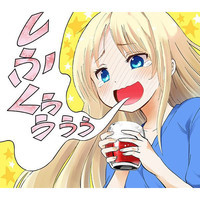 The days are getting shorter, so why not brighten up your autumn with some cute new anime? This week, The Hook is looking at URAHARA and Love Is Like a Cocktail, two sweet and upbeat new shows that'll make the dark evenings seem brighter. What will get you hooked? Let's find out!
URAHARA
Patrick Macias and Mugi Tanaka's Crunchyroll webcomic PARK Harajuku: Crisis Team! comes to life at last as a collaboration between Crunchyroll and Bilibili. Set at the very real PARK shop in Harajuku, it stars friends Mari, Rito, and Kotoko as they fight aliens with imagination, ingenuity, and Harajuku style.
The three girls love all things cute and stylish, and are in the midst of working on new creations when aliens attack. Dubbed "Scoopers" by the people of Earth, these aliens are scooping up major landmarks around Japan. And now, they're making their way to Harajuku.
Just as the girls have decided to stay at PARK and see the invasion through, they're met by human Scooper escapee Misa and her pet fried shrimp. And they're about to learn more about what the Scoopers want and how to fight back.
The Hook: It's creativity. The Scoopers are an unimaginative, uncultured breed who are traveling the universe and stealing other worlds' culture to build their own. Now, their sights are set on Earth.
Fortunately, the three girls of PARK have what it takes to manipulate otherworldly devices that run on imagination, and are now fighting back against the Scoopers with the very thing the aliens are trying to steal. The results are bright and colorful and pretty. And there's also a giant parfait.
Who Is It For: Okay, fair warning. If you can't handle cuteness and pastels, you might have a hard time with URAHARA because this show is utterly adorable. Whether that's a deal-breaker or a deal-maker really depends on the person. But it's a sweet celebration of human creativity with an eye to its home genre, and that definitely makes it fun for just about anyone.
URAHARA airs Wednesdays at 4 PM PDT.
Love Is Like a Cocktail
Chisato is a fairly calm, kind boss at her office. She helps when you have a problem and isn't nearly as strict as you're afraid she'll be. But she won't go drinking with you. Lunch, sure. But no drinks.
When she gets home, though, it's a different story.
Chisato's husband Sora is an expert bartender, and he greets her with dinner and a fancy cocktail. When it comes to her husband's creations, she can't resist -- and we find out why she doesn't drink. Once she gets a couple of cocktails in her, she becomes a completely different person. Fortunately, she gets snuggly and romantic.
The Hook: As cute as Love Is Like a Cocktail is, it's made largely for one purpose: showing off some really fantastic cocktail recipes. The recipe in the first episode makes use of fresh plum juice and sounds absolutely fantastic. And while the characters really are cute and worth following, we probably can't expect a lot of character development. And that's okay.
Additionally? This is a 3-minute show. So it's short enough to pop in without having to commit hugely.
Who Is It For: Short version: lovers of drink. Whether you're going to make the drink yourself, ask a friend to, or just dream about how you totally would if you had the time and money, it's a good watch. Maybe it'll inspire you to give some mixology a go.
Love is Like a Cocktail airs Tuesdays at 10 am PDT.
-----
Kara Dennison is responsible for multiple webcomics, blogs and runs interviews for (Re)Generation Who and PotterVerse, and is half the creative team behind the OEL light novel series Owl's Flower. She blogs at karadennison.com and tweets @RubyCosmos. Her latest story can be found in Ride the Star Wind, available now from Broken Eye Books.