The amateur investigators final case is to crack their own feelings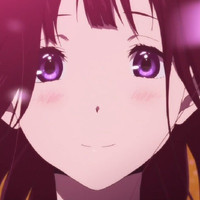 Eru Chitanda and Houtarou Oreki walk home from a festival, cherry blossom petals framing the scene. Iconic of new beginnings, these cherry blossoms are curiously blooming out of season. Chitanda stops Oreki in front of the tree producing them. There, she gives him an ultimatum.
Hyouka is about solving mysteries, and mainly mundane mysteries at that. No murderer needs to be found. No crime needs to be immediately uncovered. But in its forays into mystery-solving, Hyouka just as interested in uncovering the "why" of its mysteries as the "how". The show isn't merely content with the clever puzzles or sensationalist circumstances more conventional mystery series trade in. Why, after all, do people set up these elaborate puzzles in the first place? In exploring the "why" of its mundane mysteries, Hyouka gives its story an excuse to explore its characters, one particular facet at a time. We have Oreki's growing interest and empathy in others like his teacher. We have Satoshi Fukube's chronic jealousy of Oreki's critical reasoning prowess. And then we have the budding romance between Oreki and Chitanda.
Chitanda and Oreki develop a gradual chemistry with each other as they learn about one another. They develop feelings of attraction for each other throughout the show. The two nearly kiss while getting into a mystery before pulling away and becoming all bashful. Chitanda invites Oreki to accompany her on her New Year rounds, with the two of them getting locked together in a shed. By themselves, these incidents amount to little more than romantic teasing -- besides the point of a show concerned with figuring out the puzzles behind the mysteries. But then towards the end, the romance between the two becomes the mystery itself.
It is through the investigatory framework of this mystery sleuthing show that the relationship shared by these two is directly addressed. The mystery of the finale, hidden underneath the ostensible puzzle of a closed-down bridge, is the reason Chitanda asks Oreki to help her out during another festival. The "why" of that mystery is the question of their relationship. Will the romance actually happen? Far from the straightforward solutions of will he-won't she problems elicited from characters shy or dense, Chitanda let's Oreki know what being partnered with her would mean. She thinks that it would mean less for him freedom. She wants to know if he's willing to put up with that.
Elements of Chitanda's life, from the large rice plantation that she lives on to the New Year's greetings that she offers to people on behalf of her father, suggests a person who belongs to an important family and is under pressing expectations. Outside of that bubbly and inquisitive exterior of Chitanda's, unconstrained from asking Oreki about this or that, is a girl who knows that she can't do this forever. Outside of the freedom bubble that is her school life with the Classic Literature Club is an adult one of entering the family business and taking over the family position in the community.
Chitanda invites Oreki to participate in the Hina Doll Festival, a long-standing celebratory custom in the countryside organized annually by the locals. Except for Chitanda and a few others, the locals are mainly elderly. Having grown up in the countryside as part of an important family in her farming community, she has been participating in this festival since she was little. This festival and other traditions are aspects of her identity that she cherishes, aspects that she feels duty-bound to continue preserving.
Chitanda's sense of obligation and duty in preserving these traditions conflicts with her sense of inner curiosity and adventure that she exhibits while solving puzzles with Oreki. Her club activities of solving mysteries are her last opportunities to live as a high school girl, her last hoorah of freedom before she needs to approach her career plans much more seriously. Chitanda knows that Oreki's smart, and she fears dulling his brilliance. She doesn't want to limit him. She doesn't want him to resent her.
Young people are leaving their countryside homes behind for opportunities in the cities. Oreki muses these countryside towns aren't likely to grow any bigger or younger. Chitanda tacitly agrees, but makes it clear to him that she intends to stay regardless. Being the one person to sate her curiosity and add spice to her mundane life, Chitanda fears that getting further involved with Oreki would rob him of the freedom that he needs to pursue his own happiness. Chitanda is fully prepared to resign herself to the countryside. She doesn't want Oreki to feel trapped because of her.
Which is why Chitanda's been taking gradual steps to introduce Oreki to her life, asking him to accompany and assist her during her family duties. She has him accompany her to greet and pay New Year's respects to important members of the community. She has him participate in a procession, the male costumed attendant trailing behind her beautiful yet silent visage. These events are a different part to Chitanda that Oreki's not used to. These duties are a more traditional and constricting part of her life that she follows and respects. These obligations and responsibilities are her world. These old folks and dated customs, her home.
Chitanda considers herself an anchor to Oreki's brilliance, a weight, a burden. He has so much that he can accomplish in his life, if only he is willing to leave her behind. Oreki may be sown, planted, and rooted in Chitanda's withering way of life, perhaps grasping at but never reaching the sun of restoring her community, but he wouldn't have had the motivation to strive for much anyway... not without her. The apparent freedom that Oreki "enjoyed" before meeting Chitanda left him dull and listless. The subsequent restraint that he "suffers" under her has given him energy and interest. Far from seeing her as someone drawing him down, she's the reason he's come up for air.
Eru Chitanda and Houtarou Oreki meet for the first time, flower buds framing the scene. Significant of secret love, gardenias bloom in mid-spring. A famously inert and apathetic Oreki becomes enraptured and interested in something, in someone. Regardless of whether cherry blossom trees bloom in-season or out, the fact remains that cherry blossom petals are falling for observers to enjoy.
It's not Hotorou's freedom that brings out his brilliance. It's not even his brilliance that charts him a new beginning. It's Eru that ushers in his spring.
---
A social scientist and history buff who dabbles in creative writing and anime analysis, ZeroReq011 has a Twitter you can follow and runs a Blog called Therefore It Is. In addition to writing for Crunchyroll, he has contributed articles to Anime Feminist, Anime News Network, and Genki Life Magazine.