Spotlight animators return to the series for its 63rd episode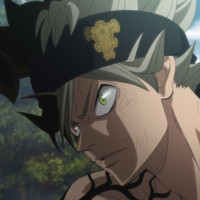 Studio Pierrot and the staff working on the upcoming episode of Black Clover seem excited about… something. In the lead-up to tomorrow's highly anticipated episode 63, set to feature one of the biggest moments of the manga, many of those involved in the episodes production have been tweeting images, gifs, and production snippets of the new and improved Asta along with the hashtag #63. Many of them are either staff returning from Black Clover's biggest fights or other spectacular anime from this year.
【#ジャンプフェスタ2019】歴代のぴえろ×週刊少年ジャンプTVアニメを上映する〈ぴえろ40thアニバーサリーシアター〉の参加作品を発表!
ラストの第13弾は『ブラッククローバー』ページ63「何でも無い」。異様な姿へと変貌したアスタの壮絶なバトルをお楽しみに! pic.twitter.com/aPGXnTetY6

— 株式会社ぴえろ (@studiopierrot) December 15, 2018
The official studio Pierrot account to kick things off with a finished frame of the episode's big subject.
ブラック・クローバー63話が来週18日火曜日18:25〜TV東京で放送します。とにかく見て下さい。 #ブラッククローバー pic.twitter.com/yJUcohOGJp

— 吉原達矢 (@o_ihs_oy) December 15, 2018
Follow by Black Clover's series director Tatsuya Yoshihara with the original illustration.
ブラッククローバー♯63
12/18
みてねー pic.twitter.com/8TFY5Dx3i4

— gosso.blend (@gosso_blend) December 16, 2018
Shota Goshozono with a sick GIF. He's been a key animator for The Seven Deadly Sins and Fate/Apocrypha, who looks like he'll be returning to Black Clover for this episode after his last stint during episode 35, which you might remember as the series biggest animation pop-off during the Yami/Licht fight. Also Yuno's surprisingly gorgeous dumpstering of some unnamed bandits.
12/18

please look forward to it#BlackClover #ブラッククローバー pic.twitter.com/x4djDHUH1s

— Gem (@gem_ch18) December 16, 2018
Gem, with an intimidating silhouette. They've already animated a bit of Asta showing his dark side from the most recent Black Clover OP and contributed to Vanessa and Finral's pinballing Asta portion of the battle against Vetto.
ブラッククローバー ♯63
テレビ東京
2018/12/18 18:25 OA
「何でも無い」#ブラッククローバー#BlackClover pic.twitter.com/6blzHXhRGl

— 川上雄介 (@kawakami_yu) December 16, 2018
Yusuke Kawakami with what looks like some production work on some fire effects along with a hint of Asta. He's been busy this year doing key animation for Hanebado!, DARLING in the FRANXX, SSSS.GRIDMAN, and is the man behind Asta's bullet hell fight against Valtos!
ブラッククローバー ♯63
リアタイで観てください。 pic.twitter.com/ltYHNRIIxW

— まきの (@makino_728) December 16, 2018
Episode 63 getting the Revue Starlight title card treatment from animator Makino, who previously worked on... Revue Starlight!
ブラッククローバー ♯63
テレビ東京
テレビ大阪
2018/12/18 18:25〜#ブラッククローバー#BlackClover pic.twitter.com/DgIqrgcGIR

— やま (@yamamimumemo) December 16, 2018
A nice black and white, winged Asta from Yu Yamashita, whose work you can find in choice Naruto Shippuden OPs, one or two EDs, and How Not to Summon a Demon Lord's OP.
#BlackClover #ブラッククローバー pic.twitter.com/87F0Czj6n0

— Till ・ティル (@Tilfinning) December 16, 2018
A mysterious blue Asta from key animator Tilfinning, who worked on one of the most gorgeous fights this year, Naruto and Sasuke's tag team, and helped put together some of the best moments from the Asta vs Vetto fight here Asta last unleashed a bit of his inner demon.
December 16, 2018
Here's a very creepy Ladros key frame from Moa Ang. Fate/Apocrypha and Revue Starlight animator who seems to have been brought in for the newest episode.
ブラッククローバー
ページ63「何でもない」
テレビ東京 12/18(火) 18:25から。
是非ともリアルタイムで!#ブラッククローバー#BlackClover pic.twitter.com/o9qUOIJ3Hj

— 椅子汰 (@Isuta_meister) December 16, 2018
Finishing things up is an intense, windswept Asta GIF from animator Isuta, who has been bouncing back and forth between Sword Art Online: Alicization and Black Clover. You can thank them for Yami's gorgeous Dark Cloaked Dimension Slash.
明日です!よろしくお願いします…!

#ブラッククローバー pic.twitter.com/kxCmh8wpMJ

— えばかす (@ebakask) December 17, 2018
It isn't very often when a big shonen anime has the production coming out in force to advertise their work, usually only happening during some of the legendary moments in the manga. My last personal recollection of this was during a certain event in Bleach which had the anime staff pulling the same move when Ichigo was about to undergo a similar change. With that in mind, I'll setting aside some time tomorrow to watch this episode the moment it comes out.
---
Peter Fobian is an Associate Features Editor for Crunchyroll, author of Monthly Mangaka Spotlight, writer for Anime Academy, and contributor at Anime Feminist. You can follow him on Twitter @PeterFobian.