What does it take to draw an Ecchi manga? Tadahiro Miura tells all!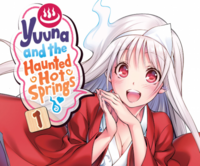 Few genres are as prone to sudden weather changes as the Ecchi genre—from nebulous fog to blinding rays of sunshine, it has always known how to direct our attention. But what exactly does it take to create the content that can cause such meteorological oddities?

We had the great pleasure of being able to sit down with acclaimed Shonen Jump mangaka Tadahiro Miura, best known for his series Yuuna and the Haunted Hot Springs. During our small conversation at the German anime convention AnimagiC, he enlightened us on what it takes to draw an Ecchi manga and how the process of his work getting an anime felt for him. Additionally, his editor Ikeda-san as well Shounen Jump's very own vice-editor-in-chief Kawashima-san lifted the fog on who is actually in charge of overseeing an anime adaptation.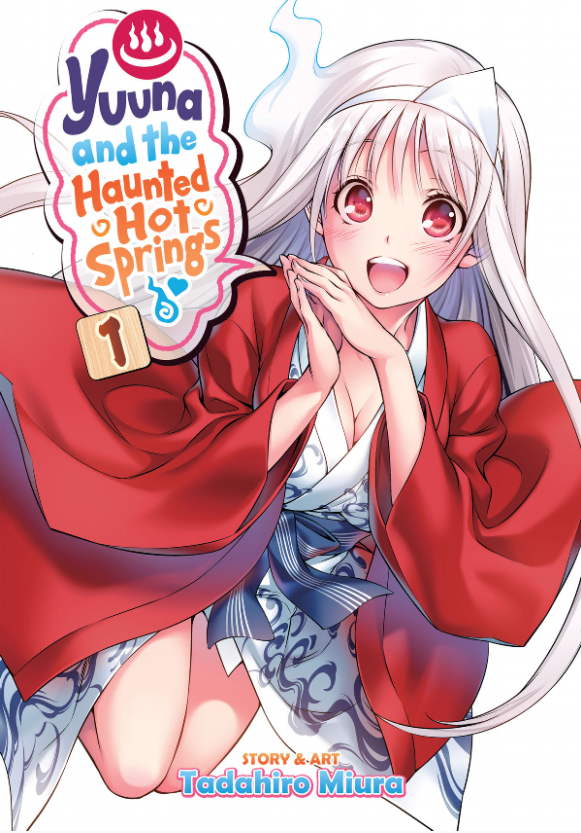 YURAGISO NO YUUNA-SAN © 2016 by Tadahiro Miura/SHUEISHA Inc.

Could you describe your general working process for a single chapter?
Miura: I usually take a week to draw everything and I consult with my editor during the same time. We discuss what I plan for any given chapter. Then I create a written script and note down what is supposed to happen on each page. I hand this script to my editor and he makes some corrections if necessary. Once that script is finished, I prepare the "naming", a storyboard which shows the visual aspects. The panelling, speech bubbles, then the text inside the speech bubbles - and if I already settled on them, the background and the placement of certain characters, as well.

Then we go to the next step: I hand out the templates for the backgrounds and settings for important scenes to my assistants and while they work on those, I already start drawing the characters. After the naming, we put everything together. We split the work between me and the part my assistants take care of. Once everything comes together, I look at it as a whole and make some corrections if necessary – including the parts handled by my assistants. Afterwards, I fill in black spaces – so adding the final touches essentially. Since I draw everything digitally, it is pretty easy to correct things. And then I send a digital copy to my editor – usually he calls me back 30 minutes later and we start discussing the next chapter. This is how things go every week.

How do you come up with the individual situations that you incorporate into your manga?

Miura: I watch a lot of movies and read manga – and then there is of course the input of my daily life. When I discuss an upcoming chapter, it usually looks like this: "I just watched this and really liked it. How can we alter it, so it fits into Yuragi?" For example, I'm really enjoying Splatoon lately. This didn't happen in Yuna now, but I could draw a manga where all female characters play that game – and make it a bit sexier – like every time someone gets hit, their clothes vanish at that spot and who ends up naked, loses - or something like that. You could say I'm adding my personal touch to a scenario, the Yuragi-so no Yuna-san twist if you so will. And that's how I get my inspiration.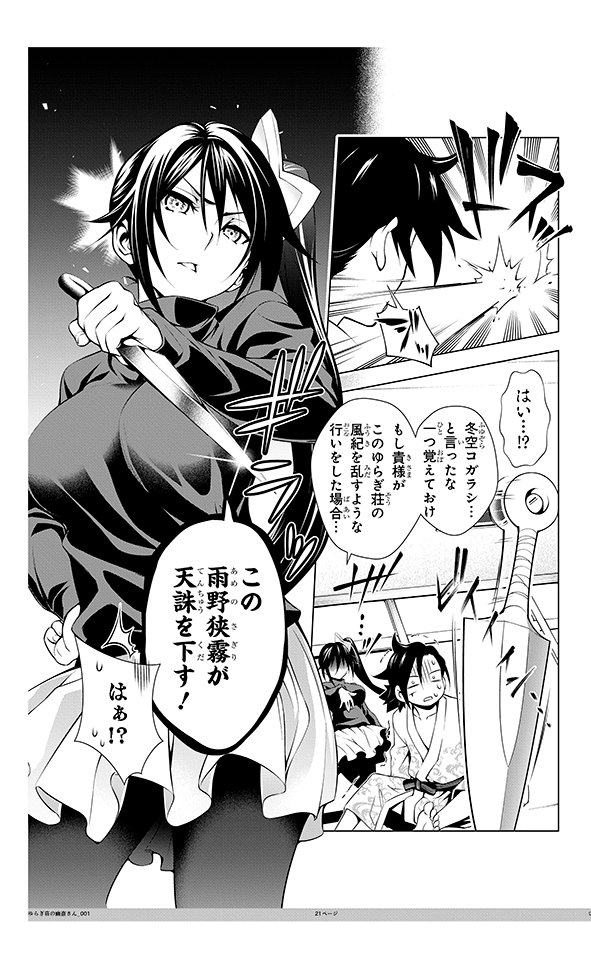 Volume 1,Page 25
YURAGISO NO YUUNA-SAN © 2016 by Tadahiro Miura/SHUEISHA Inc.
Do you think that there are any rules one should consider when drawing an ecchi manga or things you should definitely think of?
Miura: For me, it's actually pretty important not to be limited by any kind of rules. I want to have the freedom to say "This is great, I want to draw this." And even without rules, I would never draw anything which I would consider as "going too far" myself. So, I draw what I feel works best. You could say that my editor makes the rules, though. He tends to say "a bit more"– by this, he means "a bit more clothes" and I then adjust the picture accordingly. But my personal rule is: If you want to draw something sexy, you should let your creativity run freely and not shackle it with rules.

Is there an example of how such a conversation between you and Ikeda-san came to be?

Ikeda: I can't think of a specific example but it happens quite a lot that I have to step in and say "you are showing a bit too much skin" or "You should hide a bit more there". Miura-sensei usually notices himself when something is too extreme to draw. But again: Usually it's just that Miura should cover up a bit more skin. So far there has been no extreme case.

Miura: Well, there is another thing. Ikeda-san tends to point out when something is too obvious. So, when a scene looks too much like I just want to show off a butt or something like that. He then advises me to make it look more random and natural.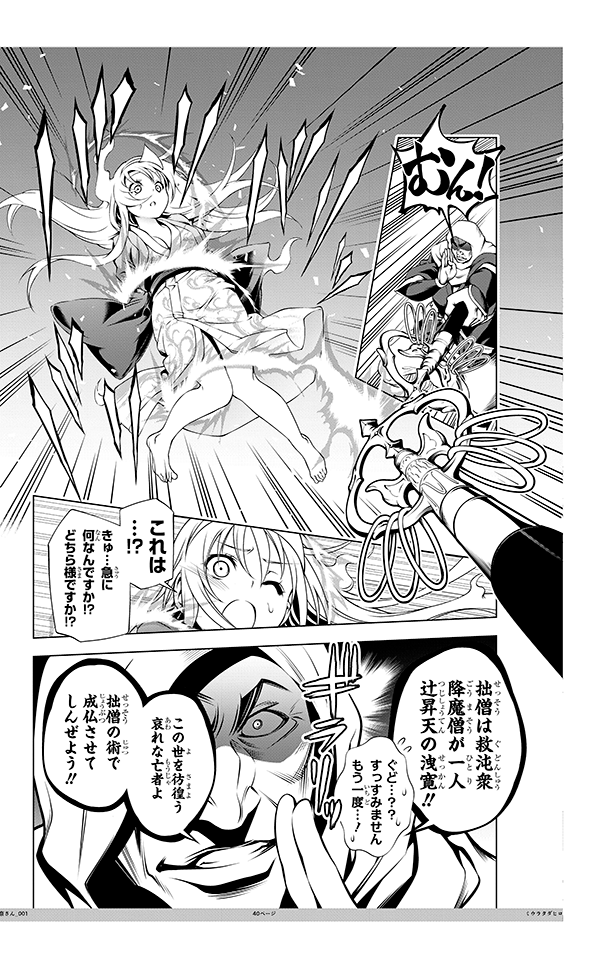 Volume 1, Page 44
YURAGISO NO YUUNA-SAN © 2016 by Tadahiro Miura/SHUEISHA Inc.
What do you think a mangaka should have if they want to draw an ecchi manga? Maybe something many don't realize?
Miura: Of course, you need a certain fondness for the material. Besides that, it is also rather important that you don't focus on your own preferences but that you can understand and analyze why a pose is sexy or why a character design is appealing. You need some distance and you need to understand the What and Why so you can control it. It's not as easy as it sounds.

Is there something you would like to incorporate in Yuuna and the Haunted Hot Springs which was cut? Like a story, a character or maybe just a scene?

Miura: When you want to publish your manga in Shonen Jump, you have to hand in your first three chapters as storyboards for a conference. The second and third chapter were altered a lot afterwards. They went into a very different direction. The original second and third chapter showed how sad it is to be a ghost and what kind of challenges Yuna has to face – but then it was decided to put more focus on the comedy aspect. It is more fitting for the current series and setting of Yuna to be light-hearted and funny. And that's what I want to give my fans; a good time and joy. I do think it's a bit of a shame that I cannot incorporate the original chapters anymore as Yuna has changed. I don't regret it, but it was a lot of fun to draw those chapters.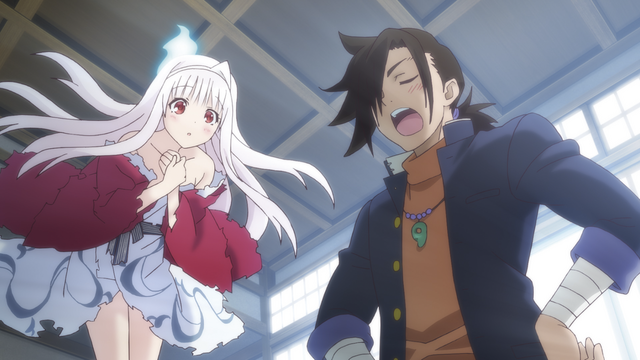 Screenshot from the anime adaptation
©TADAHIRO MIURA/SHUEISHA, YURAGISONOYUNASAN COMMITTEE
How was the process of adapting Yuuna and the Haunted Hot Springs into an Anime? How involved were you?

Miura: Before the anime went into production, I took part in a conference and talked with the directors, producers and character designers – the important people, so to speak. They asked for my opinion regarding all the important things that were planned to be emphasized in the anime. During the design phase, I also looked over the character designs and made some changes or commented on them. But once the show went into production, I left everything in the hands of the director and as an artist I'm rather pleased with how the anime turned out. It is great that all characters now have voices, that everything is in color and that there are now songs associated with the series. And it is particularly great that the light-heartedness, or rather the atmosphere of the hot springs, was captured in the anime. The animations of the breasts also turned out great, by the way. I can only praise it, since you can't really see that in the manga.
Next, I have two questions from fans. Have you ever considered having supernatural creatures from different cultures come visit the Yuragi-Sou?

Miura: I don't want to spoil anything but at least in one of the Japanese volumes – I'm not sure if it already has been released here – there is one foreign creature, a creature that didn't originate in Japanese culture. So far it has been the only one and I don't have any plans for any other. But you never know, especially now that I have been to Germany.
Fan Question 2, which is about Yaya: What do you think is the reason that cat girls are so appealing?

Miura: I think they are appealing because they don't let anyone dictate what they do and simply do whatever they want, a bit like real cats. So, a cute girl that is also very funny. By the way, I think chapter 27 is the best Yaya chapter. Without spoiling anything, Kogarashi and Sagiri have to learn for a test and Yaya has to, as well. While Kogarashi and Sagiri have to struggle a lot, Yaya just shows off her cat nature. I would recommend this chapter to every fan of Yaya.
And now the final question for Miura-sensei. At the end of volume two, you mention that you have become a fan of virtual reality recently – if you had the freedom of choice, which scenario would you like to experience in VR?

Miura: Of course, I wouldn't do it myself, but I think it would be pretty cool if you could go into the Yuragi Hot Springs and take a hot bath with all the characters. And as long as you are careful enough to not drop the VR goggles, you could go into your own bathtub and authentically enjoy a bath with the Yuragi characters.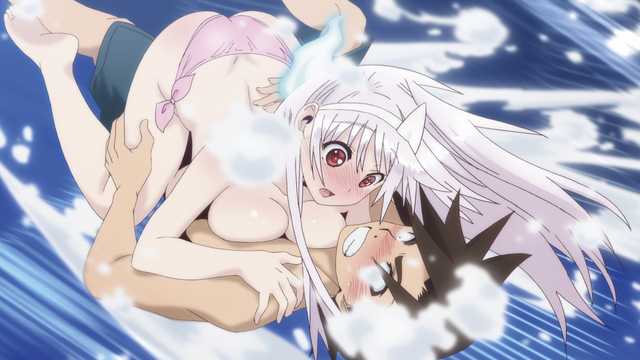 Screenshot from the anime adaptation
©TADAHIRO MIURA/SHUEISHA, YURAGISONOYUNASAN COMMITTEE
Now I have a couple of questions for the editors. For one, how do you usually work with a mangaka and what is the most interesting but also challenging part of this job?

Ikeda: Miura-sensei already explained part of it: The editor consults with the mangaka about what should happen in the next chapter and gets the storyboard delivered to him. The editor corrects some things and writes down some comments when something is too hard to understand, so the mangaka can adjust it as needed – and then it's basically up to the mangaka to finish the story.

The editor of course supports them however he can but soon it's all about finishing that one chapter. Once the editor gets the finalized chapter, his actual work starts. He still has to pick a font for the text. There is of course a default font but particular funny scenes for example may require different ones. Or a very sexy scene might need different letters to convey that as well. And then there is of course the final check-up: Looking through it if there are any mistakes.

Afterwards the editor hands it off to be printed. It is a lot of fun to discuss upcoming chapters with a mangaka since most editors of course enjoy reading manga themselves. It is very interesting since you know that you help to develop the story. It's a great feeling to see how a mangaka turns the things you discussed into something great. And I of course always look forward to reader feedback.

Kawashima: Depending on the mangaka's lifestyle the editor may have to adjust to it. There are many mangaka that prefer to draw at night. An editor sometimes has unusual work hours because of that and sometimes you just feel bad when you are asleep while your mangaka is still up drawing. And when something doesn't turn out so great and you have to deal with less than positive reader feedback which can make you feel a bit embarassed.

How do you decide what is appropriate content for Shonen Jump?

Kawashima: There is a conference in which they discuss what series will be picked up for the magazine and which might get cancelled. But in the end, it's up to the readers to decide what fits Jump. We consider data like survey results in these conferences for example. You could say that there should be a "this belongs in Jump" definition – and there used to be something like that, but things have loosened up since then. A story like Yuuna and the Haunted Hot Springs that while being sexy also reads a lot like a shoujo manga and combines several different elements, might not have made the cut in the past. But nowadays, it's more like "what the readers like, gets into Jump". It doesn't have to be a pure-blooded shounen title as long as it's a good story.
Is there anything you would like to spotlight about your work at Jump that in your opinion deserves more attention?

Kawashima: Manga editors are actually quite involved in anime adaptations. Usually much more than the mangaka. They have to proofread storyboards and see if everything is in order. When an anime is produced, it is up to the editor to make sure that the manga is honored und the best possible product is being made. If you watch an anime, you are guaranteed to find the name of the responsible manga editor somewhere in the credits. It's quite funny but a manga editor also has to do the work of an anime editor.

Ikeda: It would be preferable if the mangaka could take care of that themselves, but they are of course rather busy since they have to continue working on the manga. That's why the editor takes care of that. It's quite the responsibility since the editor has to speak for the mangaka. It's a lot of pressure.

We would like to express our gratitude toward Miura-sensei, Ikeda-san, and Kawashima-san for giving us their time as well as KAZÉ Germany for providing the opportunity to conduct this interview. If you would like to get a taste of the antics in Yuuna and the Haunted Hot Springs yourself, you can watch the anime here on Crunchyroll!
---
René Kayser is the PR and Social Media Manager for Crunchyroll Germany. He tweets @kayserlein where he yells at people to finally read the visual novel Umineko When They Cry.