Tatsumaru Tachibana talks about how he landed his breakout role as Jin Mori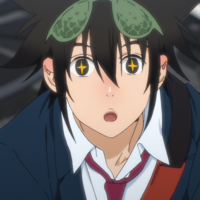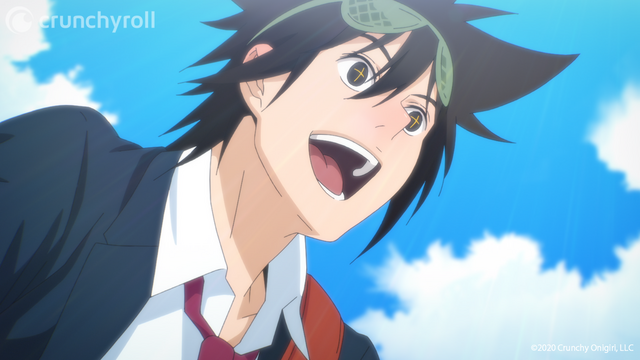 A wide variety of people come together to bring an anime series to life, and we're here to shine a spotlight on the talented creators behind the newest Crunchyroll Original, The God of High School.
Characters are the heart of a story, and a voice actor can make or break a character for the audience. Tatsumaru Tachibana is a relative newcomer to the world of anime voice acting, with his two previous roles being Toratarō Kobayashi in Case File nº221: Kabukicho and Shinoki Tōshirō Yoshimitsu in Oda Cinnamon Nobunaga. He recently landed a breakout role voicing the main character of The God of High School, Jin Mori. We had the opportunity to talk with Tachibana about his experience as an actor, the pressures new voice actors face representing well-loved series, and his thoughts on Jin Mori!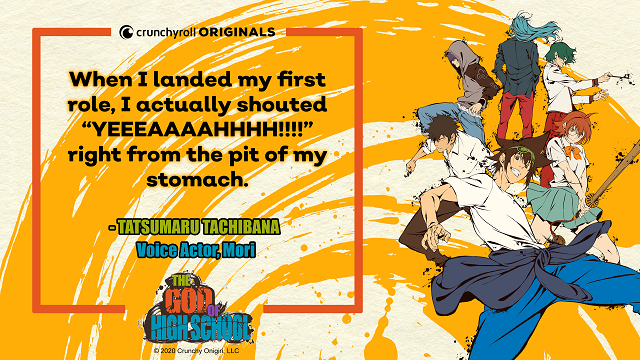 How did you get started in voice acting? Could you tell us about how you landed your first role?
My career as a voice actor began in earnest when I was employed by my current agency. When I landed my first role, I actually shouted, "YEEEAAAAHHHH!!!!" right from the pit of my stomach.

Have you always wanted to be a voice actor?
I had been interested in voice acting ever since I was a kid. My dad was the leader of a theater troupe, so I was performing in plays and dramas with white face makeup since I was about ten. I later left the troupe to strike out on my own, and here I am.

You seem to be pretty early on in your career but you've already landed a lead role in The God of High School! What was the process for casting you as the lead actor?
I participated in an audition, and, a few days later, I was contacted with the news that I had been chosen for Mori's part. I was on my way home from getting lunch after work when I found out. Even with all the people around, I freaked out and screamed, "Yes! Wait, I really got it?!" I'll never forget that day for as long as I live.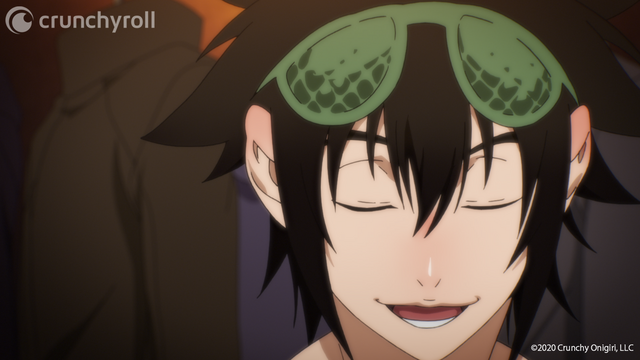 How did you feel when you learned you would voice Jin Mori?
I was really happy, of course, but immediately after that, I felt immense pressure. This is a very popular series, and I knew a lot of people would have high expectations for it. I just kept telling myself that I would give it everything I had.

Were you familiar with the source material before joining the project?
Not familiar enough. I had no idea that such an interesting comic even existed until the day of my audition. The God of High School only recently became available to read on manga apps in Japan. We have about 130 chapters available now, but I heard that a lot more chapters are available in other countries! I can't wait to read more of it.

Tell us a bit about Jin Mori. What do you think is his biggest motivation as a character?
After playing him in the anime, I'd say he's motivated by the fun he gets out of fighting strong opponents in order to get stronger himself. I wouldn't go so far as to say he's obsessed with fighting, but I think fighting and getting stronger mean the same thing to Mori that improving in a game or sport means to many of us. Of course, there are some moments when that's not the case, though.

Is there something about Jin Mori that you identify with? How do you get into the mindset of becoming this character when you act?
I just tell myself to have fun and give it all I've got. I was so nervous and stiff during the dubbing for the first episode that the sound director came into the booth personally to calm me down. I was told after that, "don't hold anything back, just go for it," so I made up my mind that if I went too far and got yelled at, I'd cross that bridge when the time came, and I've been portraying Mori the way I want to ever since. Director Sunghoo Park also put in orders for me to do some ad-lib, and I feel like I've gotten better at thinking on my feet by trying to do that as well as I could. It was a really fun job!

Is it hard creating new voices for each new character you take on? How do you ensure that each one is unique?
I've never gone into a role thinking, "I need to create a new voice!" so if I had to say one way or the other, I don't think of it as something that's difficult for me. I spend more time thinking about how I personally would portray that particular character and the presence they have, then try it out with my voice and think some more.

Could you describe what a typical day for a voice actor is like? What is it like to be in recording sessions?
I'm still too new at this job to have the right to describe a voice actor's typical day, so I'm going to pass on this one (sweat). I always feel nervous when I'm doing dubbing, but it's also a lot of fun!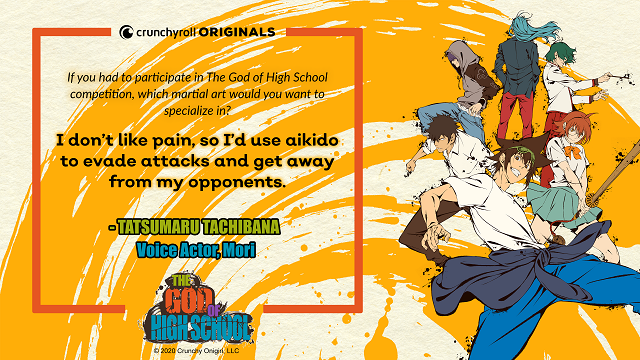 If you had to participate in The God of High School competition, which martial art would you want to specialize in?
I don't like pain, so I'd use aikido to evade attacks and get away from my opponents.

Do you have any advice for people who want to become voice actors?
Perseverance pays! I've felt that particularly strongly in this industry.

Would you like to give a message to fans of the manhwa around the world and people who are excited to watch the anime?
Hi, everyone! I'm Tatsumaru Tachibana! I'm as excited for the broadcast as all of you! It's an anime that's funny, cool, and packed with intense battles all at once! The art and music are both amazing, too! Look forward to seeing it! Let's all hype up The God of High School together!!!
Have you been watching The God of High School? Let us know in the comments!
READ THE OFFICIAL THE GOD OF HIGH SCHOOL WEBTOON SERIES

HERE

!
---
Do you love writing? Do you love anime? If you have an idea for a features story, pitch it to Crunchyroll Features!