Our Japan Correspondent tells his story covering the tragedy as his first story and moving through the grief one year on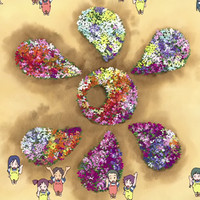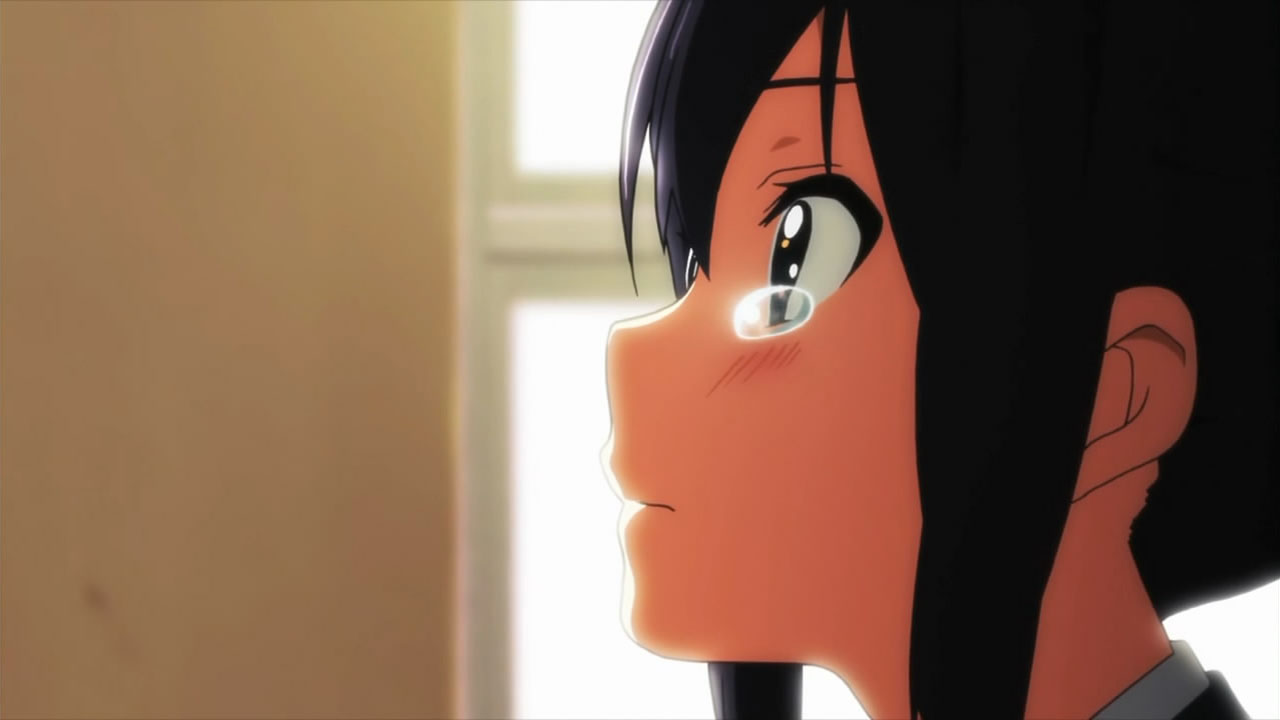 K-ON!! (via Kyoto Animation)
On this day one year ago, Kyoto Animation was attacked by an arsonist. It also happened to be the first day I started working for Crunchyroll News. Here is the story of my first byline as an anime journalist, the day a beloved studio was attacked, and how I covered the events as they unfolded in the days, weeks, months, and now year after the tragedy.
11:30 AM. Thursday morning. July 18, 2019. Tokyo.
I am shaken awake by my wife who has been reading the news in the other room. I'd been awake most of the night trying to sort out my new position at Crunchyroll News. My first piece was to be a review of Weathering with You, Makoto Shinkai's newest film that released the next day. Then, tragedy struck.
Kyoto Animation was on fire, and it was purposefully lit.
I couldn't believe it. I turned on NHK news to see what was happening and all it was showing was Studio 1 engulfed in smoke. It was unbelievable. I had only visited the studio and surrounding area three months prior for a pilgrimage to see the studio where my favorite anime was created and visit the locations that inspired the creativity.
But it was going up in smoke, literally.
Woke up to the news that KYOTO ANIMATION WAS ON FIRE.

NO. THIS IS JUST NO. https://t.co/EUwiEnpz0O

— Dazza (@DoctorDazza) July 18, 2019
As I was the only online at the time, I hit up the Crunchyroll News Slack channel. I didn't yet have full privileges – I was meant to start in a few days – so I couldn't break the news myself on the website. Together with Humberto Saabedra, we worked together to make sure all the information going up on Crunchyroll News was as accurate as we could find.
I translated as much as I could through the tears, trying to find out who was okay (thankfully it was confirmed early on that Directors Yamada, Ishihara, and Ishidate were alive), and sadly watching as rumors swelled on who was missing. Thankfully, the facts were easy to find as the Japanese media were all over the story — though sadly, some of it, like the rest of the internet, was hearsay.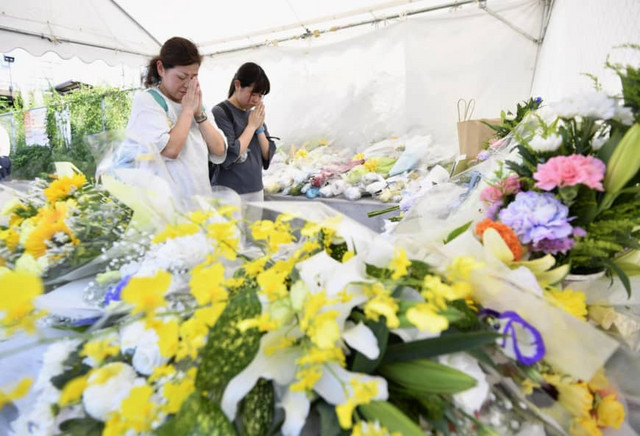 Memorial at Kyoto Animation Studio 1 (via JapanTimes)
I never thought my first piece for Crunchyroll would be working on the biggest mass-murder in Japan since World War II. No one ever working in anime journalism would think a day like this would come. Due to working in the US, Humberto rightly needed to sleep, so I was left on Twitter getting as much information as I could to get the facts out. It was raw. It was emotional. The people who made me happy, gave me joy, were fighting for their lives.
The world was mourning for Kyoto Animation.
August 27, 2019. Ikebukuro.
It was August when they announced the first people who had died in the arson attack. The police and Kyoto Animation waited until the families had been notified before publicly releasing the names to the media – not that it didn't stop the media from investigating themselves and releasing the names themselves against the families' wishes.
The term "mass gomi" (mass garbage), a play on the term "mass komi" (mass communication), was coined to call the media who released the names of those who had died before the families wished them to do so. Both domestic media in Japan and websites internationally were the cause of frustration, and one personally I didn't like.
I do remember the day in late August when the second group of people was announced.
It was August 27.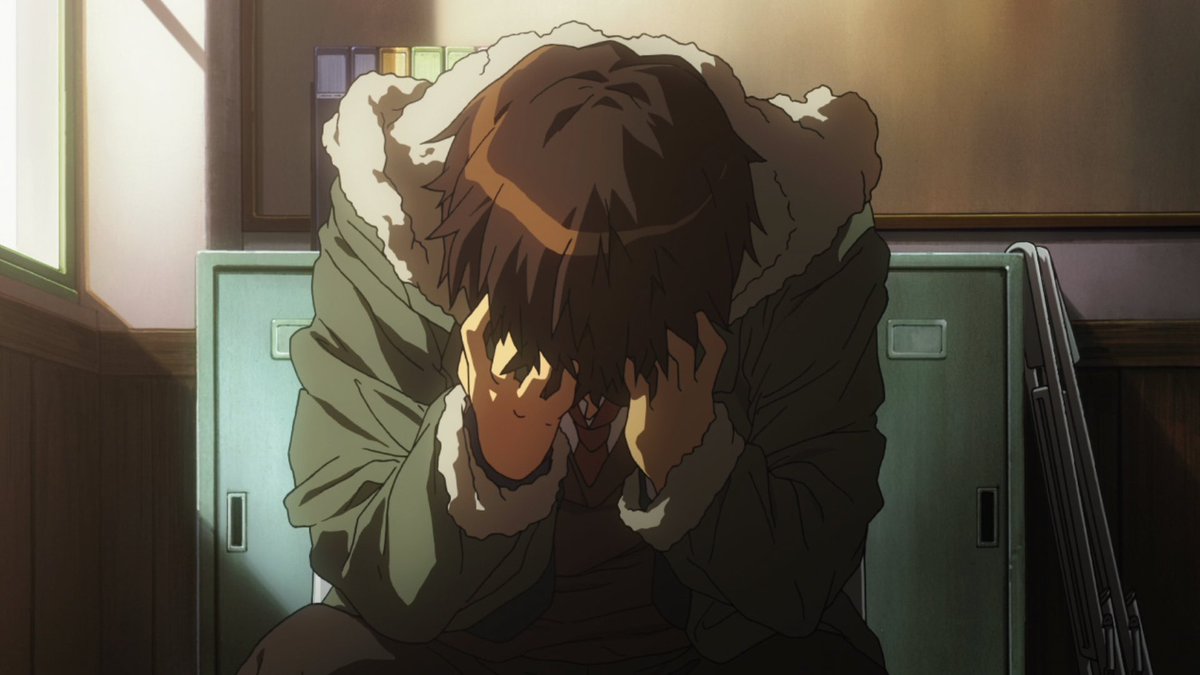 The Disappearance of Haruhi Suzumiya (via Kyoto Animation)
I was sitting in a Starbucks in Sunshine City in Ikebukuro. I'd just finished visiting The Quintessential Quintuplets exhibition and was going through the photos I'd taken while waiting for a friend to join me. My friend was only traveling through Japan, so we were going to make the most of the time he had.
But while scrolling on Twitter, the news popped up. Another 25 names were released to the public. I was fortunate enough to be at home when the first group of names was released, where I could sit in silence after finishing the story, but not here. I was sobbing inside a Starbucks over my computer while translating the names and trying to keep it together to finish the story.
My friend turned up in the middle of this and luckily he instantly knew what I was working on and was gracious enough to wait me out while I uploaded the story through the Starbucks Wi-Fi network, comforting me afterward. It was nice.
November 3, 2019. Kyoto.
Going into November, I knew there was a memorial happening in Kyoto in place of the festival the studio usually puts on. I also knew that I would never have the chance to go to it – to pay my respects. That's when I got the Slack message.
"We'll pay for you to go to Kyoto to cover the memorial."
I was happy. It was a funny feeling. I knew it would be one of the hardest things I'd ever do, but I was happy that I'd be able to do it.
You can read my coverage of the memorial here.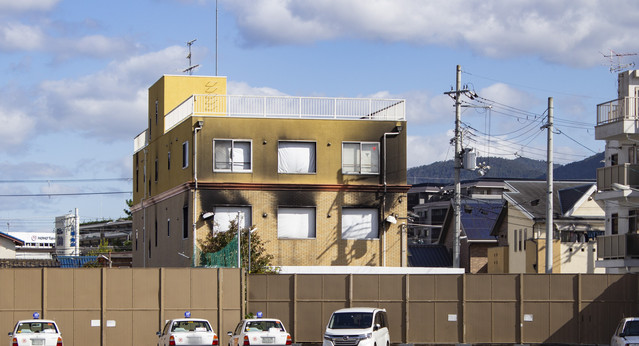 Kyoto Animation in November (photo: Daryl Harding)
I got to see Kyoto Animation Studio 1 for one last time. I'd got see it all shiny and yellow in March 2019, and again as a husk of its former self — from a distance, of course, there was no way I was able to get close to it.
What wasn't written about in the coverage was that I was thankful to have friends to lean on who also came to Kyoto to pay their respects. To drink by Kamo River at 4 AM in the morning, to get Okinomiyaki in the busy main street. It was cathartic. It helped me heal.
July 18, 2020. 12 PM. Tokyo.
A year on and a lot has changed. Sadly Violet Evergarden: The Movie still hasn't been released due to the ongoing coronavirus (COVID-19) pandemic. The scars from that day a year ago can still be felt in anime films and series that have either been postponed or just outright not even discussed due to the passing of key staff members.
As I sit here watching the memorial video being streamed on the same TV as the fire listening to the somber music being played as it rains out, reading the words that Kyoto Animation have been saying over the last year, I can't help but feel hopeful that no matter what, the spirit of Kyoto Animation lives on in those who continue the great work.
For an overview of the Kyoto Animation and where they're at now, Kyle, Cayla, and I got the privilege to speak to Kyoto Animation President Hideaki Hatta and Lawyer Daisuke Ono to get their perspective and thoughts.
On a personal note, while it still hurts thinking about those who we've lost, those who were taken from us too early, I'm able to look past the events and to the future. The anime they made still exist, and their legacies will be felt forevermore and Kyoto Animation will continue to push the boundaries of what animation can do and bring smiles to our faces, which is what those who have passed would have wanted.
----
Daryl Harding is a Japan Correspondent for Crunchyroll News. He also runs a YouTube channel about Japan stuff called TheDoctorDazza, tweets at @DoctorDazza, and posts photos of his travels on Instagram.