Here are anime-inspired snacks to munch on while you're streaming the awards!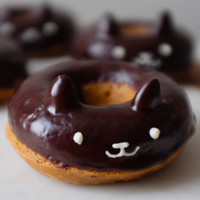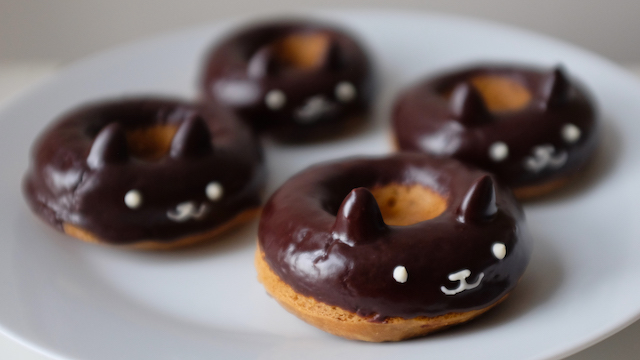 It's the best time of year – Anime Awards season! There are lots of things up in the air like: Who will win best boy? (Satoru Gojo please!) What about best couple? And what show will be crowned anime of the year?! While these answers will remain unknown until the big day, what you eat during the awards doesn't have to be a mystery.

Here are 3 anime-inspired snacks for the show! Because what's an awards show without HAIKYU!! TO THE TOP popcorn, Hime's coffee cat donuts, and JUJUTSU KAISEN's bacon-wrapped fingers (don't forget to check out our Anime Awards cocktails, too!).
JUJUTSU KAISEN "Fingers"
Yuji Itadori's ravenous appetite for fingers unleashes the powerful King of Curses, Ryomen Sukuna. With every finger consumed, Ryomen Sukuna grows stronger. Inspired by the fingers on the show, it only made sense to have some "fingers" as a snack. These little smoked sausages are wrapped in bacon and finished with a sticky sweet maple glaze. I can't promise that they'll protect you from curses, but it probably won't hurt.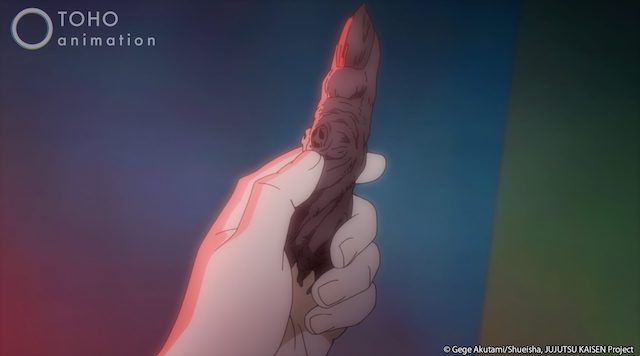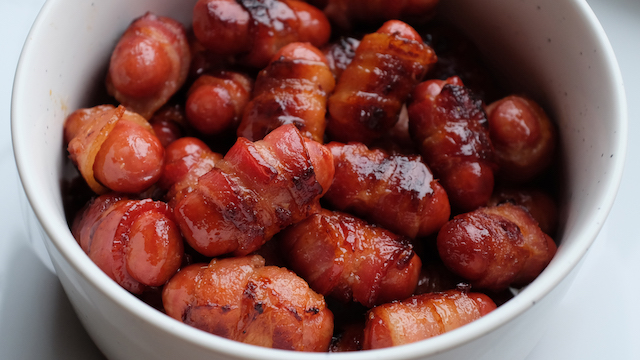 Maple Glazed Bacon Wrapped "Fingers" Recipe
Serves: 2-3 | Time: 25 minutes
Ingredients:
1 12-oz. package cocktail sausages
9 bacon slices
1/4 cup maple syrup
2 Tablespoons brown sugar
1/4 teaspoon cayenne pepper
1/4 teaspoon smoked paprika
Pinch of salt
Directions:
Step 1
Cut bacon in half and slice each strip lengthwise into two or three pieces (depending on the width of the bacon). Set aside.
Step 2
Heat oven to 425°F degrees. Wrap each sausage with one slice of bacon. To avoid it unraveling in the oven, tuck both ends of the bacon onto itself or secure the ends with toothpicks.
Step 3
Place wrapped sausages on an aluminum foil-lined baking sheet. Cook until bacon begins to crisp and the sausages get some browning, about 15 to 20 minutes.
Step 4
While the sausages are cooking, prepare the glaze. Combine syrup, brown sugar, and spices in a medium measuring cup. Set aside.
Step 5
Remove sausages from oven once ready and take out toothpicks. Heat the broiler. Pour the glaze over the sausages and gently mix until each one is glossy.
Step 6
Cook in the broiler until the glaze thickens and begins to caramelize, about 3 to 5 minutes. Do not walk from the oven. Keep a close eye on it to avoid burning.
Step 7
Remove from oven. Serve immediately.
---
HAIKYU!! TO THE TOP Caramel and Cheddar Popcorn
For me, when it comes to popcorn, there's no competition on which kind is best. A big bowl of caramel and cheddar popcorn is the clear winner. If you're not familiar with this iconic duo, it was popularized in Chicago for being the perfect blend of sweet and salty. The vibrant orange of the cheddar is reminiscent of the Karasuno High boys from HAIKYU!! TO THE TOP. Serve this while streaming the awards and you'll score big.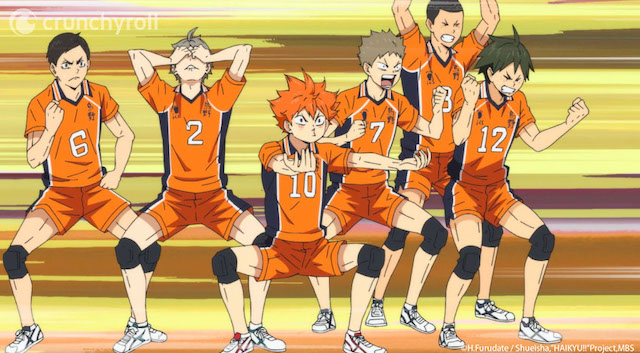 Caramel and Cheddar Popcorn Recipe
Serves: 3-4 | Time: 30 minutes, plus cooling
Popcorn Ingredients:
2 Tablespoons unsalted butter
1/2 cup popcorn kernels
Caramel Popcorn Ingredients:
6 Tablespoons unsalted butter
1 cup packed brown sugar
1/4 cup light corn syrup
1/2 teaspoon kosher salt
1/4 teaspoon vanilla extract
1/4 teaspoon baking soda
Cheddar Popcorn Ingredients:
1/4 cup powdered cheddar cheese
1/2 teaspoon kosher salt
1/4 teaspoon smoked paprika
1/4 teaspoon chili powder (optional)
Directions:
Step 1
In a large pot over medium heat, add butter. Once fully melted, add popcorn kernels and cover pot.
Step 2
While covered, gently shake the pot to ensure the kernels are cooking evenly until it begins to pop, about 1 to 2 minutes. Continue to shake until the popping slows to about one pop every 3 seconds and most of the popcorn is cooked. Turn off heat and dump the popcorn evenly into two serving bowls, about 5 1/2 cups of popped popcorn in each bowl.
Step 3
Heat oven to 300°F degrees. Starting with the caramel popcorn, combine butter, brown sugar, corn syrup, and salt in a small saucepan over medium high heat. Stir occasionally until it begins to boil and then turn off heat.
Step 4
While still very hot, carefully add vanilla (it will bubble up a little) and baking soda. Add one half of the popcorn and gently toss with a wooden spoon until it's fully coated.
Step 5
On a parchment-lined baking sheet, spread out caramel popcorn. Bake for 20 minutes, rotating the pan once halfway through.
Step 6
Remove from oven. While still hot, gently toss again to reincorporate any loose caramel. Let cool completely before eating. The longer it cools, the firmer the caramel coating will get. If you wish to speed the process up a little, transfer the popcorn to a cool, parchment-lined baking sheet.
Step 7
For the cheddar popcorn, combine cheese powder and spices into the reserved second half of popcorn. Gently toss with a large until full coated. Serve both popcorns combined in a large bowl.
---
Hime's Coffee Cat Donuts
Did you know Hime's favorite food is old-fashioned donuts? Same. These coffee cat donuts are what I imagine the ultimate Hime food to be: They're cute, sweet....and bear a striking resemblance to Best Cat, Yuzu! This recipe does call for extra glaze to easily dip the donuts, so be sure to save the leftovers for brownies or even more donuts. If you want to keep things simple and skip the cat decorating part (Yuzu will forgive you, I suppose), you can just toss on some rainbow sprinkles. Enjoy these coffee cat donuts while doing your best Hime impression.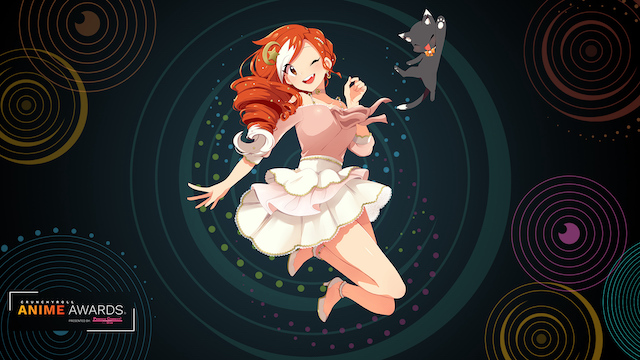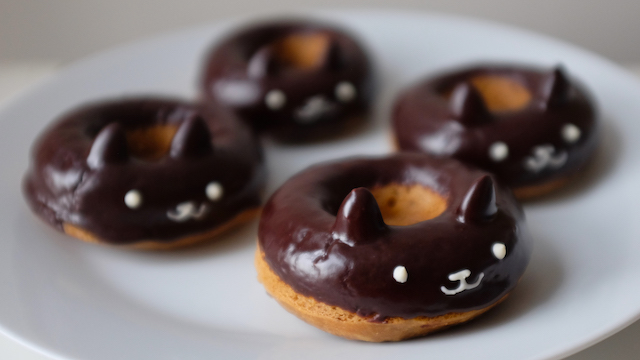 Coffee Cat Donuts Recipe
Yields: 10-12 donuts | Time: 15 minutes, plus decorating
Donut Ingredients:
1 1/2 cups all-purpose flour
1 1/2 teaspoons baking powder
3/4 teaspoon nutmeg, preferably fresh
1/2 teaspoon kosher salt
1/2 cup whole milk
4 teaspoons instant coffee
1 egg
1/2 cup packed brown sugar
1/4 cup white sugar
1/4 cup vegetable oil
1/2 cup sour cream or whole-fat yogurt
1 1/2 teaspoons vanilla extract
Glaze Ingredients:
1 1/2 cups powdered sugar
1/2 cup cocoa powder
1/4 cup coffee or water, plus more for rehydrating
Pinch of kosher salt
Cat Decorations Ingredients:
24 whole almonds
1/4 cup white chocolate
Directions:
Step 1
Heat oven to 350°F degrees. In a medium bowl, combine flour, baking powder, nutmeg, and salt. Whisk together and set aside.
Step 2
In a small bowl, whisk together milk and instant coffee until dissolved. Then combine egg, sugars, vegetable oil, sour cream, and vanilla extract. Whisk until combined.
Step 3
Using a wooden spoon, gradually add the wet ingredients into the dry ingredients. Mix until just incorporated.
Step 4
Spray two donut pans with nonstick spray. Place batter into a piping bag (or gallon ziploc bag with the corner cut) and pipe donuts into the pans.
Step 5
Bake for until the donuts are golden brown along the edges, about 10 to 12 minutes. Test to see if they're done with a toothpick. If it comes out clean, take out and cool for 2 minutes before transferring to a wire rack to cool completely.
Step 6
While donuts are cooling, make the glaze. In a medium bowl, combine powdered sugar, cocoa powder, coffee, and salt. Whisk until completely smooth. If you like the glaze to be on the thinner side, add more coffee until desired consistency.
Step 7
To make the cat ears, take two almonds and stick them into one side of the top of a donut, leaving the pointed edges out. Repeat for remaining donuts.
Step 8
Dip the ear-side down into the glaze, coating each donut halfway. Gently shake off excess and place back onto the wire rack while glaze sets, about 3 to 5 minutes.
Step 9
In a small bowl, microwave white chocolate in 15-second intervals until melted. You have two options to decorate the face, you can use the end of a toothpick or place the white chocolate into a small piping bag. Decorate each donut with eyes, a nose, and mouth. Place back onto the wire rack until it's set, about 2 to 3 minutes.
---
Enjoy the snacks for the Anime Awards! Which one are you most excited to eat first? Let us know in the comments below!