Add these to your Halloween anime marathon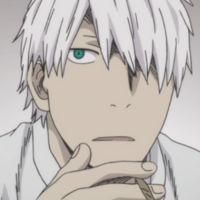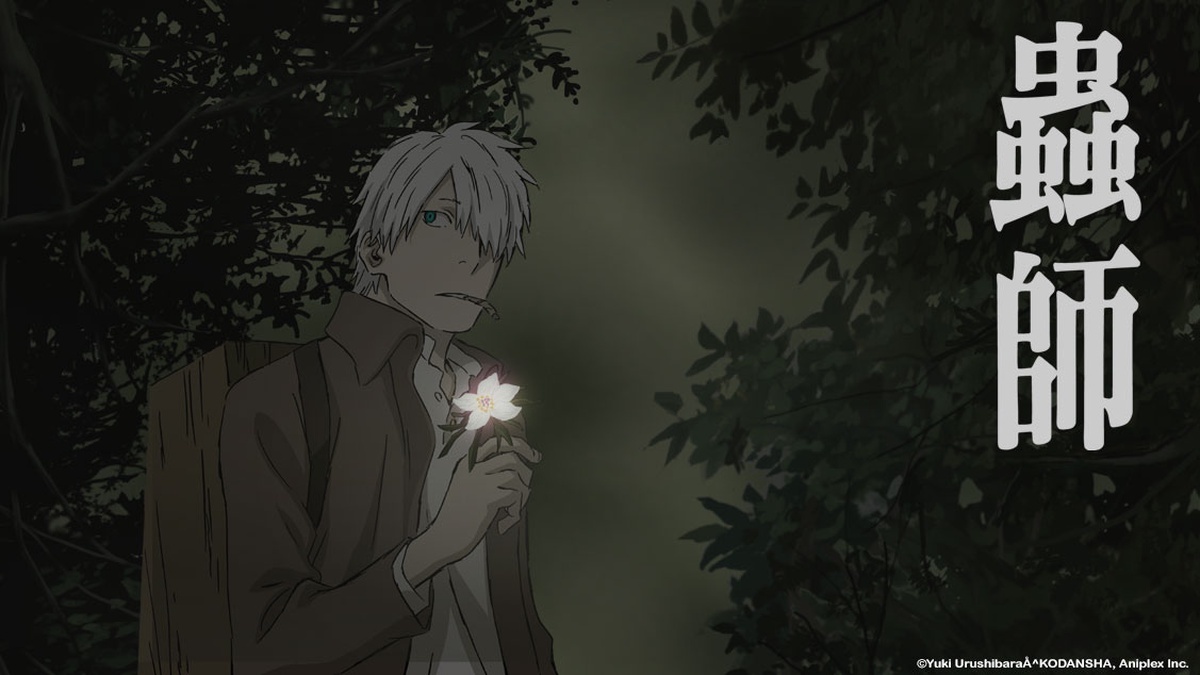 MUSHI-SHI, an anime about a man named Ginko who travels around and helps people out of sticky situations involving mysterious spirits called "mushi'' is usually a pretty chill show. Ginko is calm and connected to the world around him and most of the cases he deals with are pretty benign, with Ginko using his knowledge to help people learn to live in harmony with nature. Every once in a while, though, there is an episode that shows how nature — or sometimes, humans themselves — can be cold and terrifying. Those haunting stories are sure to stick around in your mind, whether you want them to or not. If you're looking for creepy episodes of anime to watch, check out these particularly frightening episodes of Mushi-shi.
Season 1, Episode 2 - The Light of the Eyelid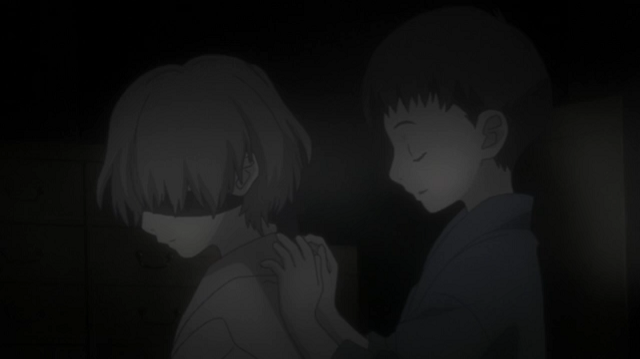 Image via Funimation
This early episode introduces us to many of the basic concepts that make up the world of MUSHI-SHI, such as the mushi being both human-world creatures that can cause things like diseases in humans but also how the mushi exist simultaneously in their own reality. This reality is seen by the episode's victim Sui, but only because she is trapped in a world of darkness — mushi have infected her eyes, making her so sensitive to light that she keeps them closed all the time. This blindness gives her a connection to the spiritual world around her but causes her to be cut off from the physical world — in part because of the actual infliction but also because of how her disability causes her family to reject and isolate her.
There's existential horror throughout the episode as Sui becomes more and more detached, made worse by how we follow the story from the perspective of her friend Biki who desperately wants to help but is powerless. There's also the grossness of what the mushi physically does to Sui — the liquid pouring from her eyes is nasty, so is the centipede mushi that falls out along with it. And, of course, a fear of the dark is understandably common, and this episode is all about being trapped in a darkness that no one seems to be able to help you out of — literally and figuratively.
Season 1, Episode 17 - Pickers of Empty Cocoons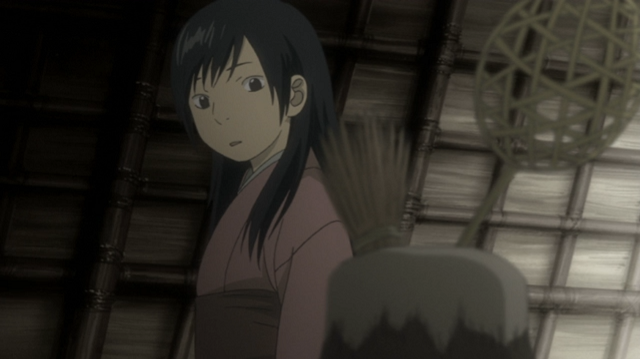 Image via Funimation
Another episode where the horror comes from seemingly mundane things and their unexpected consequences, this one follows a girl named Aya that manages the system of silkworm mushi called uro that operates as a message delivering system for mushishi like Ginko. The uro travel in interdimensional catacombs connected by cocoons woven by people like Aya, but they come with an occupational hazard — left in enclosed spaces, the uro multiply quickly, and if the place they're in is opened they will leave, taking any people with them into their catacombs. Growing up learning to weave their cocoons, Aya's sister Ito is covered by a sheet that has uro under it. Aya innocently removes the sheet, releasing the uro and spiriting Ito away with them.
The simplicity of Aya's action — a simple lifting of a sheet, believing her sister to be sleeping — leads Aya to years and years of painful grieving, blaming herself for the loss of her sister and endlessly pursuing a way to retrieve her. While the causes are supernatural, the very real chance that one small decision could create such lasting, traumatic consequences is scary. The episode drives this subtle horror home by focusing squarely on Aya's depression and desperation for closure. To that end, Ginko doesn't even solve the case here by using advanced knowledge of the mushi or revealing something we might not have known; instead, he simply shows Aya the catacombs themselves, trying to convince her to give up and move on. The episode does have a last-minute happy ending, but not before forcing Aya through some of the most traumatizing personal realizations she'll likely ever experience.
Season 2, Episode 6 - Floral Delusion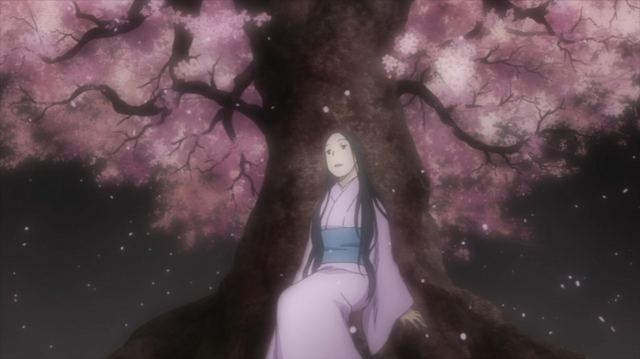 Image via Funimation
Sometimes people with good intentions can find themselves doing horrible things, justified in their goals, and that's exactly what happens in this mysterious episode of MUSHI-SHI. Ginko finds himself in an area with a famously beautiful cherry tree and meets the gardener who takes care of it. He also meets a woman who the gardener is caring for who has seemingly lost all five of her senses, which Ginko suspects is being caused by mushi. What he discovers is a generations-long conspiracy to keep the woman alive by killing other women and swapping her body with them in order to preserve her beauty and importance to the gardener's family.
Unlike most episodes of MUSHI-SHI, this one has a murderous twist on the part of a human involved, with the mushi being a "victim" of sorts, as at the end of the episode it's made clear the mushi wanted all along to move on to the next stage of its life. It's not quite that simple, though, and that's where the horror comes in. While clearly the perpetrator of the situation, the man is himself stuck in a generational tragedy, raised from birth to believe in the sacred duty of protecting the woman at all costs. This leads him to the worst possible conclusion — the murder of the traveling woman — but it all makes so much sense to him because of that lineage. The horror of what people can be driven to do when they believe so strongly in their own righteousness is at the center of this episode, and the image of the gardener assuredly preparing to decapitate the traveling woman is sure to be stuck in the head of anyone who watches it long after the episode is over.
Season 2, Episode 4 - The Hand That Caresses The Night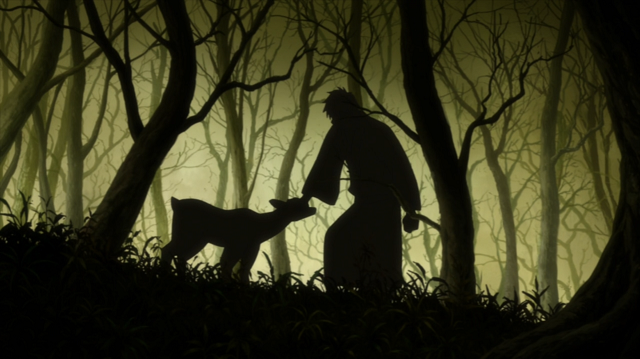 Image via Funimation
MUSHI-SHI often has environmental themes, with the lesson Ginko imparts on the other characters frequently amounting to learning to live with the natural world instead of fighting it. This episode is one of the best examples of this, with Ginko visiting a pair of brothers who come from a family of good hunters who can't seem to sell the fruits of their labor. As it turns out, this is because their father, and now the older brother, uses a mushi-infected hand to attract and easily kill their prey, and the mushi makes the meat smell terrible. Power begets arrogance — the father became addicted to the power the mushi gave him, killing animals for fun instead of to feed himself, and eventually disappearing entirely. The same, of course, almost happens to his sons, and while the younger one takes Ginko's medicine to prevent it, the older is already down his father's path.
The brother doesn't take any of Ginko's advice, seeing himself as a "king of the mountain" as Ginko puts it, and this leads to him almost meeting a grisly fate. He loses his humanity for a while, to the point of being mistaken for a bear in the forest and being shot by fellow hunters. Consequentially, the blood from the shot covers the mark on his arm that was scaring away predators, and in one of the most haunting sequences in MUSHI-SHI, he is attacked by a murder of crows, having his arm entirely consumed. It's rare for MUSHI-SHI to have acts of outright violence, in this episode there are all sorts of them — from the father and brother's unethical killing, to the hunters shooting the brother, all the way to the crows surrounding and maiming him. When it comes to visual terror, there are few MUSHI-SHI episodes as memorable as this one, and it all could have been prevented if the brother had simply respected his place as simply another person on the mountain.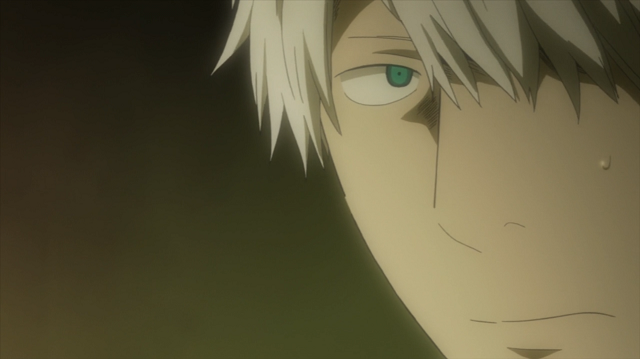 Image via Funimation
Those are just four of the creepiest episodes MUSHI-SHI has to offer — and there's plenty more where that came from. Whether you're into the horrors of the natural world or seeing the depths of human nature, MUSHI-SHI has plenty to say about the mysterious and strange ways nature and people interact. If you get too creeped out, don't worry, there's always a more peaceful episode around the corner. Just think twice before you mess around the next time you're in a dark forest — you never know what might be lurking.
What's the creepiest episode of anime you've seen? Tell us about it in the comments below!
---
David Lynn can be found obsessing over Fate/Grand Order and D4DJ Groovy Mix on Twitter @navycherub.
Do you love writing? Do you love anime? If you have an idea for a features story, pitch it to Crunchyroll Features!