The author of The History of Hentai Manga spoke with us on his research on the subject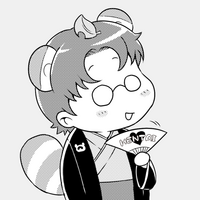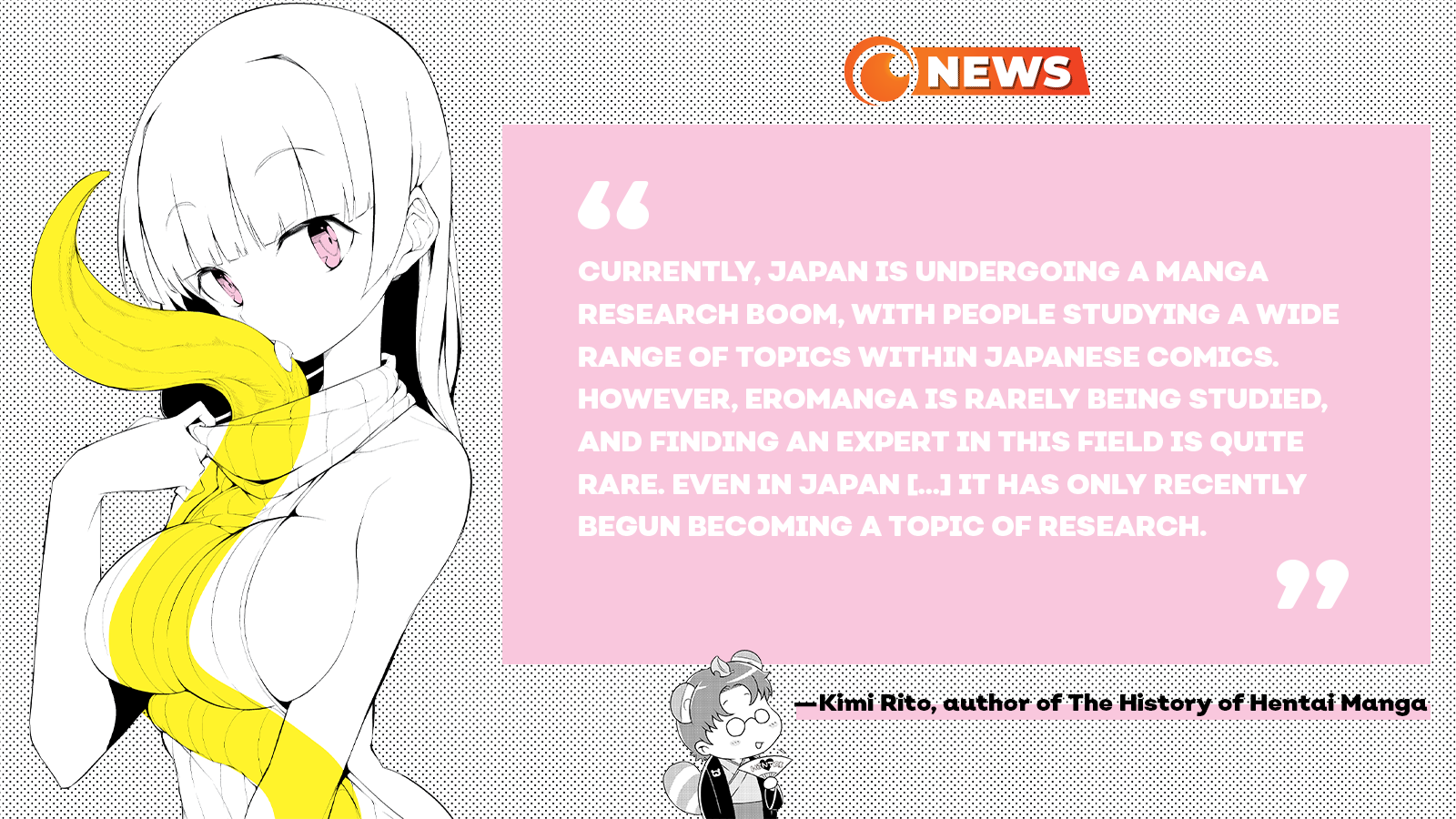 [Editor's note: This article contains discussions of NSFW topics and should only be viewed by readers 18 and older.]
As an erotic artistic medium, hentai manga has a unique visual language that is easily recognized by anyone who has ever engaged in it. Tentacles, the anatomical cross-section shot, variations on the iconic ahegao expression — eromanga has developed a set of motifs, symbols, and imagery that have formed and evolved across the medium's lifetime. Eromanga scholar Kimi Rito writes extensively about these "expressions" in his book The History of Hentai Manga, released in the West by FAKKU late last year. We had the opportunity to talk with the author about his work, the history of hentai, and the struggle for the medium to be taken seriously as an area of academic study.
---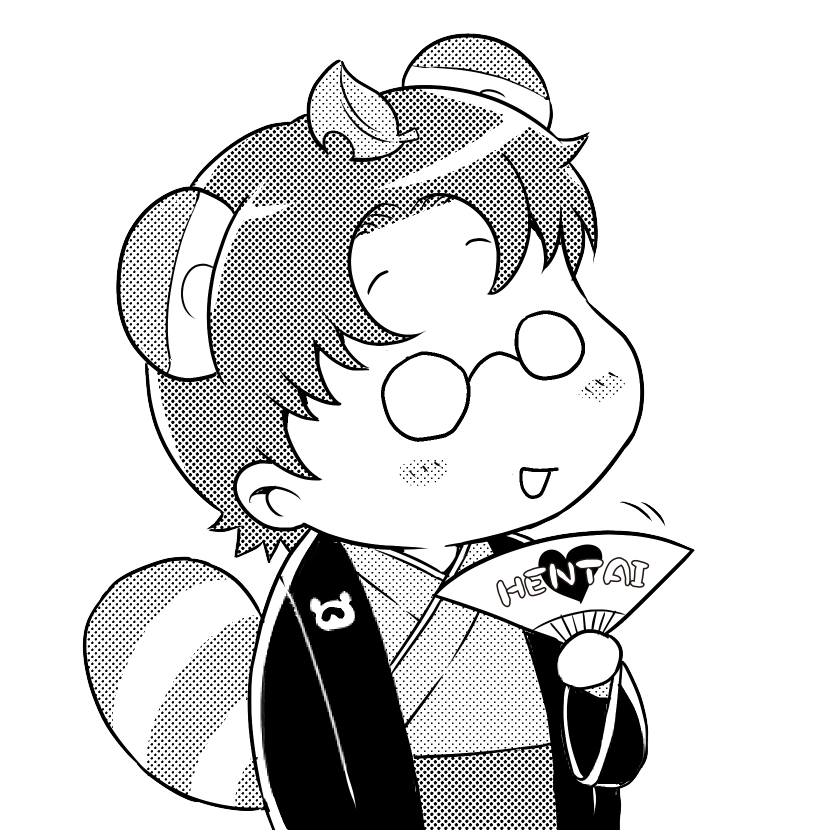 Kimi Rito
Could you please introduce yourself and your book The History of Hentai Manga to our readers?
Hello from Japan! My name is Kimi Rito and I am an eromanga researcher. My main profession is as an IT systems engineer. Outside of my primary work, I also tend to do research, write articles, and publish books. And finally, I am also an active member of the Japan Society for Studies in Cartoons and Comics (JSSCC).
The History of Hentai Manga focuses on the development and evolution of expressions uniquely found in eromanga, which are often different from the expressions seen in general manga. It also covers their origins, differences, and how they were distributed within society. The book also contains several interviews with creators who invented these fundamental expressions. Ultimately, it is a book that should help the reader further understand the history of eromanga through the invention and evolution of these visual expressions.
I also try to cover how HENTAI spread throughout the globe.
What initially drew you to eromanga as an academic subject?
Currently, Japan is going through a manga research boom, with people studying a wide range of topics within Japanese comics. However, eromanga is very rarely being studied, and finding an expert in this field is quite rare. Even in Japan, where pornographic comics media has broadly developed, it has only recently begun becoming a topic of research.
I have always been a massive eromanga otaku. I have long enjoyed those works, but when I started my own research to learn more about its appeal, I was stunned by the lack of existing coverage of the topic. Furthermore, I also came to learn that any archives of eromanga that were available were generally poorly organized. Even Japan's National Diet Library1, which catalogs many of Japan's books, has only about 30 percent of all eromanga created.
As I felt this was a big problem, I decided to start by organizing the materials available before conducting my own research on the subject. This was important since Japan has had a bitter past in regard to erotic media. For example, since very few people recognized the value of shunga2 paintings from the Edo Period, many of them were lost to the world. To prevent this from happening to eromanga as well, I felt it was imperative that someone keep an archive and do this research.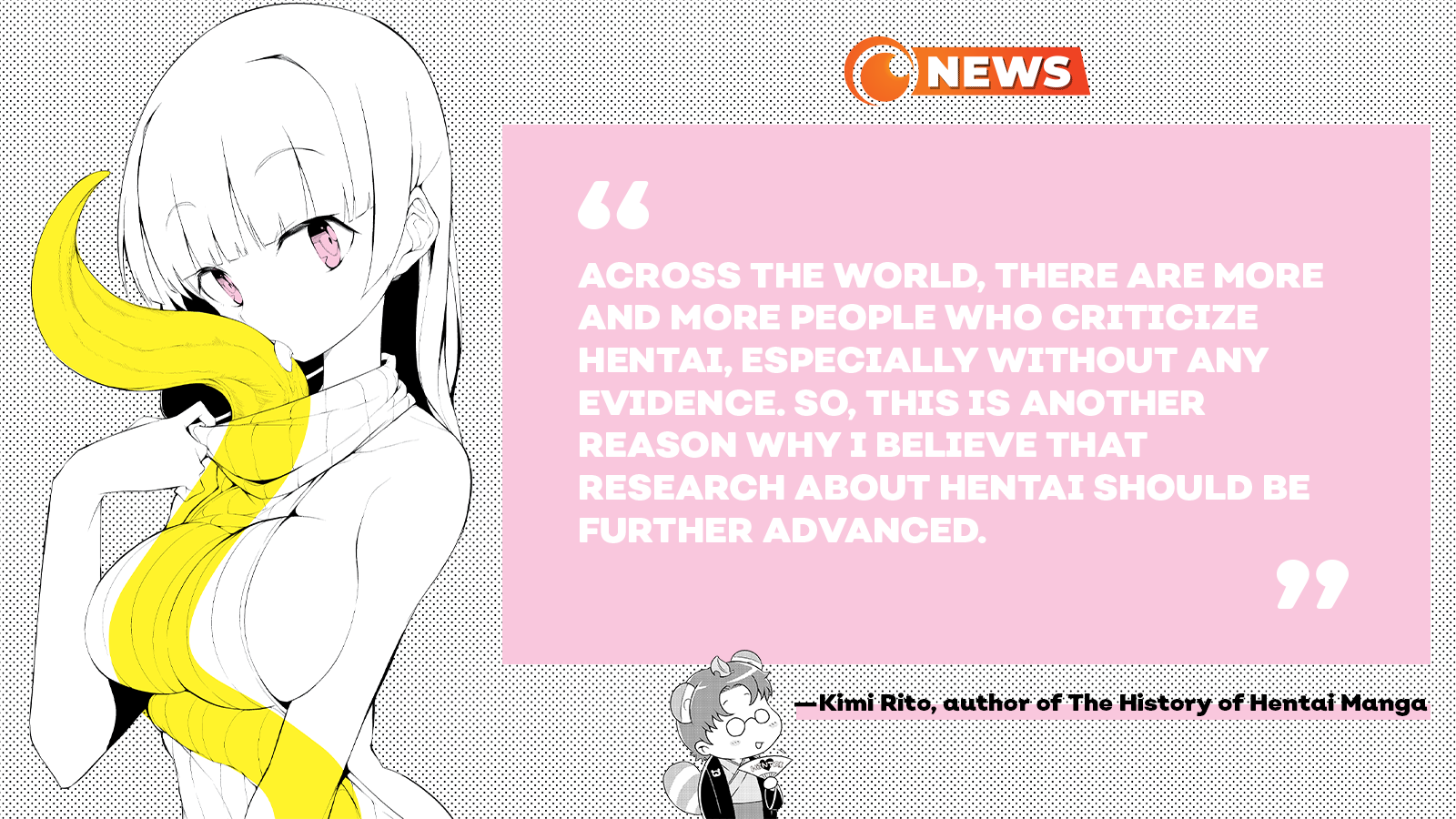 You write in the preface about the huge amount of critical writing on mainstream manga and the lack of such writing on eromanga. Did you feel any external pressure yourself as a researcher to keep away from eromanga?
I have long felt that way. That said, the Japanese edition of The History of Hentai Manga was designated as a harmful book in Hokkaido. Even though it is an academic book, it was deemed pornographic and was treated as harmful for minors. This is equivalent to saying that a medical book that features illustrations of genitals is also porn.
The bigger issue, however, is that the body that decides which books are designated "harmful" made the decision without keeping proper records nor publicly stating why they were deemed such. Many people still have a deep-rooted belief that adult materials are "disgusting," "unworthy of study," and "worthless." The Hokkaido case was a clear example of those pressures.
Additionally, across the world, there are more and more people who criticize hentai, especially without any evidence. So, this is another reason why I believe that research about hentai should be further advanced.
What led you to structure the book chapters by "expressions" rather than a more typical chronological historical survey?
Well, I think there are many ways to organize the book around genres or points in history, but since Kaoru Nagayama has already published that in Erotic Comics in Japan, I decided to structure this book around my specialty — expressions.
For example, I believe that I may possess the largest collection of eromanga magazines in the country. My selection of bishojo3 publications, in particular, is extremely extensive. The digital materials I have archived have amassed to more than 20 terabytes of data. So for my research, I was able to make good use of all this source material and was then able to easily follow the changes in how the actual usage of eromanga expressions have changed.
Also, since eromanga has many unique visual expressions, even when viewed from a global perspective, I had many questions about why such expressions were created! The first thing that caught my attention was the "nipple afterimage." This is a special kind of expression only found in Japanese eromanga. I found it quite exciting to learn through my research that the origin of this expression led me to Katsuhiro Otomo's AKIRA!
It's really interesting that such trivial questions can lead to such fascinating truths.
What are some of the biggest surprises you had while executing and compiling all of this research?
I was surprised to discover how fast expressions evolve in eromanga.
You, see … It took me roughly two years to put this book together. However, every time I was able to see the end of the book, I found another new expression, and the goalpost felt as if it was going to escape me forever.
You trace eromanga's influences to art forms of Japan's past (like Hokusai's shunga), but also to Western media like gravure magazines. Could you talk a bit about the unique cultural synthesis that occurs in eromanga?
This isn't specific to eromanga, but artists in general are influenced by what they find interesting, whether it is from Japan or overseas. So, they often incorporate those elements into their works. In the case of erotica, if there was something new to Japan, artists there would readily absorb it. In the past, there was no internet, so the lag time between Japan and the rest of the world was quite large. But today, I think we live in an age of real-time interaction.
That said, there have been examples of works that have not clicked in Japan but were big overseas. In the '90s, Bondage Fairies was an example of such a work, as it became a smash hit in the US. If we can understand more about what was erotic abroad, I'm certain we may be able to create new types of works.
You write about how eromanga has been in a constant tug-of-war with censorship, with creators sometimes using these restrictions to invent new forms of expression (like the advent of tentacle play). Do you think eromanga would have been drastically different without the pressures of censorship and regulation forcing new modes of expression?
I believe that it would have been different for sure. However, this does not necessarily mean that it would have been a good thing for eromanga. I cannot deny that there has been a sense of ingenuity and creativity that developed because of the restrictions placed on eromanga's expressions. In addition, readers are also able to improve their literacy within those same restrictions. Censorship can go so far to restrict those expressions, but it cannot stop people's desire to enjoy eros.
However, too much regulation is a problem. A heavy hand will lead to behavior similar to what was seen during prohibition in the US. Rather than legally enforcing restrictions, I think we should recognize the freedom of expression, we should openly discuss problematic expressions, and implement appropriate restrictions as time goes by. Too much freedom does not make eromanga free.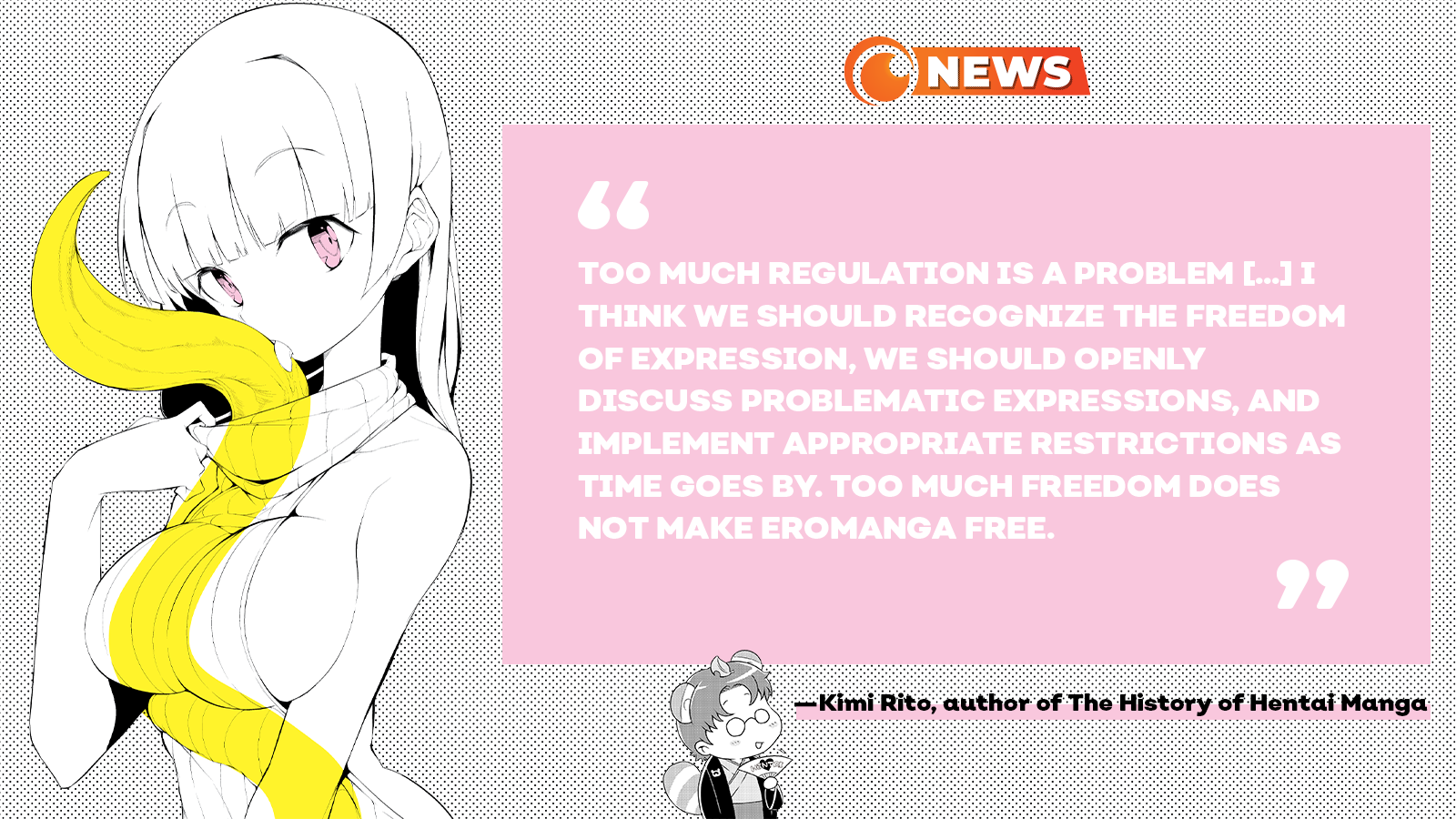 As anime and manga become more popular in the West, companies that distribute them tend to downplay erotic aspects of the content as a way to try and bring mainstream legitimacy to the medium. Do you think it would be beneficial to have a less binary view of mainstream anime/manga and ero anime/manga instead of trying to enforce a strict line between them?
This is a difficult question. In Japan, manga and anime have become a popular form of entertainment for everyone regardless of age, from children to the elderly. There are works that everyone can enjoy, while there are manga and anime primarily for children and those that are only for adults. So, in Japan, we tend not to draw a clear line. Ultimately, it is the consumer who decides what they enjoy.
However, in Western societies where manga and anime are still considered entertainment for children, I think the question of whether the Japanese method should be adapted is complicated, as it will vary considerably depending on the local culture, religion, and other social norms. I think modifications may be unavoidable, but I would like to see the original perspectives respected as well.
For example, Japan is ranked 120th in the World Economic Forum's Gender Gap Index4, which is a very low position. Yet in anime and manga, characters such as Haruka Tenou and Michiru Kaiou from Sailor Moon5, appeared before the term LGBTQ took root in Japan. I think we are very fortunate that Japan has laid the groundwork to accept such diversity, but not all other countries are like that. I believe that we should make decisions with caution.

Erotic content is created in every culture, but hentai has become a term that's recognized globally. What is it about eromanga that appeals so deeply to people around the world, do you think?

This isn't exclusive to hentai, the ability to freely share stories that are not restricted to specific roles, the fact that these are works that even adults can enjoy and knowing that these are often moving human dramas are just a few reasons that make anime and manga so diverse.
As a matter of fact, even children's content has a good amount of subliminal sexuality in it. Pokémon: The Electric Tale of Pikachu6 is a good example of this. Furthermore, Millennials, who were raised reading such books have come to naturally accept hentai concepts because of their connection to these works. I also think that this feeling is being shared by people in this generation throughout the world. Knowing that we can enjoy the things we were so passionate about as children once again as adults, but in a different way, has its own appeal!
Do you have anything you would like to say to fans of eromanga in the West who may be interested in reading your book?
As I help introduce eromanga to the world, I would also like to share eromanga culture with people abroad. Which is why I would like to actively participate in panels and events for eromanga fans.
I'd also like to work on archiving projects, and someday I'd like to build a hentai museum or something. I believe hentai is one of Japan's great cultural treasures. But I feel anxious knowing that if things continue progressing as they have been, it may suffer the same fate as shunga. So, I'm looking for people who can help me preserve hentai.
I've been to Anime Expo as an academic guest before and was overwhelmed by the enthusiasm I experienced from American fans. I would like to interact with them more and more, and hopefully answer their questions on this topic.
I also have a Twitter account, so please feel free to send me questions there anytime. Let's talk about hentai together!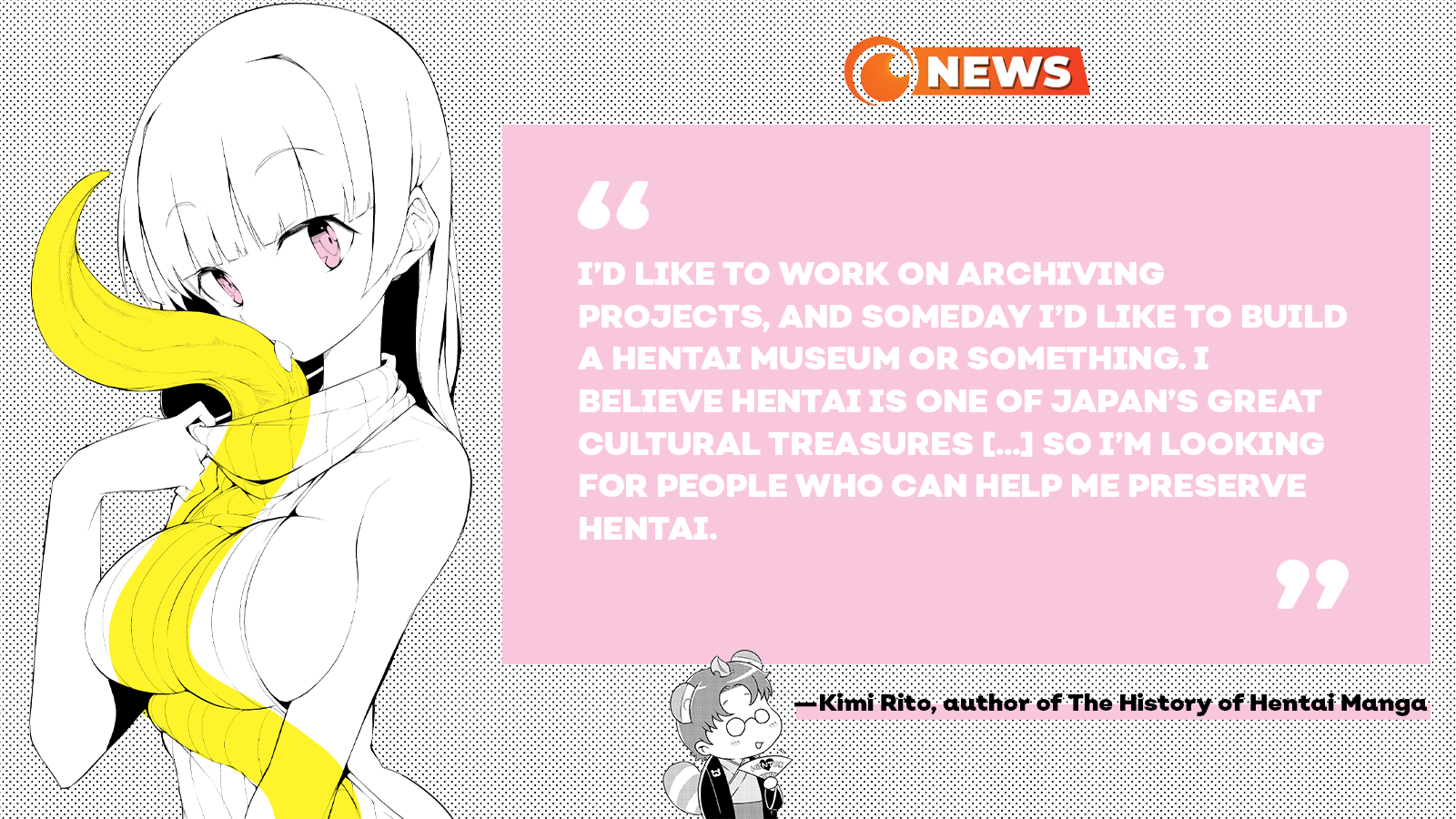 ---
---
Notes:
1The National Diet Library, which has a few branches across Japan, is analogous to the Unite States' Library of Congress. It is the national library of Japan and holds one of the largest collections of books in the world.
2Generally speaking, shunga paintings are erotic Japanese woodblock prints which were mainly produced between the 17th and 19th centuries. Some were collected in books or even serialized.
3Bishojo comics are very tricky to explain quickly, but in a very broad sense, these are comics that feature and star young female characters. Bishojo comics do not necessarily need to be erotic. However, there are almost always romantic elements, and the primary female characters are often sexualized. While bishojo comics are still made today, their boom occurred in the '80s and '90s and led to increased scrutiny, then eventually, censorship of manga in Japan.
4The Gender Gap Index is an index that measures gender inequality based on health, education, finances, and political empowerment.
5Haruka Tenou is better known as Sailor Uranus, while Michiru Kaiou is the alternate identity of Sailor Neptune.
6Pokémon: The Electric Tale of Pikachu was the first Pokémon manga ever translated into English (VIZ Media, 1998-2000). At the time, it was not only the best-selling manga ever, but also the best-selling comic book, having sold more than 7 million units back in the late '90s. It's a kids' manga that ran in a children's manga anthology (CoroCoro Comics), but it had its racy moments.
---
Cayla Coats is the Editor-in-Chief of Crunchyroll News EN. She tweets @ceicocat.