Contra 4 developers make previously trashy franchise interesting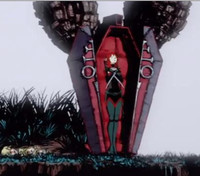 Normally I wouldn't even bother posting about anything with the word "BloodRayne" in it, unless I planned on setting up an Uwe Boll joke. BloodRayne: Betrayal, however, is different. The downloadable title was first revealed via the following trailer back in May, and it more or less speaks for itself:
But in case it doesn't, for whatever reason, know that there's a strong pedigree behind all this beautifully animated 2D hack-and-slash action. The developer of Betrayal is WayForward Technologies, a California-based developer responsible for titles such as Shantae (Game Boy Color) and its recent sequel, Contra 4 (Nintendo DS), A Boy and His Blob (Nintendo Wii), and quite a few others. They excel in game design just as much as they excel in music taste, having made Jake "virt" Kaufman their go-to composer.
Needless to say, my hopes for the title are high, despite having absolutely no previous interest in BloodRayne. Thankfully we'll get to take this refreshing, Castlevania-inspired twist on the franchise for a spin sooner rather than later.
BloodRayne: Betrayal is scheduled for release August 30 on Playstation Network and August 31 on Xbox Live Arcade.
Via Destructoid