Unique Anime Movie Now Available Online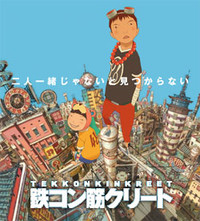 Sony Pictures' Crackle has begun offering the anime movie TekkonKinkreet streaming through YouTube and Hulu. Beyond its distinctive look, the Studio 4°C adaptation of Taiyo Matsumoto's heady urban crime fighting manga is notable for being directed and scripted by Americans Michael Arias and Anthony Weintraub.
In Treasure Town, where the moon smiles and young boys can fly, life can be both gentle and brutal. This is never truer than for our heroes, Black and White, two street urchins who watch over the city, doing battle with an array of old-world Yakuza and alien assassins vying to rule the decaying metropolis. TEKKON KINKREET is a dynamic tale of brotherhood that addresses the faults of present day society, true love lost, and the kindness of the human heart.
Thanks to Giant Robot for pointing out that the movie had been made available online.