Japanese TV show "Onegai! Ranking Gold" takes on chocolate, cookies, chips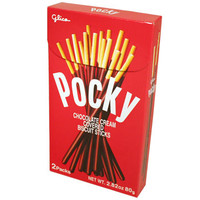 The other night I turned my TV for the first time in forever and while flipping channels stumbled across "Onegai! Ranking Gold," which takes nation-wide (in Japan) polls to determine national taste. They were counting down the top 10 chocolate snacks from a handful of nominated major brands (Glico, Nestle Japan, etc). The results are tabulated by taking 10,000 votes spread evenly between five age groups (teens, 20s, 30s, 40s, 50+) as well as men and women.
10. Snickers
9. Melty Kiss Creamy Chocolat
8. Black Thunder
7. Kinoko no Yama
6. Look a la Mode
5. Takenoko no Sato
4. Meiji Milk Chocolate
3. Pocky Chocolate
2. Almond Choco[late]
1. Nestle Kit Kat Mini
Yes, that's right, Kit Kat. How do you feel about this revelation? Does it surprise you? One of the reasons for its popularity mentioned both on the TV show and this CNN blog post is the astounding array of flavors (way beyond just green tea) they have dreamed up, but couldn't you say the same would be true for Pocky? Maybe people just dig wafers over cookie, but even the almonds beat it out.
Curious where Ritz (?!?) ended up in the cookie ranking? (Oreos took second place.) Wanna see what a list of popular chips and crackers with no Pringles looks like? Check out the other two brackets (plus candy through 15 places) here.