Shirts, backpacks, bags from the crazy cat lady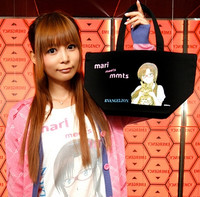 Shoko Nakagawa is known for several things, among them her status as Japan's most famous female otaku and…for sticking her cat's head in her mouth. Turns out "Shokotan:, as she is often known, has another card up her sleeve: designing Evangelion-themed clothing and apparel for her brand mmts.
The Shokotan x Evangelion collaboration has been on-going since August, but a host of new items have just been added to the mmts website.
Our pals at YATTAR JAPAN explain:
The new items added to the fashion line include a T-shirt and tote bag featuring artwork of Evangelion character Mari holding Mamitasu, one of Shoko's cats, as well as a Spear of Longinus print cardigan and a furry, cat-eared backpack based on Evangelion color schemes.
Shokotan herself models below...
EVA x mmts Spear of Longinus Cardigan, 8190 yen (US$102.00)
EVA x Mari meets Mamitasu T-Shirt, 3360 yen (US$42.00)
EVA x mmts Mari meets Mamitasu Mini Tote Bag, 1995 yen (US$25.00)
EVA x mmts Mari meets Mamitasu Mini Tote Bag, 8190 yen (US$102.00)
If you can read moon language (i.e. Japanese(, maybe you can try to order these items via the Mobacolle online shop.
-------
Patrick Macias is the editor in chief of Crunchyroll News. He also runs the Japanese Fashion Inferno tumblr blog. Follow him on twitter at @Patrick_Macias.