The fantasy shorts are "Fractale" director Yutaka Yamamoto's latest project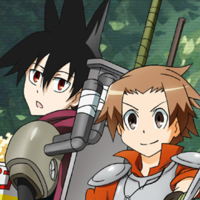 Details on Yutaka Yamamoto's latest project, Senyū, were initially revealed in the latest issue of Jump Square, but are now available on the anime's official website. The five minute shorts based on Haruhara Robinson's original manga debut January 8th on TV Tokyo at 1:35 in the morning.
Additional staff and cast highlights as follows...
Series composition: Michiko Yokote (Gravitation, Squid Girl)
Character designs/chief animation supervisor: Ushio Tazawa (The Telepathy Girl Ran, Traveling Daru)
Art direction: Yuji Kaneko (some work on Madoka Magica, Blossom), Takanori Tanaka (worked on the "Je t'aime" video on the Glay DVD/CD)
Music: Makoto Watanabe and Daisuke Sakabe (did music for Wooser's Hand-to-Mouth Life together)
Animation: Ordet (Black Rock Shooter, Fractale) x Liden Films
Alba: Hiro Shimono (Ryōsuke Kaga from So, I Can't Play H!, Akihisa Yoshii from Baka and Test)
Ross: Yūichi Nakamura (Sōshi Miketsukami from Inu x Boku SS, Nobutaka Oda from BTOOOM!)
Ruki: Ai Kayano (Mayaka Ibara from Hyōka, Mei Tachibana from Say I Love You)
Foifoi: Kenichi Suzumura (Cayenne Suzushiro from Aquarion Evol, Yoshitake Tanaka from Daily Lives of High School Boys)
Rudolph: Jōji Nakata (Tetsuji Chūma from Sket Dance, Kirei Kotomine from Fate/Zero)
???: Emiri Katō (Kyubey in Madoka Magica, Hansode Shiranui from Medaka Box)
The end theme, "Believe ~Eien no Link~" is by JAM Project. ("Eien" means "eternal.")
The Senyū comic debuted on Nico Nico Seiga's manga site before getting picked up in Jump Square. The above are screens from the first "episode." The first collected volume goes on sale December 4th.
One day a hole opens in the world and demons appear. This could only mean that somehow demon king Rukimedes has broken a seal set a thousand years ago by a hero whose descendents are now ordered by the (human) king to supress the new threat. Out of 75 people who "seemed like" they could be descendents of the hero, one would hope that someone could take care of it! Maybe that someone could be hero number 45, Alba...except he's kind of a noob. His palace-decreed partner is the warrior Ross, whose true power is unknown since he doesn't display much enthusiasm for fighting.
A few other characters have been introduced so far. Ruki is a young but responsible demon girl traveling in the human world who unexpectedly joins the pair on their journey. Foifoi is another hero undertaking the quest, mainly with his eyes on the vast fortune promised to the champion by the king. His assigned warrior is Rudolph, an old, trustworthy hand at the palace who apparently has a pretty bad lolicon. Finally, "???" is a pretty girl wearing a hunting cap who has a relationship to the other characters that is shrouded in mystery at the moment.
The yellow monster is called "Fake Panda."
For another taste of the series' sense of humor, here are a couple more "panels" from episode 1 of the manga:
"Why are you breathing so heavy, Mr. Hero? Are you a pervert?"
"What!?"
"What do you mean 'why?' Weren't you watching? I was just fighting a slime!"
"Ohhh, so you have a slime fetish?"
"NO!"
Seems like these kind of gags could work well as a five minute show. What do you guys think?