Animation by Satelight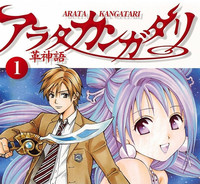 Pictures from early sales copies of the next issue of Weekly Shonen Sunday reveals that another manga to be part of the eight anime adaptations is Arata: The Legend (Arata Kangatari) by Yuu Watase (Fushigi Yuugi, Zettai Kareshi). The anime adaptation will air in the Spring of 2013 and will be animated by Satelight (Moretsu Pirates, AKB0048).
Viz, who has licensed the manga in North America, describes the story as such:
In a mythical world where humans and gods co-exist, a ceremony marking the new governing princess is about to occur for the first time in 60 years. Only a girl from the Hime Clan may take this position, but the lack of females born to this family means that a boy called Arata must pose for the role. Meanwhile in modern-day Japan, a boy named Arata Hinohara is starting his new life in high school. He wants to put memories of his difficult past behind him, but things aren't going to be simple when he discovers a mysterious connection to the first Arata...
Image ©Yuu Watase/Shogakukan 2009
Source: @manganewsjapon via 0takomu