Film project in talks phase, but Abrams calls the project "Very real"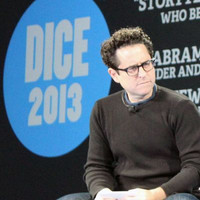 When Disney announced that J.J. Abrams was slated to helm the first of the new Star Wars movies, I thought the man couldn't be any more king of the geeks. I also worried about the power of a man who controls two of the largest sci-fi franchises of all time. Today, though, it's word-eating time, because J.J. and Gabe Newell announced at the DICE 2013 Summit that Abrams's production company, Bad Robot, is in talks to produce either a Half-Life or Portal movie.
The project is currently in the talks phase, but Abrams did say to Polygon that at this point it is "As real as anything in Hollywood ever gets." He stated that they are talking to Valve, bringing in a writer and have a lot of ideas.
Newell, for his part, is as worried about the trend of awful among video game to movie projects. Back in 2010 he spoke to PC Gamer about proposed film projects for Half-Life. "And their stories were just so bad," Newell said. "I mean, brutally, the worst. Not understanding what made the game a good game, or what made the property an interesting thing for people to be a fan of."
The collaboration goes both ways: Abrams said that Bad Robot has an idea for a game, and they're working with Valve on that.
Considering that Abrams is also set to produce (and hopefully direct) Star Trek 3, maybe he can influence Newell on the power of trilogies. Wishful thinking?

Source: Polygon
-------
Amanda Rush is the Associate Editor for Ani.Me and contributor for OtakuCollectionDX. She swears in the middle of the night on Twitter as @TheAnimaven.