Legendary ikemen works at Animate Osaka Nipponbashi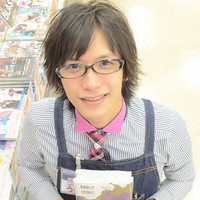 Yuya Uchida might be the internet's most famous brick and mortar anime retailer. The legendary hot otaku working at Animate Osaka Nipponbashi has become internet famous for his smile, leading to tribute videos, confessions of love and more than a bit of jealousy. And, since the advent of his net notoriety, seeing him at work has become one of those anime pilgrimages in and of itself.
This anime-loving ikemen (hot guy) is 183cm (about 6ft) tall and is currently employed at the Osaka Nipponbashi branch of Animate. His hobbies include anime, fighting games, and cosplay.
Animate Osaka Nipponbashi
1-1-3 Nipponbashinishi, Naniwa Ward, Osaka, Osaka Prefecture 556-0004, Japan
TEL: 06-6636-0628
Hours: 10:00~21:00
Name: Yuya Uchida
Age: 24
Blood type: O
Sign: Pisces
Hobbies: Aquariums, video games
Type: Long, tidy black hair; someone who will let me take the lead
Range: 24 to 40 years old
Work shift: Pretty much every day
Reactions to a net profile prompted Japanese fans to offer comments like
"Suddenly…I'm hooked."
"Wow! What a hottie! I'm a dude, but I wanna be his friend"
"I can't win against that."
"He's got a great aura about him."
"Hot guys should be banned from watching anime!"
"I want his genes."
"40 customer confessed their love to you! What are you, a manga character?!"