Shun Oguri wears Lupin's signature red jacket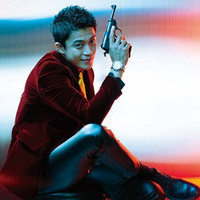 The first character visuals for the highly anticipated live-action film adaptation of Monkey Punch's nationally popular manga series Lupin the Third are finally revealed to the media today on April 9. The 47-year-old manga first appeared in Futabasha's Weekly Manga Action in 1967 and has had various adaptations including Hayao Miyazaki's 1979 classic anime film The Castle of Cagliostro.
The 2014 film is directed by Ryuhei Kitamura (Versus, Azumi, Godzilla: Final Wars) and 31-year-old Shun Oguri plays the title character Lupin the Third, the grandson of Arsène Lupin. It was filmed in five Asian countries: Japan, Thailand, Hong Kong, Singapore, and the Philippines. The shooting was already finished on December 26, 2013, and it is in the final stage of the editing process, according to the producer Mataichiro Yamamoto, who also produced the 1979 live-action adaptation film of The Rose of Versailles. The film tells how Lupin, Jigen, Goemon, and Fujiko find each other, then form the world famous
thief team (and start being chased by Zenigata). It hits Japanese theaters on August 30.
Lupin the Third (Shun Oguri)
Daisuke Jigen (Tetsuji Tamayama)
Goemon Ishikawa (Gou Ayano)
Fujiko Mine (Meisa Kuroki)
Inspector Zenigata (Tadanobu Asano)
via: eiga.com
© 2014 Movie "Lupin the Third" Production Committee