Sailor Moon reboot starts July/5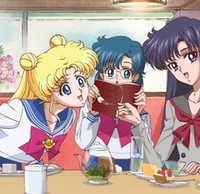 As you may recall, Sailor Moon Crystal is coming to Crunchyroll! The reboot is set to broadcast every 2 weeks on Saturdays starting on July 5, at 3:00am Pacific Time for its premium and free members. More information can be found at www.crunchyroll.com/sailormoon.
Sailor Moon Crystal is the highly anticipated reboot of Naoko Takeuchi's beloved manga Pretty Guardian Sailor Moon. The main character Usagi Tsukino is a second-year middle school girl who is a little clumsy and a crybaby, but full of energy. One day, she meets Luna, a black cat with a crescent moon on her forehead. She transforms into Sailor Moon, the Pretty Guardian in a Sailor Suit: the Guardian of Love and Justice! As a chosen guardian of justice, Usagi and the other guardians embark on a mission to find the Legendary Silver Crystal and to protect the Moon Princess. They are met with enemies in search of the Silver Crystal sent by Queen Beryl from the Dark Kingdom. Can Sailor Moon find the Legendary Silver Crystal with the other Sailor guardians, and protect the princess…?
Voice actress Kotono Mitsuishi will be playing Usagi Tsukino (AKA Sailor Moon). She is joined by Hisako Kanemoto as Sailor Mercury, Ami Koshimizu as Sailor Jupiter, Rina Sato as Sailor Mars, and Shizuka Ito as Sailor Venus. The famed animation company Toei Animation will be heading the project. Some of their popular works include One Piece, Dragonball Z and the Pretty Cure series.
Sailor Moon Crystal will be available to Crunchyroll's audience in the following territories: U.S.A, Canada, South Africa, Australia, New Zealand, Latin America (Central and South America including Mexico).
---------
Patrick Macias is editor in chief of Crunchyroll News. He is also the editor of Otaku USA magazine. Check out his rather amazing Tumblr at japanesefashioninferno.tumblr.com.