The new PreCure characters will be revealed on December 26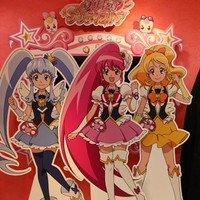 Currently there are two official sites for Go! Princess PreCure, the upcoming 12th installment of the long-running PreCure TV anime series, launched by Toei Animation and ABC Asahi Housou. Only thing we can find on their sites is still its title logo.
Meanwhile, Pretty Store Osaka, the largest official PreCure merchandise shop located in Umeda Hankyu Sanbangai in Osaka-city, today started countdown for the new series. The panel says, "There is 10 days left till the new characters are revealed." It means the visuals for the Go! Princess PreCure characters will be officially and legitimately revealed in Japan on December 26. Let's look forward to the day!
【お知らせ】新シリーズ「Go!プリンセスプリキュア」のキャラクターおひろめまでのカウントダウンを開始しましたっ!!き、きになる~♡♡♡ みんな12/26をお楽しみに!!(大阪本店)#PPS  #プリキュア #プリティストア pic.twitter.com/rfWM266D1z

— プリキュアプリティストア (@pps_as) December 16, 2014
Go! Princess PreCure title logo
Pretty Store Osaka
Related: FEATURE: Japan's Largest PreCure Pretty Store in Osaka Photo Report
Source: Pretty Store Osaka official Twitter
© ABC, Toei Animation