Conducted with 1,574 females and 259 males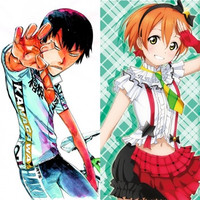 Tokyo-based mobile software company jig.jp has announced the result of its latest survey for the Christmas season targeting male and female Japanese otaku. The question was "Who do you want to spend Christmas with?" and total 1,833 people answered their ideal Christmas partner. They were allowed to choose from both fictional characters and living persons (voice actors, singers). The questionnaire was taken with the users of the company's free market app for otaku goods, otamart, between December 7 and 8. 85.9 percent (1,574) was female and 14.1 percent (259) was male. Check the female/male top 10 below.
Female ranking top 10
1. Yasutomo Arakita (Yowamushi Pedal)
© Wataru Watanabe (Weekly Shonen Champion)
2. Tatsuhisa Suzuki (voice actor/singer)
© OLDCODEX
3. Syo Kurusu (Uta no Prince-sama)
© UTA☆PRI-2 PROJECT
4. Makoto Tachibana (Free!)
5. Ai Mikaze (Uta no Prince-sama)
6. Kei Tsukishima (Haikyu!!)
7. Yuuki Kaji (voice actor)
8. Hiro Shimono (voice actor)
9. Levi (Attack on Titan)
10. Shouta Aoi (voice actor, singer)
---
Male ranking Top 10
1. Rin Hoshizora (Love Live!)
© Project Love Live!
2. Kotori Minami (Love Live!)
© Project Love Live!
3. Asuna Yuuki (Sword Art Online)
© Reki Kawahara/Ascii Media Works/SAO Project
4. Maki Nishikino (Love Live!)
5. Honoka Kousaka (Love Live!)
6. Hanayo Koizumi (Love Live!)
7. Hatsune Miku (vocaloid)
8. Nico Yazawa (Love live!)
9. Nozomi Tojo (Love Live!)
10. Azusa Nakano (K-ON!)
---
Source: press release