Directed by Yoshitomo Yonetani (The King of Braves GaoGaiGar, Tiger & Bunny films)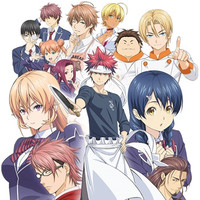 Following the first PV introduced two months ago, the official website for the upcoming TV anime adaptation of the cooking-themed manga Shokugeki no Soma, created by Yuuto Tsukuda (story) and Shun Saeki (art), today posted a 15-second new CM introducing its OP song "Kibou no Uta" (A song of hope) performed by four-member rock band Ultra Tower. The yet-titled ED song is played by five-member band Tokyo Karankoron.
The J.C.STAFF-produced TV anime is scheduled to premiere on MBS, TBS, CBC and BS-TBS in April.
15-second CM
1st PV
Key visual
Main voice cast:
Yoshitsugu Matsuoka as Soma Yukihira
Risa Taneda as Erina Nakiri
Minami Takahashi as Megumi Tadokoro
Natsuki Hanae as Takumi Aldini
Yuuki Ono as Isami Aldini
Saori Onishi as Hisako Arato
Takahiro Sakurai as Satoshi Isshiki
Ai Kayano as Ryoko Sakaki
Maaya Uchida as Yuuki Yoshino
Taishi Murata as Shen Ibusaki
Yusuke Kobayashi as Zenji Marui
Main staff:
Director: Yoshitomo Yonetani
Series composition: Shogo Yasukawa (Hyperdimension Neptunia: The Animation)
Character design: Tomoyuki Shitaya (kissxsiss, Bakuman., Jinsei)
Sound director: Jin Aketagawa (Kanojo ga Flag wo Oraretara, Is the order a rabbit?)
Music: Tatsuya Kato (Free!, Celestial Method)
Anime production: J.C.STAFF
Source: "Shokugeki no Soma" TV anime official website
© Yuuto Tsukuda,Shun Saeki/Shueisha, Totsuki gakuen Douga Kenkyukai