A-1 Pictures-produced TV anime is set for April 4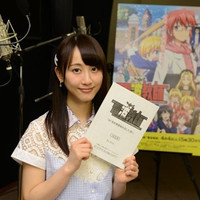 It has been confirmed that 23-year-old Rena Matsui, who is a member of girls idol group SKE46 and Nogizaka46, plays Suzune Kagami, the younger sister of the protagonist Junichiro Kagami in the upcoming TV anime adaptation of Takeshi Azuma's school comedy manga Denpa Kyoushi. This is the very first time for her to voice an anime character in her career. In the previous drama CD and anime CM for the manga, the character was voiced by popular anime voice actress Kana Asumi (Yuno in Hidamari Sketch, Nyaruko in Haiyore! Nyaruko-san).
The TV anime adaptation is directed by Masato Sato (Detective Conan TV anime series 3rd director in 2004-2008) and is scheduled to premiere in Japan on April 4.
The main voice cast:
Junichiro Kagami: Hiroshi Kamiya (Levi in Attack on Titan)
Suzune Kagami: Rena Matsui (SKE46/Nogizaka46 member)
Minako Kanou: Sora Amamiya (Akame in Akame ga KILL!)
Koyomi Hiiragi: Suzuko Mimori (Umi Sonoda in Love Live!)
Makina Momozono: Saori Onishi (Fianna Ray Ordesia in Bladedance of Elementalers)
Kiriko Shikishima: Azusa Tadokoro (Kotori Takatori in Brynhildr in the Darkness)
Kanan Chinami: Rina Hidaka (Mutsuki in KanColle)
Kisaki Tenjouin: Ayane Sakura (Cocoa in Is the order a rabbit?)
Koutaro Araki: Aki Toyosaki (Yui Hiraswa in K-ON!)
松井玲奈がアニメ「電波教師」で声優初挑戦、主人公の妹役に http://t.co/vAt10k3fpV pic.twitter.com/uwdFfw6T8B

— 音楽ナタリー (@natalie_mu) March 3, 2015
Anime key visual
Source: Natalie
© Takeshi Azuma/Shogakukan, Yomiuri TV, A-1 Pictures 2015