I hope you're hungry--"Food Wars! Shokugeki no Soma" begins streaming today, April 3rd, at 12:25pm PST!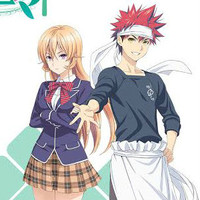 They say the fastest way to a man's heart is through his stomach, but the fastest way for a man to show the strength of his heart is through the stomachs of others! I dunno, it sounded cooler in my head. Anyway, the anime adaptation of hit cooking/fanservice manga Food Wars! Shokugeki no Soma arrives on Crunchyroll, joining the Spring 2015 streaming lineup today, April 3rd at 12:25pm Pacific Standard Time for Premium Members, with Free Members able to view episodes a week later. More info is available at http://www.crunchyroll.com/food-wars
BACKGROUND AND STORY
Adapted from the Weekly Shonen Jump manga Shokugeki no Soma by Yuuto Tsukuda (story) and Shun Saeki (art), Food Wars! Shokugeki no Soma centers on Yukihira Soma, a middle school student who is determined to surpass his father's culinary skills. One day, his father decides to close down their family restaurant and hone his skills in Europe. Before leaving, he enrolls Soma in an elite culinary school that is extremely difficult to enter with a graduation rate of only 10 percent. Will Soma be able to improve his skills, or will the kitchen prove to be too hot?
Food Wars! Shokugeki no Soma will be available to audiences in USA, Canada, Australia, New Zealand, South Africa, Latin America, Europe (excluding French speaking territories and Italian speaking territories), the Middle East, and North Africa.