Scheduled to be held at Miyakomesse on October 31/November 1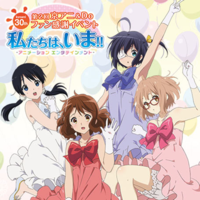 The second fan appreciation event by Kyoto Animation and its associated company Animation Do, titled "Watashitachi wa Ima!!/This Is What We Are Now!!," is scheduled to be held in Kyoto this fall. Its English official page has posted a 15-second CM with English subtitles, featuring four of their popular anime girls: Tamako Kitashirakawa from Tamako Market, Kumiko Oumae from Sound! Euphonium, Rikka Takanashi from Love, Chunibyo & Other Delusions, and Mirai Kuriyama from Beyond the Boundary.
The 2015 event is scheduled to be held at Miyakomesse in Kyoto-city on October 31 and November 1. Pre-orders for the 2,000-yen advance tickets have been accepted at Kyoto Animation's official store in Uji-city and its online store since yesterday.
The first event titled "KyoAni & DO C.T.F.K 2013" was held at the same venue on November 30, 2013.
Interestingly, the convention hall has been also used for Kyoto International Manga Anime Fair since 2012.
However, Kyoto Animation, which is located in the same prefecture, has chosen not to join the event and
has held its own event at the same place instead. This year's Kyoto Manga Anime Fair will be held on
September 19 and 20.
CM with English subtitles
Main visual for the 2015 event
Source: "KYOANI & DO FAN DAYS 2015" official website
©2015 Kyoto Animation Co.,Ltd.

©2015 Animation Do Co.,Ltd.