Character song CDs will be released on November 25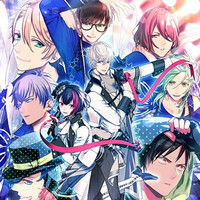 It is confirmed that 44-year-old singer Takanori Nishikawa, who has performed as T.M.Revolution, serves as executive producer for "B-Project," a new project featuring fictional male idol characters designed by Utako Yukihiro (Uta no Prince-sama manga illustrator). Chiyomaru Shikura (Steins;Gate, Robotics;Notes) provides the original story and also heads the planning.
The project features three idol units: two-member Kitakore (Daisuke Kishio as Ryuji Korekuni, Daisuke Ono as Tomohisa Kitakado), three-member THRIVE (Toshiyuki Toyonaga as Goshi Kaneshiro, Natsuki Hanae as Yuta Ashu, Kazuki Katou as Kento Aizome), and five-member MooNs (Yuuto Uemura as Kazuna Masunaga, Tetsuya Kakihara as Momotaro Onzai, Showtaro Morikubo as Hikaru Osari, Genki Okawa as Tatsuhiro Nome, Toshiki Masuda as Mikado Sekimura). Their first character song CDs will be released from 5pb. Label on November 25. The song "Eikyu Paradise" performed by the all 10 VAs in the PV below is wriritten/composed by Chiyomaru Shikura.
PV
Main visual
Kitakore
THRIVE
MooNs
via: Comic Natalie
© B-project