Nogizaka46 member Ami Noujo will join as Misaki Tokura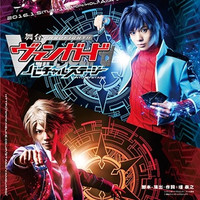 Nelke Planning today posted a main visual for Cardfight!! Vanguard ~Virtual Stage~, the upcoming stage play adaptation of Bushiroad's popular trading card game. The website also announced its main cast including Suzuko Mimori and Shuta Morishima who will reprise their anime characters, Kourin Tatsunagi and Shin Nitta, respectively on the stage. Mimori, best known as Umi Sonoda in the Love Live! franchise, previously portrayed as a female teacher in the 2014 live-action film A Game of Three and performed the theme song for it.
The stage play written/directed by Yasuyuki Tstsumi (Platinum Papers) is scheduled to be performed 12 times at AiiA 2.5 Theater Tokyo from January 5 to 11, 2016. 7,800-yen advance tickets will go on sale on November 29.
Main visual
Main cast:
Aichi Sendou: Shunya Ohira (Kachiro Kato in The Prince of Tennis Musical)
Toshiki Kai: Kento (Shinji Ibu in The Prince of Tennis Musical)
Misaki Tokura: Ami Noujo (Nogizaka46)
Kamui Katsuragi: Shinta Souma (Yuzuru Iijima in Kamen Rider Wizard)
Asaka Narumi: Konona Shiba
Tetsu Shinjo: Reiji Sakagaki
Kyo Yahagi: Shinichiro Ueta
Taishi Miwa: Mashu Ishiwatari
Katsumi Morikawa: Rio Takahashi
Yuuta Izaki: Daichi Tanaka
Shin Nitta: Shuta Morishima
Emi Sendou: Yume Takeuchi
Mai Tobita: Marina Horiuchi
Ren Suzugamori: Toshiyuki Someya
Kourin Tatsunagi: Suzuko Mimori
Source: Nelke Planning
(C) Vanguard Project/TV Aichi
(C) Butai Vanguard Project