Shinsuke Sato (GANTZ, Library Wars) -directed sequel hits theaters October 29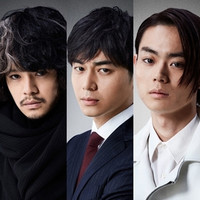 The official website for the upcoming live-action film Death Note Light up the NEW world, a sequel to the two live-action films in 2006 (not to the original manga story or the 2015 TV drama), today posted a 30-second teaser introducing its main characters and the new six Death Notes fallen to the human world.
In the clip, Sakura Aoi, who is described as "a mass murderer with no ideological background," says "I will show more interesting things than Kira did." She is portrayed by 21-year-old ex-AKB48 member Rina Kawaei. And in the end, the CGI-generated Ryuk adds the line, "After all, humans are so interesting!"
Shinsuke Sato (GANTZ, Library Wars) is attached to direct on the screenplay by Katsunari Mano (Aibou TV drama series). Warner Brothers Japan will distribute it from October 29, 2016. Advance tickets
with a "Sensu Death" (folding fan) will go on sale at Japanese theaters from April 29.
Teaser
Teaser poster visual
Advance tickets with the first bonus item "Sensu Death"
Source: "Death Note Light up the NEW world" official website, Twitter
© Tsugumi Ohba, takeshi Obata/Shueisha ©2016 "DEATH NOTE" FILM PARTNERS