107-minute film is expected to cross the 10 billion yen mark soon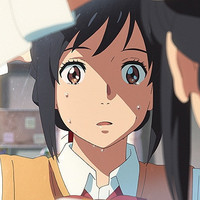 The momentum is still growing. The film has become the biggest surprise of the Japanese box office of 2016 (Shin Godzilla was the previous candidate). It is confirmed today Makoto Shinkai's Kimi no Na wa./your name earned a massive 9.1 billion yen (about 89 million US dollars) on 6.98 million admissions in 25 days since its release on August 26.
The 107-minute film has dominated the Japanese weekend box office for four consecutive weeks, and has a high chance to cross the 10 billion yen mark very soon. The last Japanese anime film that reached the record was Hayao Miyazaki's 2013 film Kaze Tachinu/The Wind Rises with 12 billion yen. Kimi no Na wa. has already become the 12th top-grossing film in the Japanese cinema history, and the most successful non-Studio Ghibli anime film ever made.
Weekend box office in Japan (September 18-19)
1 (1). "Kimi no na Wa./your name"
2 (new). "Koe no Katachi"
3 (new). "Ikari"
4 (2). "Suicide Squad"
5 (3). "Shigatsu wa Kimi no Uso/Your Lie in April"
6 (5). "Shin Godzilla"
7 (4). "Chokousoku! Sankin Koutai Returns"
8 (new). "The BFG"
9 (6). "The Secret Life of Pets"
10 (7). "Gods of Egypt"
"Kimi no na wa." Japanese trailer
Flyer visuals
Source: Mantan Web, Movie Walker