Available Monday, 10/3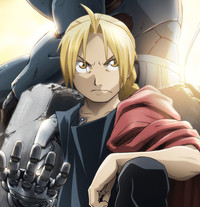 More goodies from Aniplex arrive today with word that the English dub of Fullmetal Alchemist: Brotherhood, based on the legendary manga by Hiromu Arakawa, is set to begin streaming soon!
The English dub of Fullmetal Alchemist: Brotherhood will be available for viewing on Crunchyroll on Monday, 10/3 with launch time TBA, and will be available to members in the following territories: North America, Central America, and South America.
About Fullmetal Alchemist: Brotherhood
Disregard for alchemy's laws ripped half of Ed Elric's limbs from his body and left Al's soul clinging to a suit of armor. To restore what was lost, the brothers seek the Philosopher's Stone. Enemies and allies – the corrupt military, the Homunculi, and foreign alchemists – will alter the Elric's course, but their purpose will remain unchanged and their bond unbreakable.
Patrick Macias is editor in chief of Crunchyroll News & Otaku USA magazine.
He is also the writer of HYPERSONIC music club, Paranoia Girls, & PARK Harajuku: Crisis Team!