Tickets for the eight shows in Tokyo are already sold out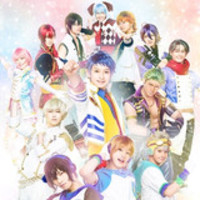 The official website for the upcoming stage play based on the KING OF PRISM anime franchise, titled "KING OF PRISM-Over the Sunshine!-," today released a new key visual and a 15-second web CM to introduce its cast members in their character costumes.
New key visual
【最新キービジュアル、本日解禁!】https://t.co/b8aaja8eF4  #舞台キンプリ pic.twitter.com/NtTsi40jWC

— 舞台「KING OF PRISM」公式 (@kinpri_stage) 2017年9月20日
New web CM
---
The KING OF PRISM series features three-member boys idol unit Over The Rainbow that was formed in the
last episode of Pretty Rhythm: Rainbow Live, the third Pretty Rhythm TV anime aired in Japan from April 2013
to March 2014. The first film featuring the unit, KING OF PRISM by Pretty Rhythm was released in January
2016, then the second film KING OF PRISM -PRIDE the HERO- followed in June of this year.
Jou Aoba (an alias of director Masakazu Hishida), who provided the screenplays for both films, again writes
the script of the play. Masanari Ujikawa, well known for his works for the Yowamushi Pedal stage plays, serves
as director. While most of the main characters are newly cast, 33-year-old Masashi Igarashi, who voiced Minato
Takahashi in the anime series, is set to play the character in the play as well.
"KING OF PRISM-Over the Sunshine!-" is scheduled to be performed at Umeda Arts Theater: Theater Drama
City in Osaka from November 2 to 5, then at AiiA 2.5 Theater Tokyo from November 8 to 12. Tickets for the
eight shows in Tokyo are already sold out. For the fans who couldn't get the tickets, live-viewings of the last
day performance on November 12 will be held in 31 theaters across Japan.
Main Cast:
Shin Ichijo: Shohei Hashimoto
Koji Mihama: Koji Kominami
Hiro Hayami: Taishi Sugie
Kazuki Nishina: Takuto Ohmi
Yukinojo Tachibana: Shojiro Yokoi
Taiga Kogami: Ryoki Nagae
Kakeru Juouin: Yoshiki Murakami
Minato Takahashi: Masashi Igarashi
Leo Saionji: Yuzuki Hoshimoto
Yu Suzuno: Royta Hirono
Source: "KING OF PRISM-Over the Sunshine!-" official website, Twitter
© T-ARTS/syn Sophia/Avex Pictures/Tatsunoko Productions/"KING OF PRISM-Over the Sunshine!-" Production Committee 2017