Manga adaptations of the internationally popular game series have been drawn by over 20 artists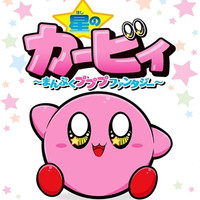 As with the release of the first volume of the ongoing "Hoshi no Kirby ~Manpuku PuPuPu Fantasy~" by Ibuki Takeuchi today on October 27, Shogakukan's kids manga magazine CoroCoro Comic confirmed that its manga adaptation series based on HAL Laboratory and Nintendo's Hoshi no Kirby/Kirby game series has surpassed ten million copies printed in Japan.
The action game series launched in April 1992 with its first game Hoshi no Kirby/Kirby's Dream Land for the Game Boy. Since then, more than 10 games have been released for various platforms, including Family Computer, Super Famicon, NINTENDO64, Game Boy Advance, Wii, and Nintendo 3DS. Meanwhile, many manga adaptations drawn by over 20 artists have been published mainly in kids magazines. The first serialized manga in CoroCoro Comic was "Hoshi no Kirby ~DeDeDe de PuPuPu na Monogatari" by Hirokazu Hikawa, which ran from 1994 to 2006 and released 25 tankobon volumes.
"Hoshi no Kirby ~Manpuku PuPuPu Fantasy~" 1st volume (left)
"Hoshi no Kirby ~DeDeDe de PuPuPu na Monogatari" 1st volume (right)
via: Mantan Web
©HAL Laboratory, Inc./Nintendo
©1995 HAL Laboratory, Inc. Licensed to Nintendo