Daisuke Tsutsumi invited Hosoda to speak at the Tonko House Film Festival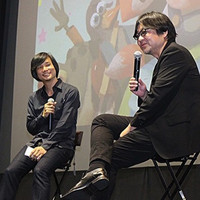 This piece was originally published on WebNewtype and is republished with permission from KADOKAWA.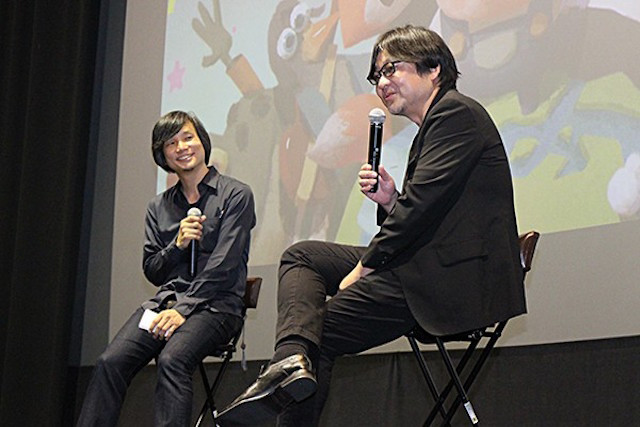 The Tonko House Film Festival was held at Tokyo's EJ Anime Theater in Shinjuku from April 27 through May 26, featuring a screening of over 20 masterfully animated shorts from around the world curated by the animation studio Tonko House, including workshops and events. During the film festival, on May 17, Tonko House's director Daisuke Tsutsumi invited anime director Mamoru Hosoda, and the two appeared together in a speaking event to talk about the appeal of animation.
Tsutsumi and Hosoda were first acquainted back in 2012. At the time, Tsutsumi, who was working at Pixar, was approached by Nippon TV's Producer Seiji Okuda who hoped to show Pixar the film Wolf Children.
Tsutsumi expressed that, at the time, "There were a lot of movie lovers at Pixar, so they were very critical toward movies, and I was a little worried as to whether they'd be able to appreciate Hosoda's work," but fortunately he received rave reviews. Hosoda commented, "[Wolf Children] was a very different type of work compared to what Pixar does, so I was happy for their feedback."
Hosoda also spoke about when Tsutsumi was an art director in 2013 in the middle of his work on Monsters University, saying, "He gave off this aura of someone who wanted to create their own work." Work at Pixar was split very definitively based on official job posts, so according to Tsutsumi, "An art director saying they were going to direct would just get them laughed at." That's when Hosoda gave the advice, "But still, someone who wants to create something should do so without being tied down by official job positions." This became the catalyst for Tsutsumi to establish Tonko House. Hosoda spoke with a smile on his face as he said, "As a result of something like advice of mine, The Dam Keeper was created and was suddenly nominated for an Academy Award in the Animated Short category. I was secretly proud of that (laughs)."
Both Tsutsumi and Hosoda are members of the Academy. Hosoda laughed as he said, "I was shocked when my selection of recommendations for an Academy Award were leaked," and then also commented, "There aren't many opportunities to gather together and see animation shorts from across the world unless you're a member of the Academy, so the Tonko House Film Festival is a great opportunity. All of the films being screened this time are wonderful works, you won't be disappointed." Tsutsumi responded by speaking of the details that led to him holding the film festival, "That's exactly the reason why we considered doing this film festival. There are so many amazing short films out there in the world, and only a select few get attention. In which case we could increase that attention, even if by only a little, by hosting a film festival."
Then the topic turned to the film Mirai which was screened in 2018. Hosoda said, "I didn't think Mirai would be popular in America." He went on to say, "It wasn't released that widely to the public, and the motifs of the work were based on my personal daily life. When we were creating it, we even talked about releasing it in Japan and, 'How are we going to show something so personal in a movie format?' Still, it was well-received enough in America that it was even nominated for a Golden Globe. Then for the first time I understood that there is meaning behind the things that happen around me every day. The story had value specifically for that reason and I now understand that message resonated internationally."
"A creator's personality is reflected in their animation. It's almost like you're viewing the person themselves when you watch it, that's what I like about it," Hosoda commented with a smile. At the end of the event when he was asked about his motivations for making animation, he said, "Right now the world is filled with so many works. But, I think, above all else in animation there's still an abundance of possibilities like, 'Wouldn't it be interesting if I approached this genre using this perspective?' There are still so many experiments to be made. I haven't at all reached a level where I can say, 'I'm completely satisfied' when it comes to film creation."
Tsutsumi commented, "In the end, animation is a tool that allows you to put your own feelings and what you want to leave for the future into a tangible thing that you can send out into the world. We create something, someone who sees it feels something from it, and that's what gives birth to new possibilities. That's something you can do without animation, but for Hosoda and myself, animation is the best way we are able to express that." Hosoda also added, "It's a good thing that there's still so much left to be expressed [through animation]. I want to create a cycle where one work leads to the birth of an entirely new one."
At the end of the event, films selected by Director Hosoda were screened for the audience, including Father and Daughter, My Moon, The Man Who Planted Trees, The Dam Keeper, Weekends, and ONI (temporary title).
More: WebNewtype